Robert Mugabe's Zimbabwe election victory was a 'masterclass in electoral fraud'
Opponents claim  Zanu-PF conned its way to power – rather than taking it by force
Leo Cendrowicz
Friday 02 August 2013 19:26 Comments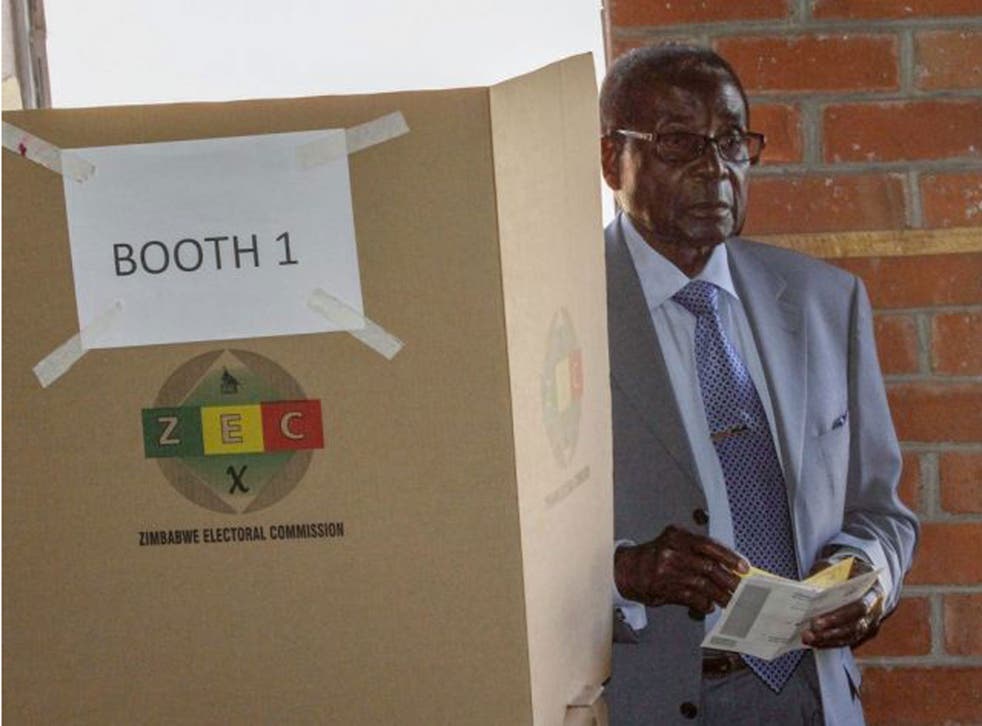 Zimbabwe's election on Wednesday was picture-perfect. Inspiring images came in from all over the country of diligent voters queuing patiently as they waited to cast their ballots in the presidential and parliamentary polls.
Millions doubtless believed they were patriotically playing their part in their nation's democratic destiny. Now, however, they feel they were merely political props – a cynical veneer of respectability for an outrageous electoral deceit aimed at reaffirming Robert Mugabe as Zimbabwe's ageing patriarch.
As results trickle in from constituencies across Zimbabwe, the scale of Mr Mugabe's controversial victory is becoming clear: the 89-year-old is on course to claim an outright win in the presidential contest, thus avoiding a run-off poll. At the same time, his ZANU-PF party has re-asserted its authority in parliament: the Zimbabwe Electoral Commission yesterday said it had won 142 seats in the 210-seat parliament, securing the two-thirds majority needed to change the constitution.
The result has been lambasted by the opposition Movement for Democratic Change (MDC) as "a sham", and "a huge farce", tainted by "monumental rigging". The MDC's leader, Morgan Tsvangirai, who is the country's Prime Minister in an awkward power-sharing arrangement, has warned of a repeat of the descent into chaos that followed the equally disputed 2008 elections.
For outsiders, the result is baffling. Mr Mugabe, who has held Zimbabwe under his brutal authority since independence in 1980, is a diminished figure, widely mocked inside Zimbabwe for his senility and his vanity. While he retains chunks of support in rural areas, and a power base in the police, army and courts, informal polling indicates a steady decline in his electoral appeal.
By almost all measures, Mr Mugabe's record as a leader is abysmal. In 1980, Zimbabwe was sub-Saharan Africa's second richest country, but his stewardship has seen the economy wither, halving in size in the decade leading to 2009. People have searing memories of the hyperinflation of 2008, reaching 231 million percent by some measures, with prices doubling every day – it only ended with dollarisation under Tsvangirai's government. And Zimbabwe remains a pariah state, subject to sanctions by the European Union and the United States, including a travel ban on Mugabe and his inner circle.
So how did Mugabe do it? The answer, according to his observers and opponents, is shameless electoral swindle at almost every level while maintaining the mere façade of an orderly poll on the day itself.
The Zimbabwe Election Support Network (ZESN), a local observer group with 7,000 monitors, has listed a litany of offences, including state media bias, a campaign of intimidation in rural areas, and the rushed electoral process before key reforms the security services were in place. But the most effective measure was fiddling the electoral rolls. Held back until the day before the election – thus avoiding proper scrutiny – the roll revealed an estimated one million invalid names, including many deceased voters. And it excluded up to one million real ones, mostly in urban areas where the MDC support is strongest.
This is much more subtle than past poll fixes, when ZANU-PF literally muscled out its opponents. By 2008, when Tsvangirai won the first round of the presidential election but was forced to withdraw after an outbreak of violence by Mugabe henchmen, this method was looking too crude.
"When Mugabe used violence in 2008, he lost legitimacy, so he found to find other ways to win," said Pedzisai Ruhanya, from the Zimbabwe Democracy Institute, a Harare-based think tank."What we have seen is a masterclass in electoral fraud. It is chicanery, organised theft and electoral authoritarianism."
Crucially, being violence-free earned the election a qualified thumbs up from electoral observers from neighbouring African nations. Yesterday, the head of the African Union's 70-member mission, Olusegun Obasanjo, hailed the peaceful voting while downplaying other incidences, saying they were not enough to affect the overall result.
But for Europe and the United States, who were barred from sending electoral monitors, it is trickier. After a new constitution was approved in a referendum earlier this year, the European Union relaxed some of its sanctions. Officials have yet to given an opinion on the election, but sanctions could reimposed.
As for Zimbabwe's voters who had sensed the shifting mood and hoped for change, disillusion is setting in. On Wednesday as they waited in line, they might well have reflected on how much hung on their decision at the ballot box. They now wonder if the election was won long before the first vote was cast.
Register for free to continue reading
Registration is a free and easy way to support our truly independent journalism
By registering, you will also enjoy limited access to Premium articles, exclusive newsletters, commenting, and virtual events with our leading journalists
Already have an account? sign in
Join our new commenting forum
Join thought-provoking conversations, follow other Independent readers and see their replies