Russian plane crash: US officials '99.9% certain' Metrojet flight was brought down by terrorist bomb
Egyptian officials confirm there was a strange noise was heard on the recording immediately before it crashed in the Sinai desert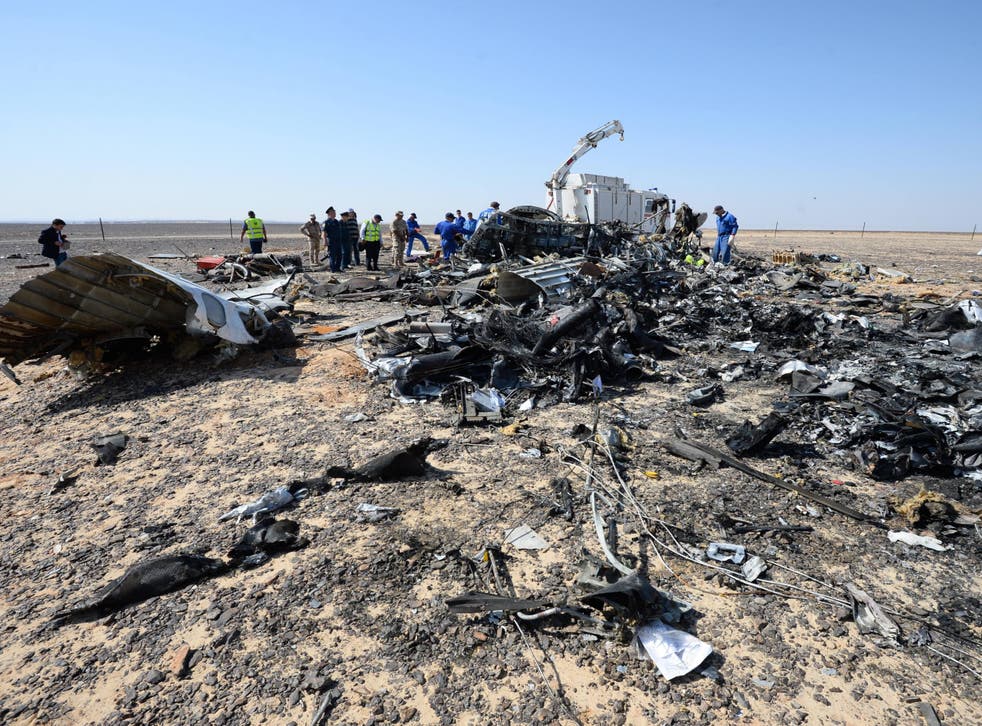 US officials are said to be "99.9 per cent certain" that the Russian passenger flight that was downed over Egypt killing hundreds on board was downed by a terrorist bomb.
Senior intelligence, military and national security figures told CNN they were increasingly sure the plane had been the subject of a terrorist attack when it broke apart over the Sinai desert on 31 October.
It comes as an Egyptian official said investigators were "90 per cent sure" that the "unknown noise" heard in the final second of a black box recording on the downed Russian passenger jet is of a bomb.
The unnamed source told Reuters news agency that the indications and analysis so far of the sound on the black box indicate it was a bomb.
The Airbus A321 flight, operated by Russian airline Metrojet, was flying from Sharm el-Sheikh to St Petersburg when it crashed in the Sinai peninsula shortly after takeoff - killing all 224 people on board.
Yesterday, the lead of the investigation team, Ayman al-Muqaddam, said that black box data confirmed earlier reports of a "unknown noise" just before the tragedy happened - but said that the data was not sufficient to confirm the cause.
Mr Muqaddam said: "A noise was heard in the last second. A spectral analysis will be carried out by specialised labs in order to identify the nature of this sound."
He confirmed the plane was still ascending and auto-pilot was engaged when the plane crashed and debris was scattered over a 8 mile area (13km) in the Sinai desert which was "consistent with an in-flight breakup".
Russian passenger plane crashes in Egypt

Show all 20
Structural fatigue, a fuel explosion and even lithium batteries carried by passengers have previously been put forward as potential causes of the explosion by Mr Muqaddam.
The latest developments come as Egypt's foreign minister, Sameh Shoukry, expressed frustration with foreign intelligence agencies who he said had not shared information on the crash with Egypt before releasing it to the media.
He said: "The information we have heard about has not been shared with Egyptian security agencies in detail.
"We were expecting that the technical information would be provided to us.
"The spread of terrorism, which we have for a long time called on our partners to tackle more seriously, did not get through to many of the parties which are now exposed and which are currently working for the interests of their citizens to face this danger."
Additional reporting by Reuters