Russian plane crash: Black box analysis indicates Metrojet A321 'was downed by bomb'
Sources close to the investigation say explosion could be heard on recorder, and rule out mechanical failure or crew error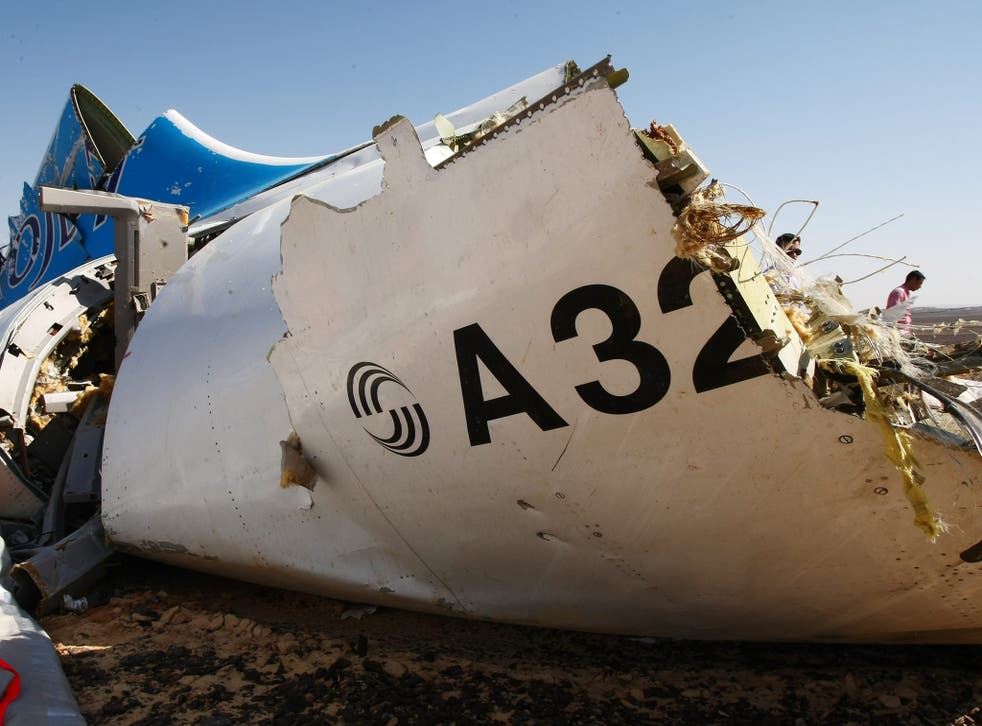 The Russian airliner which crashed in the Sinai desert, killing 224 people, was downed by a bomb, analysis of the black box recorders indicates.
Sources close to the investigation said an explosion could be heard on the recorder, and ruled out mechanical failure or crew error as explanations.
As thousands of British tourists endured another day of uncertainty at Sharm el-Sheikh airport, Russia said it too would be suspending all flights not just to Sharm, but to all Egyptian airports.
British and American intelligence sources believe that a bomb was put inside the plane's hold at Sharm prior to take-off. The Kremlin had previously accused the UK of acting prematurely by suspending flights before the investigation of the crash site and the black box recorders was complete.
But Russia's reversal appears to place beyond any doubt that the A321 Airbus was destroyed by a bomb, in what would be one of the deadliest terrorist outrages since 9/11.
The distinct sound of an explosion mid-flight could be heard on the black box recorder, a source close to the investigation told France 2. Unnamed officials meanwhile told Le Point that "exterior action" was the only explanation for the crash. An Egyptian government source told ABC that a bomb was now "the most plausible scenario".
All British flights from Sharm were suspended on Wednesday evening, after Downing Street said new evidence had come to light to indicate the crash may have been a terror attack. Rescue flights to bring home the 20,000 UK citizens stranded in Sharm began, but were immediately beset by delays and disruptions. Only eight of 29 planned flights to the UK flew from Sharm today.
John Casson, the UK's ambassador to Egypt, who was confronted by dismayed holidaymakers during a visit to the airport, denied reports that Egyptian authorities had been blocking the arrival of empty planes from the UK.
UK Government sources described the airlift as "a hugely complex operation". A number of empty planes en-route from the UK to Sharm had to diverted after being told there would be nowhere for them to land at the airport. Passengers have been told to carry only cabin baggage, amid concerns around the security procedures for handling luggage, with Egypt blaming pile-ups of suitcases, and a broken down plane, for the disruption.
Russia will now begin the process of airlifting its own citizens out of Egypt. Reports suggest the country has around 50,000 tourists there, many of them in Sharm.
While US and European intelligence sources have cautioned that there was no conclusive "forensic" proof that a bomb downed the plane, any other explanation is now considered unlikely.
Isis affiliates in the Sinai peninsula had previously claimed responsibility for the crash, but had not explained how they downed the plane.
While an investigation by Egypt and Russia of the crash site and the black box recorders is yet to conclude, British and US spies are understood to have identified a bomb as the likely cause, following interception of "chatter" from suspected militants.
The Russian decision followed advice from the director of the FSB, Aleksandr Bortnikov. Dmitry Peskov, spokesman for President Vladimir Putin, said that while the decision to halt Egyptian flights was taken in the interests of safety, it did not mean that terrorism was the cause of the crash of flight A321.
Russian passenger plane crashes in Egypt

Show all 20
"As before, there is no dominant explanation because there is no conclusive proof in support of one version," Mr Peskov said, according to Interfax. Russian officials said that the ban would remain in place for as long as it was required for safety reasons.
Russian forces are engaged in a deepening military campaign in Syria. Confirmation that Isis was behind the attack on its citizens could be damaging for President Putin and may also prove devastating for Egypt's tourism industry.
Russia's state tourism agency, Rosturism, said it had set-up an emergency headquarters to coordinate evacuations, and it was reported that Aeroflot had begun sending empty planes to bring back Russian citizens.
Following talks with Egyptian President Adel Fattah al-Sisi, who has visited the UK this week, Defence Secretary Michael Fallon said the UK would establish a small military team in Egypt to counter terrorism and extremism. He said: "Countering extremism remains a top priority for the UK Government and this small joint team will share ideas on countering Isil in Libya and to understand how Britain will, in time, support t he future government of national accord."
Join our new commenting forum
Join thought-provoking conversations, follow other Independent readers and see their replies