Sinai plane crash: Bomb that brought down jet was planted among passengers, claims Russian media
The Isis militant group has claimed the attack, which killed all 224 people on board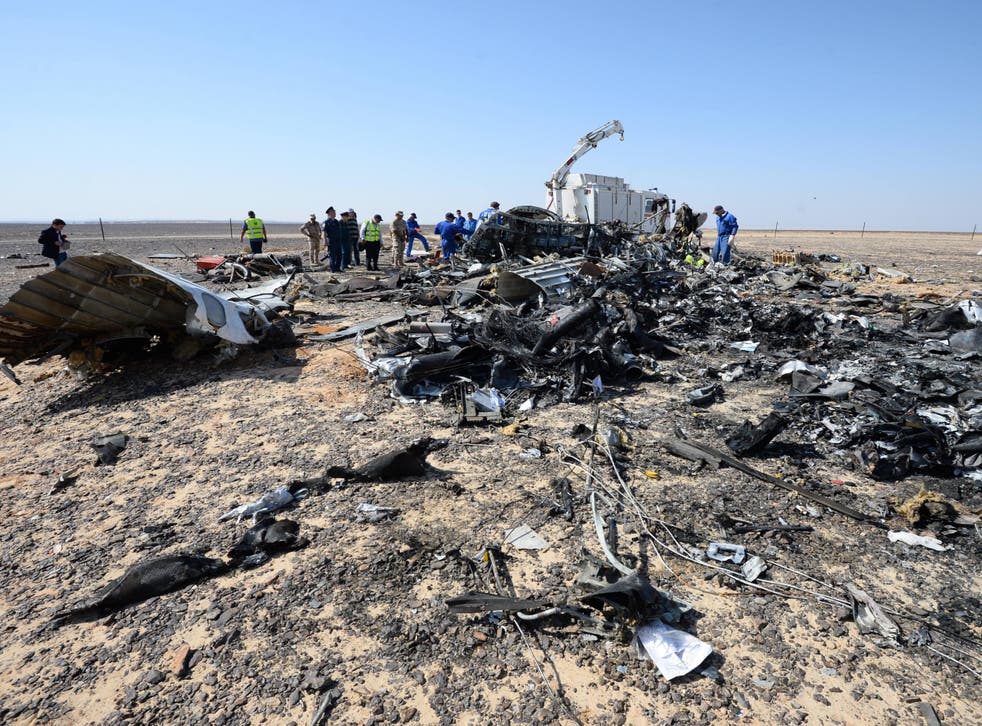 The bomb which brought down the Russian plane over Sinai was placed in the main cabin, not the luggage hold as previously believed, it has been reported.
According to Russian media reports, sources close to the investigation now believe that the epicentre of the blast which destroyed the plane was at the back of the airliner near the tail section.
It raises the prospect that the bomb was planted inside the plane by a passenger on board, rather than a rogue airport employee.
In a report on Wednesday, Kommersant said: "According to a preliminary version, the bomb could have been laid under the passenger seat by the window. Its operation has led to the destruction of the frame and depressurization of the cabin, which had an explosive character."
Russia has previously urged against reporting the comments of investigation sources, citing concerns that the probe into what happened to the Airbus 321 be allowed to take its course.
But earlier this week, in the aftermath of the Paris shootings, Vladimir Putin was briefed on the discovery that explosive traces had been found on the belongings of passengers on the plane – removing all doubt as to whether a bomb was responsible.
The Isis militant group has claimed the attack, which killed all 224 people on board the flight from Egypt's Sharm el-Sheikh resort to the Russian city of St Petersburg. The overwhelming majority of passengers were Russian holiday-makers.
In video, audio and written statements, Isis claimed the attack was retaliation for Russia's military campaign in Syria, and challenged investigators to "prove we did not do it".
Russian passenger plane crashes in Egypt

Show all 20
Airport officials have denied reports that two baggage handlers were arrested in the wake of the Russian security briefing.
During that briefing, FSB chief Alexander Bortnikov told Mr Putin it could now be confirmed that improvised explosives equivalent to 1.5kg of TNT were used to bring the plane down.
"We can definitely say this was an act of terror," he said, according to a transcript released by the Kremlin.
Mr Putin has responded by ordering Russian special forces to "find and punish" those responsible for the crash, and announced a reward of $50m (£33m) for information leading to arrests.
Register for free to continue reading
Registration is a free and easy way to support our truly independent journalism
By registering, you will also enjoy limited access to Premium articles, exclusive newsletters, commenting, and virtual events with our leading journalists
Already have an account? sign in
Register for free to continue reading
Registration is a free and easy way to support our truly independent journalism
By registering, you will also enjoy limited access to Premium articles, exclusive newsletters, commenting, and virtual events with our leading journalists
Already have an account? sign in
Join our new commenting forum
Join thought-provoking conversations, follow other Independent readers and see their replies