Russian plane crash: Sharm el-Sheikh airport CCTV station 'was routinely abandoned'
Exclusive: Member of staff says it was '50-50' that somebody was monitoring baggage handlers before flight
Ruth Michaelson
,
Henry Austin
,
Serina Sandhu
Saturday 07 November 2015 22:03 Comments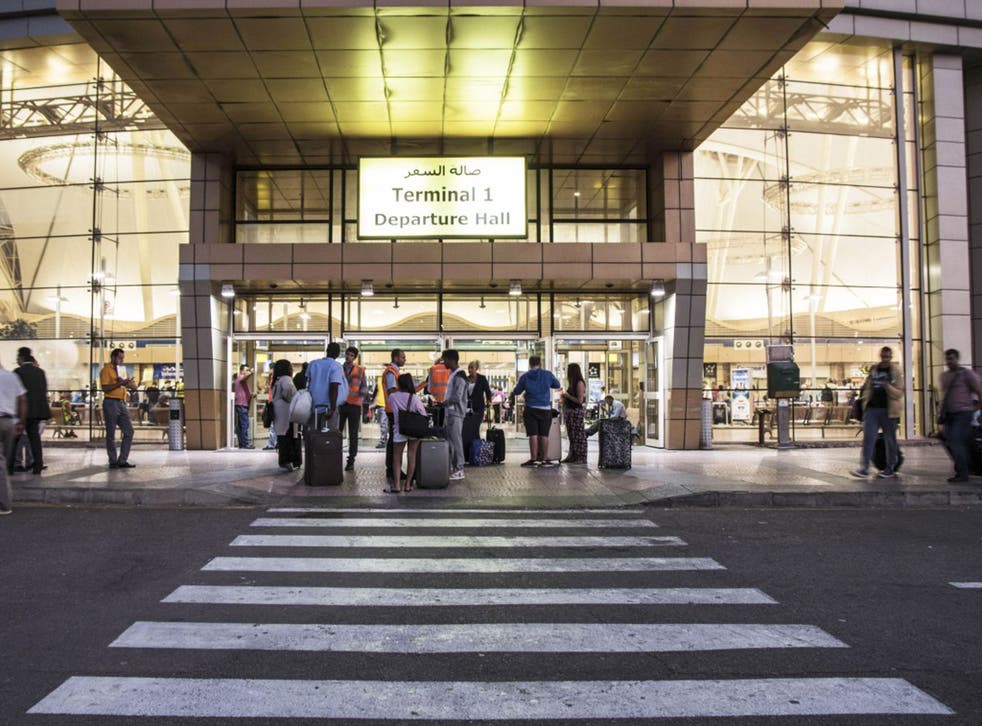 A CCTV station where security officials were supposed to be constantly monitoring baggage handlers at Sharm el Sheikh airport was routinely abandoned, a staff member said. It was "50-50" they told The Independent on Sunday, adding that "it happens sometimes that no one is there".

Someone is supposed to keep watch on the baggage handling room at all times, said the member of staff, who spoke on the strict condition of anonymity. Monitoring a network of CCTV cameras, they were supposed to "make sure that staff don't put things in the bags or take things out", the source said.
CCTV was a problem throughout the airport, not just in the baggage-handling rooms, they said, adding "to tell you the truth, there are a lot of broken CCTV cameras inside Sharm el Sheikh airport".
David Cameron has said it is "more likely than not" that Metrojet flight 7K9268 was brought down last weekend by a bomb placed in the hold of the plane, killing all 224 people on board. A review of CCTV footage from the airport by British security officials played a role in the Prime Minister's decision to ground all flights to and from the airport, it has emerged.
In the days after the attack the security officials identified inadequate checks on staff entering and leaving a rear entrance of the airport, according to the Telegraph. This followed a review of recordings by British intelligence services that revealed "jihadi chatter" about a major event in the lead-up to the crash.
It had also emerged that a British aircraft carrying 189 passengers had a near miss with a military missile when landing at Sharm el Sheikh airport just over two months ago. Reports of the incident say the Thomson plane had to take evasive action but landed safely.
David Cameron- Bomb 'likely' cause of Egypt plane crash
The company reported the incident to the Department for Transport, which said that investigations had "concluded it was not a targeted attack and was likely connected to routine exercises being conducted by the Egyptian military".
As investigations continued into what brought down the Russian airliner, Egypt's foreign minister, Sameh Shoukry, expressed anger that intelligence about the cause of the crash had not been passed to Cairo.
"The information we have heard about has not been shared with Egyptian security agencies in detail," Mr Shoukry said. "We were expecting that the technical information would be provided to us."
The country's civil aviation minister, Ayman al-Muqaddam, said there was not yet enough evidence to identify what caused the crash.
A "noise was heard in the last second" of a recording taken from one of the flight's black boxes, he told a news conference, adding that "spectral analysis will be conducted in specialised laboratories in order to identify the nature of the sound".
Debris from the plane was spread across an area eight miles long, something that was "consistent with an in-flight break up", he said, although not all of the plane's parts had been found. The plane, which was flying on autopilot, lost contact with the ground 23 minutes and 14 seconds into the flight, he added.
An investigations committee, made up of 47 experts from Egypt, Russia, France (home of manufacturers Airbus), Germany (where the plane was assembled) and Ireland (where the plane was registered), as well as 11 accident advisers, were still at the "stage of data collection", he said.
Meanwhile, in Sharm el Sheikh, British officials were working to bring home thousands of stranded tourists. Around 1,500 people returned to the UK on Friday, and a government spokesman said a similar number were expected.
"We are working closely with the Egyptian authorities, UK airlines and tour operators to have passengers on flights and returned to the UK as soon as possible," the spokesman said.
"With a limited number of flights able to leave Sharm el Sheikh each day for the UK, it is likely that tour operators or airlines will advise some people to extend their stay at their resort."
Empty commercial flights also left Russian cities on Saturday to pick up an estimated 80,000 tourists stranded in Red Sea resorts, after Russia followed the British lead and grounded all flights to the resort.
Russian transport minister Maxim Sokolov told reporters that passengers would only be allowed hand luggage. Larger baggage would not be permitted in the hold of the planes and would instead be transferred on special government planes.
Russian passenger plane crashes in Egypt

Show all 20
About 1,200 people have been returned to Russia since the ban on flights was announced on Friday, according to Russia's tourism minister Oleg Safonov. Russian state-owned media made little mention of the Kremlin's U-turn over flights to Syria on Saturday, focusing mainly on the logistics of bringing thousands of Russian tourists back home.
But some commentators were quick to note Russia's volte face – blaming fear of a backlash if the loss of 224 lives could be linked to Moscow's bombing campaign in Syria.
"When the British decided to halt flights to Egypt and evacuate its citizens, fearing that the Russian plane came down as result of a terrorist strike, the reaction of officials was furious … 24 hours has gone by and we have done exactly the same," commentator and journalist Anton Orekh wrote on his blog for liberal radio station Ekho Moskvy.
Register for free to continue reading
Registration is a free and easy way to support our truly independent journalism
By registering, you will also enjoy limited access to Premium articles, exclusive newsletters, commenting, and virtual events with our leading journalists
Already have an account? sign in
Join our new commenting forum
Join thought-provoking conversations, follow other Independent readers and see their replies