Sexual violence in the Democratic Republic of Congo: 'I went to speak about human rights... people believed they had none'
The DRC is plagued by sexual violence. But thanks to Thérèse Mema Mapenzi, there is now some hope for victims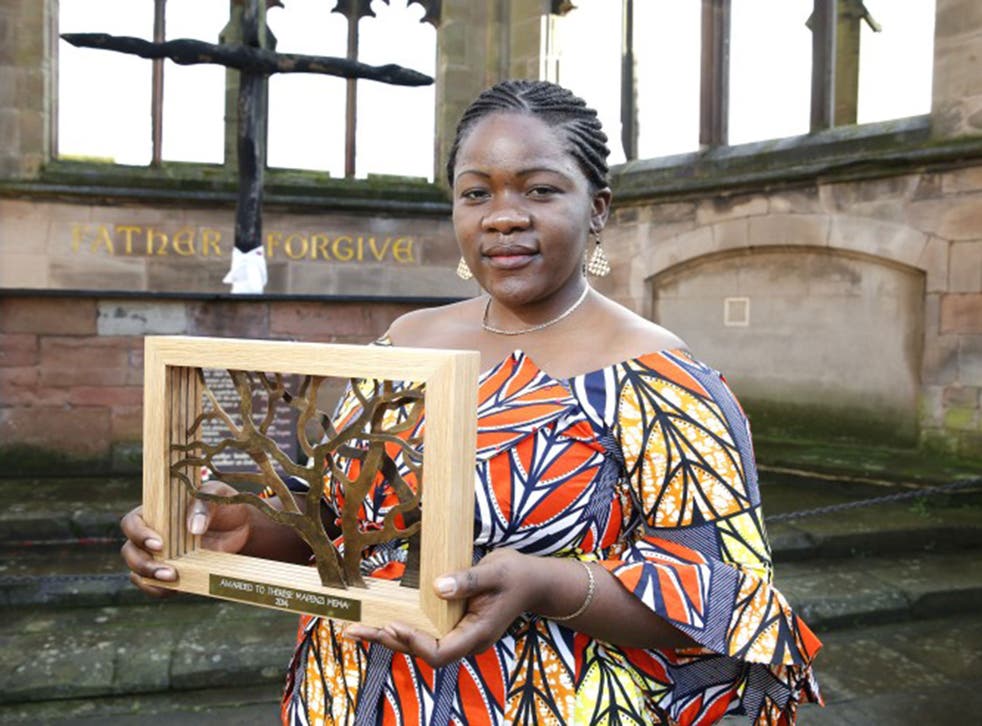 Alphonse was at home with his family when the rebels came to destroy his village. They gathered the chief's children: they raped his wife. Then, he was told to rape his daughters. When he refused, they castrated him, murdering his wife as he looked on.
Thérèse Mema Mapenzi has heard countless stories of ruthless violence during her time working as the sexual violence programme lead for the Justice and Peace Commission in Democratic Republic of Congo (DRC). But Alphonse's is one which particularly stands out for her. "Alphonse was a valued member of his community," she said. "He was a role model, a mediator and a wise man. People like this are highly respected in our culture, but the war left him without his dignity, his wife or his hope."
Almost six million lives were claimed in Congo's most recent conflict as a direct result of fighting, malnutrition and disease. In the hangover from a war described as "Africa's World War" – fuelled by greed over the nation's vast mineral reserves – thousands more have become victim to violent rape and sex crimes. Rebel groups like the FDLR and Lords Resistance Army have been known to raid villages like Alphonse's, terrorising communities and using sexual violence as a weapon.
Ms Mapenzi set up the "Listening Room" during her time working with victims of rape and violence in the South Kivu district. The project, which is part of a Catholic Church organisation, aims to provide a safe place where victims like Alphonse can speak about their experiences without the fear of being judged. This month Ms Mapenzi's work was officially recognised when she won the Coventry International Prize for Peace and Reconciliation.
Sexual violence is regarded as a cultural taboo and many cases are never spoken of, let alone brought to justice. Many accused rapists are protected by jobs or connections in government and the military, and so are never convicted.
"It was my job to go into communities to speak about human rights," said Ms Mapenzi, "but I found that many people believed that they had none. When so many have been raped, killed and beaten they have no interest in the greater politics of it all – they just need someone to listen to what they've been through."
She said: "Take Alphonse, he no longer felt that he was a man with any respect. He no longer felt he could be a good father to his children or hold a place in the world. To help a victim like this, first we must listen. Only then can we show him he does not need to feel guilty or ashamed … over time, victims can progress, regain some dignity and grow to understand they are not alone."
As Ms Mapenzi earned villagers' trust, stories of sexual violence came flooding in. Women who had been raped, men who were forced to rape, men who had seen their wives raped and killed, women whose husbands could no longer face them after being raped by another man. She soon discovered that many had also been hiding physical trauma.
Ms Mapenzi spoke of one woman who was taken by the rebels as a slave for six months. "I no longer feel like a human being," the woman told Ms Mapenzi. "I was forced to eat the flesh of other humans. My husband has abandoned me because I became property of the enemy. Now I want to die."
Women and young girls are still the main target for sexual violence in Congo and the UN estimates that 200,000 have become victims of sex crimes over the past 15 years. Despite authorities signing an agreement with the UN in March to address the issue, the DRC remains one of the most dangerous places in the world to be born a woman.
Join our new commenting forum
Join thought-provoking conversations, follow other Independent readers and see their replies