Siege gives way to final assault as rebels enter loyalist stronghold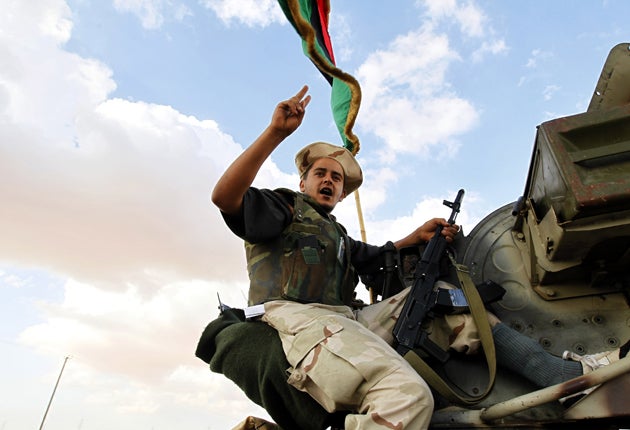 The battle for one of the last towns loyal to ousted Libyan leader Muammar Gaddafi began last night, as fighters representing the country's new rulers entered Bani Walid under fire from snipers.
In what could prove to be the final showdown against a last bastion of Gaddafi control, fighters belonging to the Transitional National Council (TNC) said they had entered the city from the east and the north, as fierce street fighting began inside the desert town.
They clashed with loyalists about a mile from the centre, according to TNC official Mr Abdallah Kanshil, who estimated that there were about 600 Gaddafi supporters in and around the town.
"Snipers are scattered over the hills and the rebels want to chase them," he said. "There is hand-to-hand combat. The population is afraid so we have to protect civilians."
Vast amounts of ammunition were reportedly being delivered to rebels on the outskirts of Bani Walid, along with troop reinforcements from Tripoli. The TNC said it had also sent fighters south to Sabha, another loyalist stronghold.
Anti-Gaddafi fighters had given loyalists in the town until Saturday to surrender or face an offensive, but the advance into the city was brought forward yesterday evening after volleys of Grad rockets were fired at the fighters' positions. With the launch of an assault on Bani Walid and planned offensives on Sirte and Sabha, places for Gaddafi to hide are becoming scarcer.
Niger promised yesterday to uphold its obligations to the International Criminal Court (ICC), effectively closing off the country as a place of exile for the former dictator.
Arrest warrants for Gaddafi, his son Saif al-Islam and Libya's former security chief Abdullah Senussi were issued in May, accusing the three of crimes against humanity.
The move compels signatories to the ICC to arrest them.
The declaration by Niger comes days after a 250-vehicle convoy entered the country from Libya earlier this week, prompting speculation – vehemently denied by the regime – that Gaddafi had left.
The whereabouts of Gaddafi and Saif are unknown, but both are believed by senior elements within the TNC to have remained in Libya, possibly in Bani Walid or Sirte.
Senussi is understood to have been killed along with Gaddafi's son Khamis in fighting in Tarhuna at the end of last month. scarcer.
Join our commenting forum
Join thought-provoking conversations, follow other Independent readers and see their replies