John Sisay: the south Londoner who could become Sierra Leone's next president
After the Brexit referendum and the general election, the former Goldsmiths student – and more recently successful mining boss – tells Kim Sengupta he prefers the 'sedate' politics of the west African nation over a shot at Westminster
Kim Sengupta
Diplomatic Editor
Monday 26 June 2017 22:42 Comments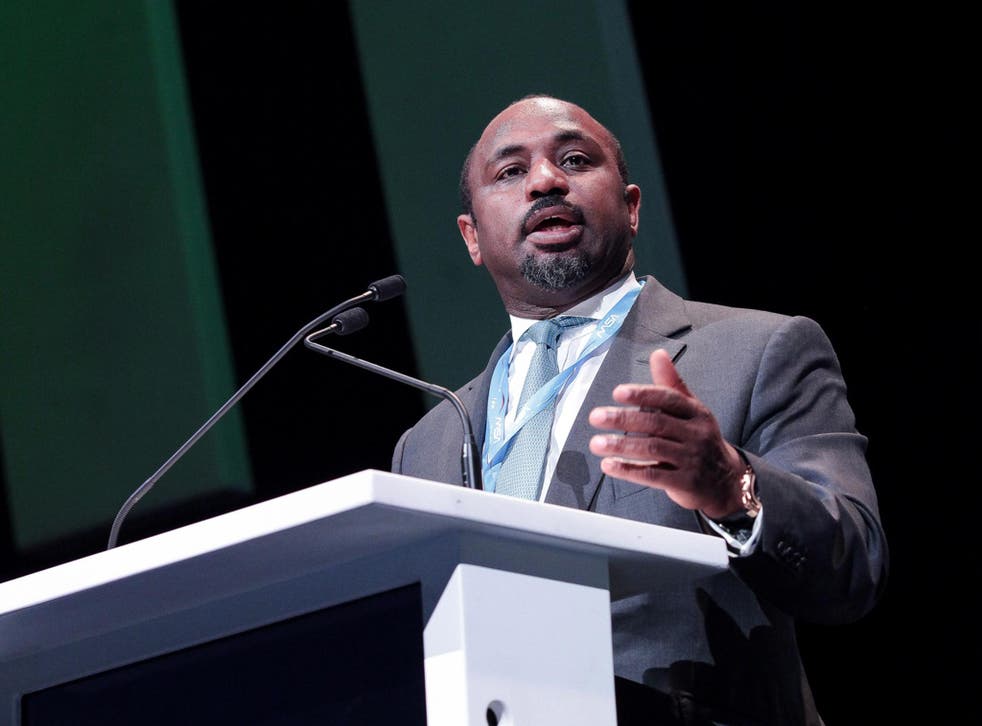 "The British were always telling us to hold regular elections: well they are certainly leading by example now, aren't they? Democracy in action every other month now it seems," reflects John Sisay. "It certainly makes our politics in Sierra Leone pretty dull by comparison: we only hold elections once every five years."
Mr Sisay is standing to be president next year and there is a strong likelihood that he will emerge as the leader of his country. If he does not succeed, he says, it will not be for want of trying. "We south Londoners are pretty damned determined when we set our mind to something. Don't forget, there is already one Tooting boy who is not doing too badly at politics at the moment," he points out.
There was once the possibility that 47-year-old Mr Sisay, who spent a large part of his childhood in south London, may have followed Sadiq Khan, who he knows, into public life in Britain. Like the Mayor of London, he too was a member of the Labour Party and was also the president of the students' union while at London University's Goldsmith College.
But Mr Sisay decided that Sierra Leone, his home country, was where he wanted to serve. He has political connections there: his first cousin, Ernest Bai Koroma, is the current President and his family has long been socially and politically active. There are also financial connections, he is the former CEO of Sierra Rutile, the largest mining company for rutile, a mineral formed mainly of titanium dioxide, in the region and is the president of the Sierra Leone Chamber of Mines.
The rich deposits of one form of mineral, diamonds, should have been a great boon for Sierra Leone, but they also proved to be a source of much misery. Greed for the fabulous riches offered by "blood diamonds" led to bitter divisions, ending in a civil war which became noted for its savagery in killings, mutilations and rapes.
One of the key instigators of the violence and the industrial scale looting of diamonds was Charles Taylor, the leader of Liberia, the state next door. He has been indicted for war crimes and crimes against humanity at The Hague and sentenced to 50 years in prison.
World news in pictures

Show all 50
But the legacy of the violence, with 50,000 killed in the civil war, followed by the devastating Ebola epidemic in which tens of thousands were infected and 3,000 died, has left Sierra Leone facing great hardship with a faltering economy and unemployment. It is, however, relatively stable, peaceful and held up as an example by the international community of what can be achieved if countries in difficult parts of the world have a chance to make their way without the scourge of internecine violence.
Sierra Leone is one of very few successes of Britain's wars of liberal intervention – "Blair's Wars" – which ended with the disaster of Iraq. British forces were sent in 18 years ago to fight vicious rebel factions and this was achieved, in no small measure, due to the ignoring of cautionary orders from London by the officer in command of UK forces, Brigadier David Richards (the future Chief of Defence Staff, General Sir David Richards). The UK continues to maintain a presence there through civil advisors and a military training team.
Mr Sisay believes that the relationship with Britain needs to be strengthened. "I don't mean this in the sense of an old colonial power propping up a weak state. I accept the view that there is concern about just handing out aid," he wants to stress.
"I am not in favour of what is seen as an African sense of entitlement. What we should be striving for is trade as well as aid and I think in this Sierra Leone has a lot to offer. Rebalancing the relationship with our international partners needs to be part of a wider plan."
Mr Sisay is keen to point out the jobs he created while working for Rutile which employs thousands across the country, with 80 per cent of the senior management from Sierra Leone, rather than expatriates. He volunteered for the anti-Ebola campaign, stressing that the medical safety measures he and his team put in place resulted in "zero case" of the epidemic in the company's mining areas. He has also, on a number of occasions, paid the salaries of teachers in parts of the country and offered loans on generous terms to small businesses.
The seeming altruism can, and has been, ascribed to smoothing his path to power. Mr Sisay accepts that he is open to that claim. But, he wants to add: "I have shown that I can run a business which is successful and also good for the wider community, and a dynamic private sector will be hugely important for the economy. I personally don't need to get into power to make myself rich. Surely, it is a perfectly natural aspiration to give something back to one's country."
If it does not work out at the end of the day Mr Sisay could, perhaps, return to the party fold in Britain, with Labour now doing so unexpectedly well. "What is happening in the UK is really interesting," he acknowledges. "But it is almost too exciting, I think I will stick to our more boring, sedate form of politics."
Register for free to continue reading
Registration is a free and easy way to support our truly independent journalism
By registering, you will also enjoy limited access to Premium articles, exclusive newsletters, commenting, and virtual events with our leading journalists
Already have an account? sign in
Join our new commenting forum
Join thought-provoking conversations, follow other Independent readers and see their replies