South African President Jacob Zuma's midnight reshuffle throws ruling ANC party into crisis
Value of rand crashes 5 per cent as reliable finance minister is dramatically axed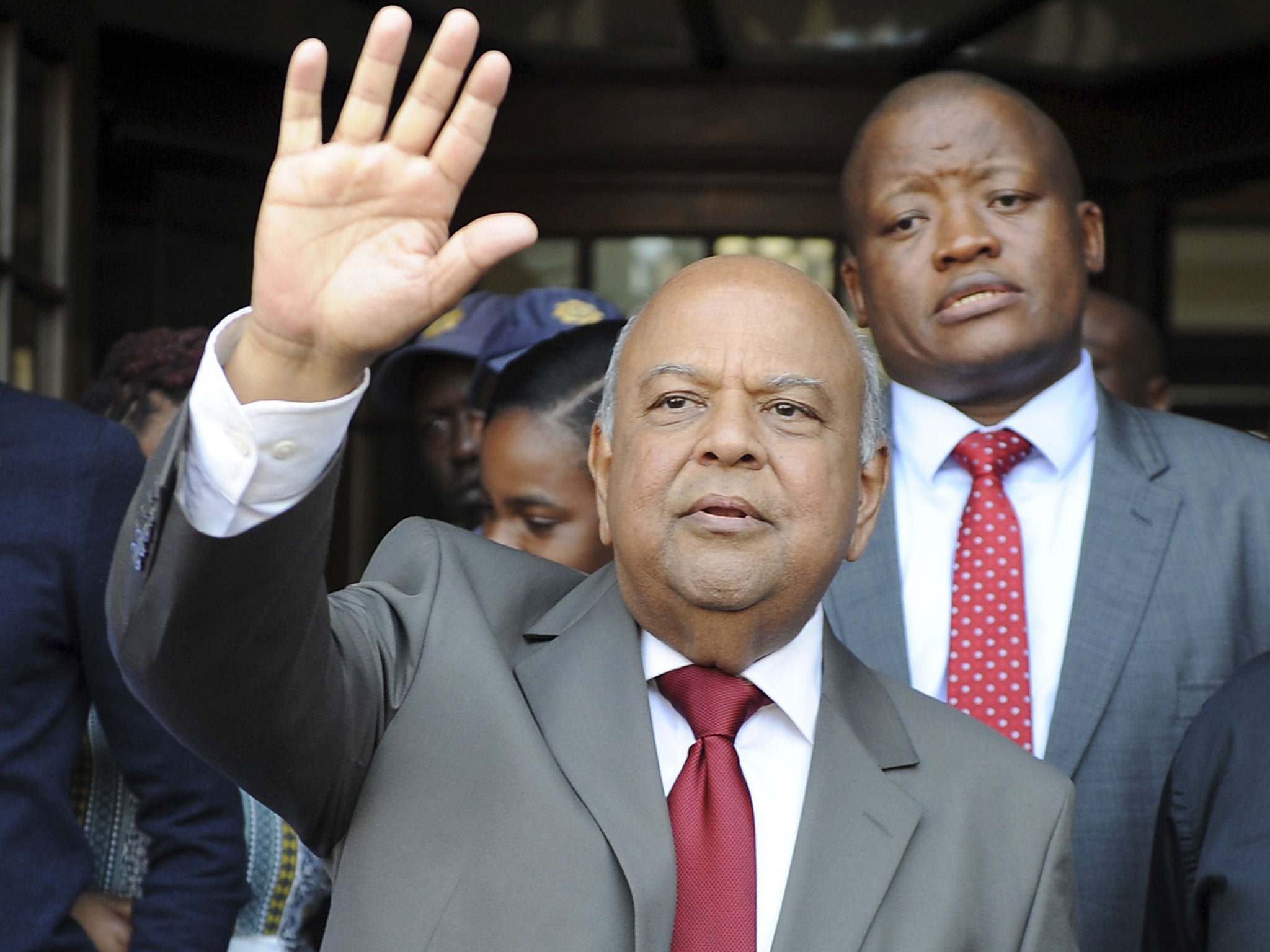 South Africa's Jacob Zuma has taken the biggest political risk of his scandal-hit presidency, sacking the locally and internationally well-regarded finance minister Pravin Gordhan in a dramatic midnight Cabinet reshuffle.
By taking the unusual step of swinging the axe without consulting senior members of the African National Congress (ANC), President Zuma plunged the ruling party into what analysts have called its worst crisis since the 1994 end to apartheid rule.
Mr Gordhan was recalled from trade talks in London this week, on the pretence that he and his deputy Mcebisi Jonas were plotting with UK banks against the interests of the South African economy. Both were sacked, despite Mr Zuma's own deputy Cyril Ramaphosa dismissing reports of the plot as "spurious".
The timing of the reshuffle in the early hours of Friday, with 10 out of 35 ministers losing their jobs in all, was designed to reduce the impact on financial markets.
Nonetheless, the value of the rand crashed by 5 per cent and looked set for its biggest weekly decline since December 2015. Banking stocks were also down by a similar amount, while bond yields climbed sharply – a sure sign that investors were becoming less confident in the country's ability to repay its debts.
Mr Gordhan, who also served a previous stint as finance minister between 2009 and 2014, espoused an emphasis on fiscal responsibility and was seen as a safe pair of hands. Mr Zuma's critics said his sacking could pave the way for a raid on the Treasury.
Demonstrators took to the street outside parliament on Friday morning after news of the sacking emerged, singing protest songs and demanding "Zuma Must Fall".
They were encouraged by Mr Gordhan who called a news conference shortly before midday, urging ANC members to hark back to their routes as a party of activists and suggesting they "organise" against the presidency.
"We hope that more South Africans will make it clear that our country is not for sale," he told his supporters.
As well as the critical deputy President, the ANC Secretary General Gwede Mantashe said he was "very uncomfortable" with how the reshuffle was conducted, suggesting Mr Zuma had sacked competent ministers while retaining those who "do not perform".
"I feel like this list [of changes] has been developed somewhere else and was given to us to legitimise it," Mr Mantashe told Talk Radio 702 – an apparent reference to ongoing allegations that Mr Zuma is unduly influenced by the wealthy Gupta family.
But in signs of a growing rift in the party, the ANC's powerful youth wing and Women's League both backed the changes, calling Mr Gordhan's replacement – former home affairs minister Malusi Gigaba – an "experienced and intelligent" appointment.
The main opposition party, the Democratic Alliance, said it would file an urgent legal request to try and block the reshuffle and separately push for a parliamentary vote of no-confidence in the President.
Mr Zuma has survived such attempts before - as well as an attempted coup by senior party members late last year – despite having to pay back millions in state funds he spent on his private home. The President is expected to survive once again, but his growing unpopularity could seriously harm the ANC's prospects ahead of the 2019 general election.
Join our commenting forum
Join thought-provoking conversations, follow other Independent readers and see their replies