South African officers involved in death of man dragged by police van are charged with murder
Incident  shines a light on South Africa's much-criticised police force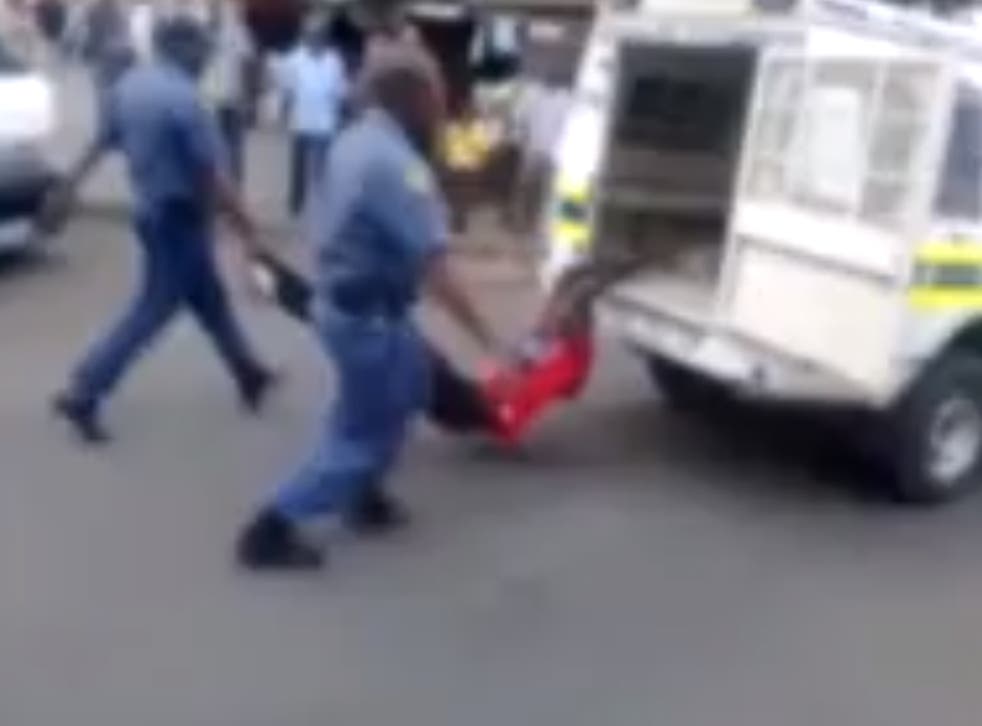 Eight officers, thought to have been involved in the death of a man handcuffed to a police van near Johannesburg, have been charged with murder, South African police have announced.
Warning: Graphic content in video
Late today, eight policemen from Daveyton were charged with murder, said Moses Dlamini of the police investigation unit.
Police chief Riah Phiyega said earlier that she shares "the extreme shock and outrage" over a video showing the abuse of the immigrant by police officers.
General Phiyega said she fully supports the investigation by the police watchdog agency and added that the rights of Mido Macia, a 27-year-old from neighbouring Mozambique, were "violated in the most extreme form".
The incident caused shock around the world yesterday, and once again shone a light on South Africa's much-criticised police force.
Video footage taken by onlookers at the scene in the town of Daveyton, Ekurhuleni, shows Mozambican migrant Mido Macia being handcuffed to the rear of police vehicle.
It initially reverses towards him before driving off - dragging him behind.
South Africa's police watchdog, the Independent Police Investigative Directorate (IPID), confirmed yesterday that a murder investigation was underway and that Mr Macia had suffered head and other injuries, including internal bleeding.
The video was published by South Africa's Daily Sun newspaper, which claimed that jail inmates later told them Mr Macia had been beaten to death in police custody.
Amnesty International estimates that the IPID was called to investigate 720 new cases of suspicious deaths involving the police between April 2011 and March 2012.
Cameron Jacobs, the South Africa Director of Human Rights Watch, said: "This is not the first time that we've seen acts of brutality or excessive force. It's also deeply concerning that this incident involved a foreign national. There are worries that this may have played a part."
Register for free to continue reading
Registration is a free and easy way to support our truly independent journalism
By registering, you will also enjoy limited access to Premium articles, exclusive newsletters, commenting, and virtual events with our leading journalists
Already have an account? sign in
Register for free to continue reading
Registration is a free and easy way to support our truly independent journalism
By registering, you will also enjoy limited access to Premium articles, exclusive newsletters, commenting, and virtual events with our leading journalists
Already have an account? sign in
Join our new commenting forum
Join thought-provoking conversations, follow other Independent readers and see their replies