Sudan: the new battlefield in Iran and Israel's covert conflict
Warships from Tehran dock in Port Sudan as tensions between the two Middle East powers escalate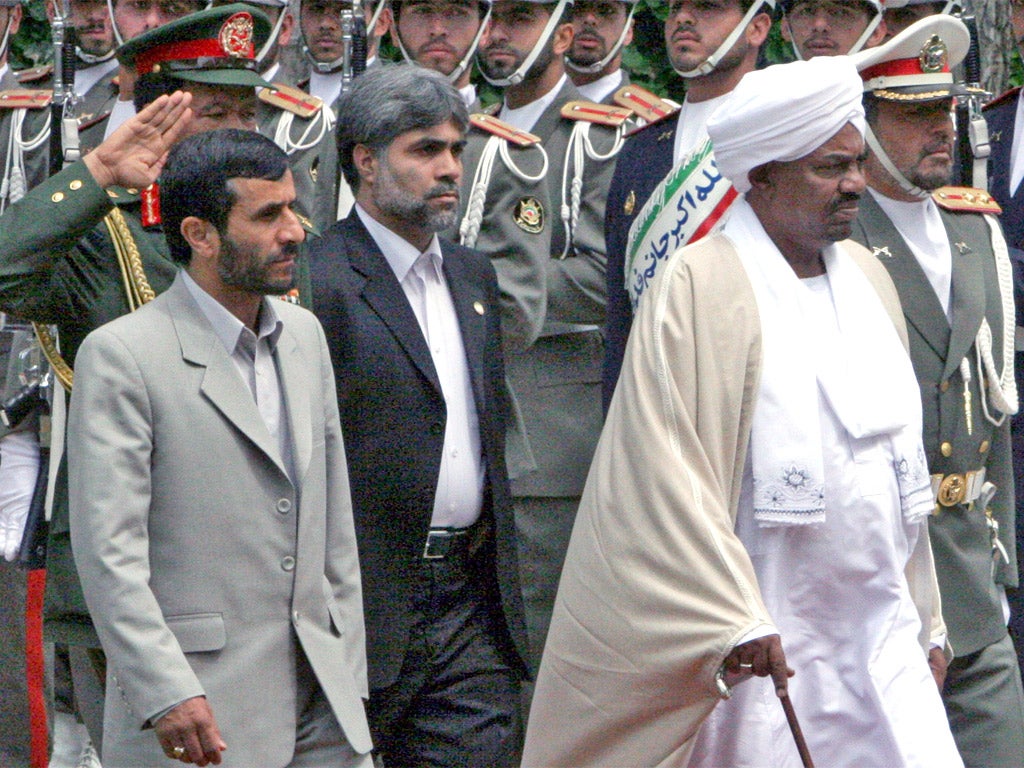 Iranian warships have arrived in Port Sudan in an apparent show of support for the government in Khartoum, one week after it accused Israel of bombing an arms factory in the Sudanese capital.
Iran's state news agency confirmed yesterday that two vessels, a destroyer and a helicopter carrier have docked in Sudan's main port on the Red Sea and their commanders will be meeting Sudanese officials.
While Iran said the mission was related to anti-piracy efforts, the move represents a possible escalation of a proxy war between Iran and Israel that has been playing out in the conflict between the Sudans.
Israel has emerged as an influential military and commercial ally of South Sudan since its independence last year, while Iran has strengthened its links with the Khartoum regime.
A Sudanese military official said the naval visit was an "exchange of amicable relations" between the two nations. Meanwhile Iranian officials said the ships had been dispatched last month, prior to the arms factory explosion in which four people were killed.
Israel has been accused of sending eight fighter jets to destroy an arms factory in Khartoum last week, in a possible rehearsal for a strike on Iranian nuclear targets. The government in Israel has refused to confirm or deny the allegations, with Sudan saying it will report the country to the UN. Israel has previously referred to Sudan as a "dangerous terrorist state". Both Israel and the US have bombed targets inside Sudan.
Imagery released by the US monitoring group The Satellite Sentinel Project supported the Sudanese claims of an air strike. Pictures released by the group, which is traditionally critical of the regime in Khartoum, showed half a dozen large craters, measuring more than 50-feet across.
Images from the same site prior to the blast showed some 40 shipping containers prompting experts to speculate over what was being stored at the site.
An Israeli military expert told the Associated Press that it was likely that his country had identified an "imminent threat" at Yarmouk. Shlomo Brom, a retired Brigadier General said that the strike may have been aimed at destroying "a new category of weapons" due to be smuggled into Gaza. Such weapons could include short range missiles more advanced than rockets currently fired from the Strip or "something with air defence capability".
Security sources said the Yarmouk factory attack was a sophisticated operation aided by a Gulfstream Jet loaded with electronic warfare outside of Sudanese airspace which jammed the country's air defences. Fighter jets reportedly refuelled after flying south along the Red Sea to evade Egyptian air defences and then turned west to strike the factory.
Since Sudan's president, Omar al-Bashir, came to power in a coup backed by Islamists in 1989, the government in Tehran has seen the Arab-led government in Sudan as a useful ally in north-east Africa. According to Western security reports Iran has used Sudan's vast territory as a corridor for weapons to be smuggled into Egypt and on to Hamas, the Palestinian Islamist group who govern the Gaza Strip.
Israel has previously bombed what it claimed were Iranian convoys in this area three years ago. Katherine Zimmerman, an analyst with Critical Threats, said the Yarmouk attack could be another strike against weapons smuggling networks but "alternatively, it might be an early indicator of increasing likelihood of conflict between Israel and Iran."
In this scenario last week's bombing may have been a pre-emptive strike to deny arms to Iran's allies such as Hamas in the Gaza Strip and Hezbollah in southern Lebanon. Both of these groups would be expected to strike Israeli targets in the event of any future attack on Iran's nuclear programme.
The impact of the increasing confrontation between Iran and Israel over the former's nuclear ambitions could further destabilise the conflict between the Sudans. The former civil war foes returned to brink of an all-out war earlier this year and recently signed a peace deal that some observers regards as a temporary truce. No clear border has been demarcated between the two countries and both governments accuse the others of backing armed rebels inside their respective territories.
Join our commenting forum
Join thought-provoking conversations, follow other Independent readers and see their replies