'The gap between rich and poor has not changed': As South Africa mourns, its most deprived say that Nelson Mandela's vision has not been realised
Figures show that while the incomes of black households have increased by an average of 169 per cent over the past 10 years, they are a sixth of those of white households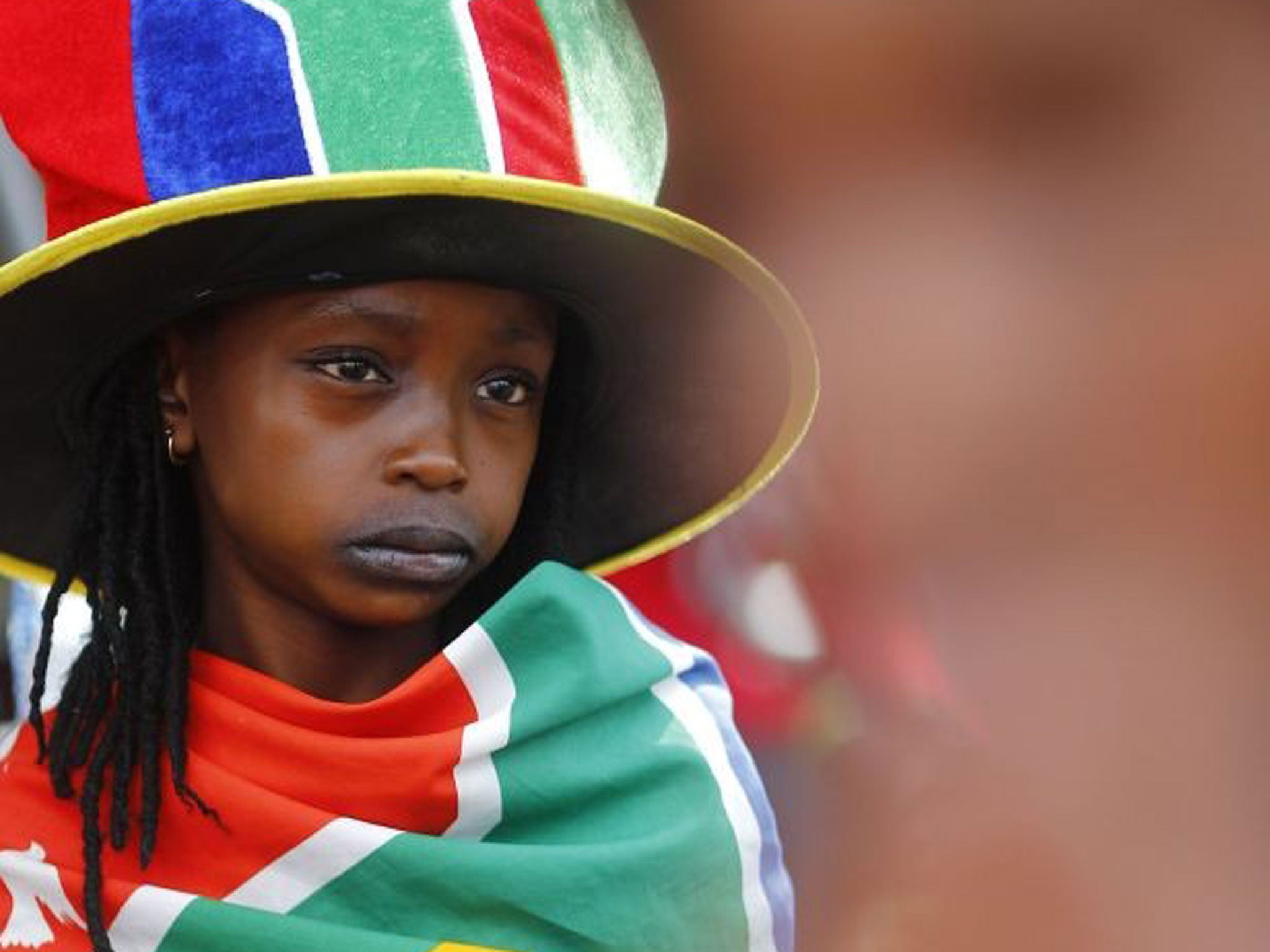 In the street next to the single-room shack in which Nelson Mandela lived when he first came to this city, a group of mourners dressed in funeral black and white were forming a line.
Margaret Msipi and the others were there to say good-bye to a friend, Khali Mufiwa, who had died on Thursday. As they waited for a post-cemetery lunch of rice and chicken, served in polystyrene boxes, they also reflected on the loss of Mr Mandela, who had passed away the same day, and mourned how little some things had changed since the neighbourhood's most famous son was a resident.
When Mandela moved to the north-eastern Johannesburg township of Alexandra in 1940 and rented a room at 46 Seventh Ave, he made do without electricity or running water and later recalled hungry children running around.
Yet seventy years on, for many in Alexandra, and in countless similar places across the country, the situation in some respects is today little different. And as millions of South Africans on Saturday continued to celebrate Mandela's achievements - from people lining up to sign books of condolence in upmarket Sandton or the crowds dancing outside Mandela's second, later home in Soweto - it was in the still marginalised neighbourhoods that people insisted the revolution started by the first black president had yet to be completed.
"He gave us free schools and clinics but we have no houses – we are all still living in shacks," said the 69-year Mrs Msipi, whose husband died 15 years ago. "And there are no jobs – the young people cannot get jobs. I have four children, six grand-children and two great grandchildren. They are all living on my pension."
Among the most distressing parts of Alexandra is the S'swetla "squatter camp", located next to a cemetery where Mrs Msipi and the other mourners had buried their friend. Here, up to 5,000 people live in shacks separated by narrow, uncovered alleys, where pigs forage in the rubbish and homes still have no electricity. Water comes from a handful of pumps and a line of portable lavatories are what passes for sanitation.
Michael Ngobeni, a community activist, led a tour past the homes that ended on the edge of a polluted stretch of the Jukskei River. Every year, he said, people drowned when the waters flooded. As he walked back up the hill, men clutching large bottles of beer looked up from simple bars.
"Mandela's death is a great loss to the nation but over the last 20 years nothing has happened to us," said Mr Ngobeni. "When you talk about freedom you cannot say we have tasted freedom. We don't have electricity, proper water. It's very bad."
Figures released last year following a census showed that while the incomes of black households had increased by an average of 169 per cent over the past ten years, they still represented a sixth of those of white households.
"Great strides have been made," President Jacob Zuma said at the time, according to Bloomberg News. "However, much remains to be done to further improve the livelihoods of our people especially in terms of significant disparities that still exist between the rich and poor."
He added: "These figures tell us that at the bottom of the rung is the black majority who continue to be confronted by deep poverty, unemployment and inequality."
Experts say the economic exclusion of so many people – South Africa is around 80 per cent black – continues to act as an barrier between different communities. The latest report by the Institute for Justice and Reconciliation said "economic exclusion in the form of class inequality, unemployment and poverty is highlighted...as the greatest impediment to reconciliation in present day South Africa".
Few interviewed on Saturday blamed Mandela himself. Rather, they said, the leaders who had succeeded in his wake had struggled to deliver. Several claimed the two leaders who had followed him had fallen foul of corruption.
"Obviously we are not equal. We are a young democracy," said Jabulani Maqwaza, a black businessman who was watching a multi-racial crowd gather in Sandton's Nelson Mandela Square, centre of the wealthiest square mile in Africa and now home to a huge statute of the former leader. "But you would not have seen this before 1994. He created the opportunity for us to at least have a stake in the economy."
Furthermore, said Mr Maqwaza, 31, Mandela's most important mandate was not about the economy but about ending the racial conflict and persuading both communities to learn to trust. "Just to get stability - that was the most important thing," he said.
Two white women, Anita Pratt and Susan Vanzyl, both admirers of the late president, said they were struck by how humble he appeared and how they had never heard accusations of corruption levelled at him. Yet they said they were not as impressed by everyone within the the African National Congress (ANC) party.
"A lot of promises were made but they were not followed up," said Mrs Pratt, who voted for Mandela when he secured his historic victory in 1994. "There are social problems, unemployment."
In the Houghton neighbourhood, where Mandela most recently lived and where he died, the homes are hidden behind high walls topped with razor wires and signs warning that armed response units are on duty. Crowds gathered at the junction nearest to Mandela house to lay flowers, cards and messages.
[In the first comment yet from Mandela's family, a spokesman emerged to read a statement that said: "The pillar of the royal Mandela family is no more with us physically, but his spirit is still with us. We have lost a great man, a son of the soil whose greatness in our family was in the simplicity of his nature in our midst - a caring family leader who made time for all and on that score we will miss him dearly."]
Kenneth Nhlenge Thwa, a businessman, was among those who had brought their families to pay their respects. "It's not as if the country does not have money," he said. "But people have come into the ANC for themselves, not to get things done. They want to make money from little things."
The township of Soweto where Mandela lived with his second wife, Winnie, has been the focus for much of the celebrations and reflection that have followed the death of the 95-year-old. Among the crowds on Saturday on Vilakazi Street, where Mandela lived at No 8115, were three women wearing ANC T-shirts.
They did not entirely dismiss the suggestion that progress for South Africa and its black majority had been held back by corruption, but they said it was not helpful to criticise. "It's not going to be a quick change. But I think we will get there," said Dipuo Ngangane.
The townships such as the now partly sanitised Soweto, and the still scruffy Alexandra, located on the periphery of the city, are the areas where the poor have traditionally congregated, a magnet for economic migrants from the country's rural areas.
Amid the narrow, sloping lanes of Alexandra, filled with lines of washing, it appeared as if almost every other shop was a liquor store. Locals talked about drug and alcohol problems, alongside the unemployment. HIV is also a major issue.
When Mandela moved into the room on Seventh Ave, part of a property that still belongs to the Xhoma family, the late leader was working as a clerk at the white-owned law firm of Witkin, Sidelsky and Eidelman. For all its horrors, he said the area was also a haven for the black community as it was one of the few areas where they could possess freehold property.
"Life in Alexandra was exhilarating and precarious. It's atmosphere was alive, its spirit adventurous, it's people resourceful," Mandela recalled in his 1994 autobiography Long Walk to Freedom.
In his retirement, Mandela revisited his old digs in Alexandra and knocked on the door of the Xhomas and spent time with them. No-one was at home on Saturday and the door of the tiny shack, which has been officially a museum, was locked. Unlike at his homes in Houghton and Soweto, where a field of flower bouquets is growing, just a couple of bunches had been left on the floor.
"The thing he did for us was to bring people together. White and black – we are not hating each other any more," said 65-year-old Daniel Lethoalo, a retired driver who lives a couple of doors from where Mandela once lodged. "But the difference between rich and poor is still the same. That has not changed."
Preparations for the funeral
Yesterday Mandela's body was prepared by the Military Health Service of the South African National Defence Force to lie in state. Work began in Johannesburg, Mthatha and Qunu to prepare for events related to the state funeral.
Today A national day of prayer and reflection.
Tuesday The official memorial service at FNB Stadium, Johannesburg, attended by world leaders.
Wednesday to Friday South Africans and selected international visitors will attend the Union Buildings in Pretoria for Mandela's three-day lying-in-state. His body will be transported every day between the Military Hospital, Thaba Tshwane, and the Union Buildings. Mourners are invited to form a public guard of honour along the route.
Saturday Mandela's body will be flown to Mthatha, Eastern Cape, ready for the procession to Qunu for a traditional Thembu ceremony.
Sunday A state funeral service and interment ceremony will be held at Mandela's home and final resting place at Qunu.
Mandela: A tribute
The Independent has produced a commemorative 48-page magazine to mark the life of Nelson Mandela in words and pictures. With contributions from Bill Clinton, Desmond Tutu, John Carlin, Anthony Sampson, Albie Sachs, Walter Sisulu and Ahmed Kathrada, this is an elegant record of Mandela's achievements.
If you would like a copy of the supplement, please email iosbooks@independent.co.uk with your full name and postal address. This offer is subject to availability.
Join our commenting forum
Join thought-provoking conversations, follow other Independent readers and see their replies