The king of diamonds, his $83m Star, and a flaw? The Israeli tycoon who dominates the gemstone market is under scrutiny
Beny Steinmetz is facing a raft of corruption allegations surrounding his other multi-billion dollar mining interests in one of Africa's poorest countries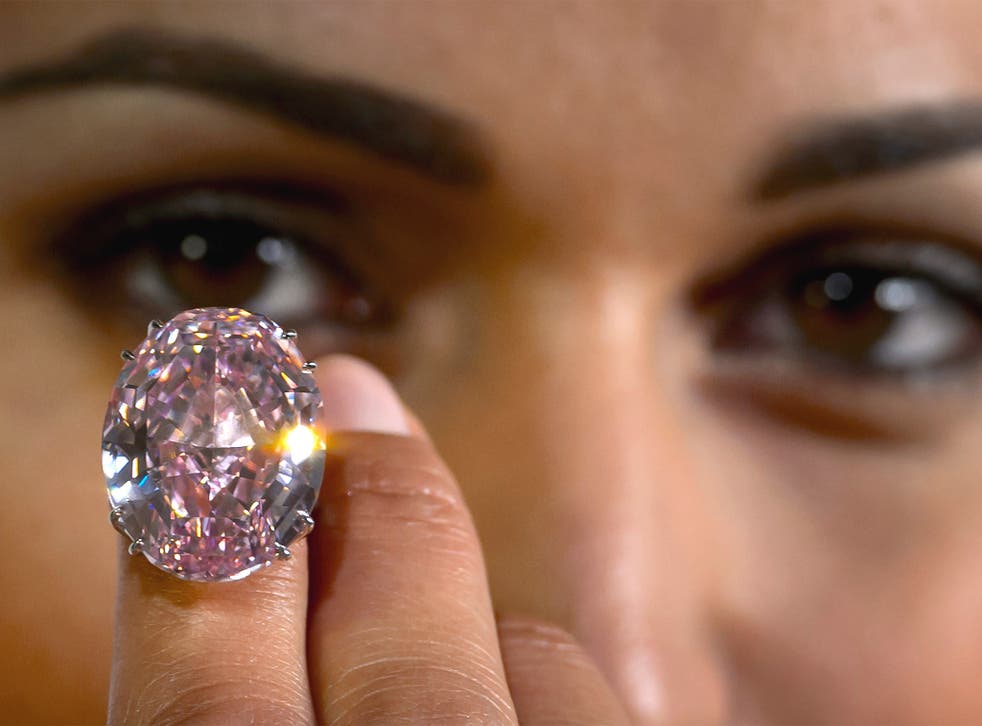 A hush descended upon the opulent 19th-century splendour of Geneva's Beau-Rivage Hotel. The 200 or so elegantly dressed guests who made the pilgrimage to the lakeside palace were there to watch an extremely special auction: the bidding for the Pink Star – the most valuable gemstone ever sold.
Those assembled at the Beau-Rivage with a view to bid for lot number 372 were billionaires. For this perfect vivid pink diamond, of 59.6 carats, is the largest flawless gem of its kind ever graded by the Gemological Institute of America. The jewel sold for $83m (£52m) – and a world record price for any kind of jewel, according to Sotheby's.
One such man for whom such a sum is small change is Beny Steinmetz, the Israeli diamond tycoon whose company cut and polished the 132.5 carat rough diamond into its beautiful oval shape. But, although he will doubtless hear with interest the outcome of the auction of the Pink Star, Mr Steinmetz has other things on his mind.
The Israel, London and Swiss-based tycoon is awaiting the deliberations of a New York judge as to whether or not a case surrounding a Steinmetz agent should be heard that will potentially expose his business to a corruption allegations surrounding his multi-billion dollar mining interests in one of Africa's poorest countries. Mr Steinmetz has not been charged with a crime and denies any wrongdoing, but tales surround him of lavish gifts to officials, including a diamond-studded model racing car and watch – allegations of bribery made on his behalf that he strenuously denies.
Mr Steinmetz, often described as Israel's richest man, has diamonds flowing through his veins. His father, Rubin, was a diamond cutter apprenticed in Antwerp before moving to Palestine in the 1930s. Beny followed his father's route to Antwerp first, before heading to Africa, with the goal of doing deals to buy rough stones directly from the mining companies operating in some of the most dangerous parts of the continent. In the 1990s, he was the biggest buyer of stones from Angola. Then he became the biggest investor in diamond-rich Sierra Leone. He is today the biggest buyer of diamonds from De Beers, which sold him the rough stone for the Pink Star, and is one of Tiffany's biggest suppliers.
But while his first fortune sprung from diamonds from African trouble spots, his current worries come from the more prosaic substance of iron ore. To be more precise, the iron ore found in the Simandou mountains of the impoverished west African state of Guinea.
Iron ore could be Guinea's route out of poverty – the dusty red Simandou range is thought to be one of the biggest deposits of the vital metal in the world. But, instead, for years it appears to have become its curse, giving rise to alleged corruption.
Guinea first awarded the mining rights for Simandou to Rio Tinto, the British mining giant with deep enough pockets and the expertise to invest in developing mines in the region 400 miles deep in the jungle. That was in 1997. But Rio Tinto's progress was slow, angering the dictatorial leader, General Lansana Conté.
About a decade later, Mr Steinmetz decided to make his move. He began courting the General and, in a decision that left the mining world flabbergasted, Conté stripped Rio of the mining rights and handed a licence to explore half of the Simandou region to Mr Steinmetz. Critics say it is hard to understand why such a vast resource should be granted to a company with no experience of mining iron ore. Rio was outraged and pointed out its "surprise" that a company with no relevant experience should be given the rights.
A few months later, and having invested just $160m, Mr Steinmetz did a deal with the Brazilian miner Vale, selling half of his Simandou operations for $2.5bn. Mr Steinmetz says he deserves credit for attracting an international mining company in to make the heavy investment needed to get it working.
But others, including the current government, suspect his deal with the General was born from corruption. The current President Alpha Condé, himself being increasingly accused by his enemies of corruption and a dictatorial bent, launched a plan to investigate suspicious mining deals and, if necessary, rip them up and run new, open tenders. He was assisted by agencies backed by the hedge fund billionaire and philanthropist George Soros and commissioned an investigation into the Steinmetz deal.
The investigation focused on a fixer used by Mr Steinmetz to get close to the regime of the previous president. His name was Frederic Cilins, a Frenchman who specialised in helping Western businesses in Africa.
According to reports in The New Yorker, Mr Cilins admitted to an investigator that he had befriended officials with gifts. Mr Cilins allegedly told the investigators of lavish gifts they gave the President, including a watch inlaid with Steinmetz diamonds, while the minister of mines was presented with a model race car similarly encrusted.
Such gifts may be commonplace in Africa, but these days, they are illegal in the US and, after the Bribery Act, the UK. Mr Steinmetz vigorously denies making bribes. He says there is no firm evidence in the investigation's report and claims the whole probe is due to a personal vendetta by Mr Soros: a charge Mr Soros denies. Mr Steinmetz points out that the NGO Global Witness, which has also been working on issues surrounding Guinean corruption, is also funded by Mr Soros.
Nonetheless, the trouble seems to be sticking. Reports this week in Guinea state that the committee investigating the Steinmetz deal has summoned his company to hearings on 10 December to interrogate them.
Britain's Serious Fraud Office is also said to be making inquiries, while Swiss police have visited Mr Steinmetz's Swiss home. Meanwhile, in the US where a probe into Guinea bribes is under way, Mr Steinmetz's fixer Mr Cilins was arrested by the FBI. He denies charges of obstructing a criminal investigation and a judge's key ruling in the case is expected in December.
Mr Steinmetz is convinced he is the victim of a huge conspiracy and is confident he will be cleared.
But, unlike the flawless Pink Star, his opaque business methods lead to questions. For this king of diamonds, the next few weeks are the most important of his astonishingly lucrative career.
Join our new commenting forum
Join thought-provoking conversations, follow other Independent readers and see their replies