The picture that shows a hidden crisis: Malnutrition in Madagascar
While the African island nation of Madagascar has an image of a wildlife paradise among Western tourists, it is one of the poorest countries in the world. A critical issue facing its population is malnutrion, which affects half of all the country's children. 
Will Worley
Antananarivo
Saturday 06 August 2016 17:48 Comments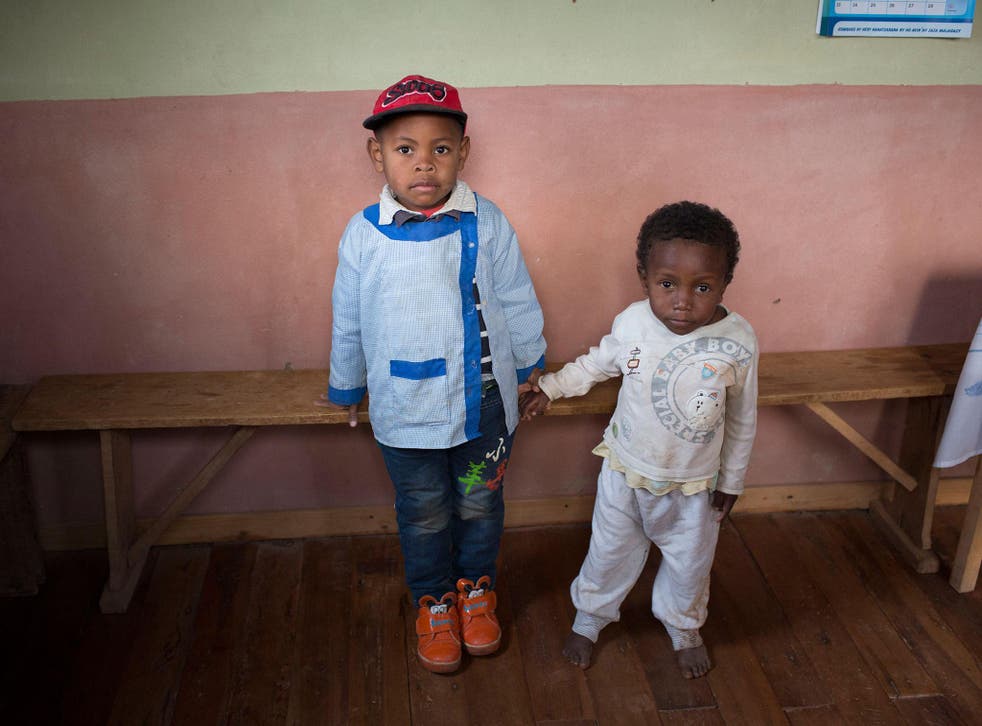 How old are the two boys pictured? To the uninformed observer, this could be an older brother with his younger sibling. But Sitraka and Miranto were actually born on the same day. Both are five years old.
However, Sitraka (right) suffers from chronic malnutrition, also known as stunting, an irreversible condition which affects half of all children under five in Madagascar, one of the poorest countries in the world.
Sitraka doesn't attend school. His mother is too ashamed to send him there, as he cannot defecate properly due to health issues caused by stunting.
In his short life, he has already suffered a hernia. His diet consists mostly of rice and cassava, a root vegetable.
For outsiders, Madagascar has an image as a wildlife paradise, but around 80 per cent of its people live in poverty. Its rate of chronic malnutrition is the fifth worst in the world, exceeded only by Papua New Guinea, Eritrea, Burundi and Timor-Leste. Worldwide, stunting affects an estimated 161 million children, representing a "staggering loss of human and economic potential," according to Nutrition for Growth, a multi-country task force on malnutrition.
Compared to severe acute malnutrition, which is visibly distinctive, chronic malnutrition is a slower burning issue, but no less problematic.
From the village of Ambohimidasy, an hour's drive from the capital, Antananarivo, Sitraka's mother, Mariette, was constantly working hard throughout her pregnancy. She ate mainly rice while Sitraka was in her womb and could rarely afford to buy meat and vegetables. She worked, and still does, informally, mostly by trying to grow crops to sell and washing laundry. Her income is just 1,500 Ariary a day, about 30 pence, and well below the World Bank's poverty threshold of $1.90 a day (£1.45).
When Sitraka was born, he weighed 2.8 kilograms. Any child born at less than three kilos is considered underweight. In addition to a low birth weight being a significant contributor to child mortality, if stunting is not properly dealt with before the child is two years old, it is irreversible.
The condition is caused by a lack of proper nutrients in food. Many poor Malagasy, like Mariette and Sitraka, just live off staples like cassava and rice. These foods fill the belly, but don't provide a proper balanced diet. If they are the only foods consumed by mother or child in the first 1,000 days of a child's life, including prenatally, it will lead to a host of physical and mental development problems.
Malnourished children are at far greater risk of disease than healthy children, and are more likely to suffer kidney damage or heart disease. Their weak immune systems can leave them greatly vulnerable to infectious diseases such as tuberculosis, the leading infectious killer in Madagascar.
Stunted children, individually, may appear to be proportioned and not unhealthy. But comparison with a healthy child of the same age is stark. While Miranto is a healthy and curious toddler, Sitraka is glassy eyed and noticeably less attentive and reactive. He clings to his mother's skirt as The Independent asks her questions.
Though opportunities are limited, Mariette has worked hard to do the best for Sitraka and he is in better health when we meet him than he has been. Mariette was able to find enough work to buy him yoghurt, on orders of the doctor who examined Sitraka when he was passing blood in his urine. "Compared to the first time he was sick, he's a lot better now," Mariette says.
She is also teaching Sitraka how to go to the toilet properly, so he can go back to the classroom. But even if he goes back, he will not go far, according to Virginie Razanatsoa, the Unicef nutrition officer who has seen Sitraka grow. She travels to various villages in the Itaosy commune, including Ambohimidasy, and advises mothers on nutrition. Razanatsoa believes Sitraka will only spend five years at the most in school, because of his poor mental capacity.
Sitraka's situation is far from unique and affects 50.1 per cent of all children in the country, according to Unicef.
This is of huge concern to Professor Mamy Andriamanarivo, Madagascar's health minister. "Chronic malnutrition is alarming for us," he tells The Independent. "We thought it was restricted to certain locations but when screening we realised it's everywhere, even richer areas."
As the last census was in 1993, the precise population of Madagascar is unknown. But its estimated 23.5 million people are spread throughout a huge landmass – larger than Kenya – and infrastructure is extremely poor. Remote districts are known to be hotbeds of malnutrition, both chronic and acute, but it also exists in urban areas.
Many young women give birth at a young age, and as Prof Andriamanarivo points out, maternal mortality rates are also high among chronically malnourished girls, who tend to have children earlier but whose bodies are not strong enough for childbirth.
The Minister continues: "Tackling malnutrition is now the main health priority. We're working very hard to fight it with our partners."
World news in pictures

Show all 50
The health budget in Madagascar is hugely reliant on foreign aid and the government is very dependent on local and international NGOs to administer basic nutrition and health services. This aid is limited and can be unreliable. Worse, Madagascar is a country which tends to be forgotten and is very much "off the map," according to a number of senior NGO workers The Independent spoke to. It languishes just below the top of crises lists, with the situation never quite dramatic enough to gain the attention of international media and donors.
Back in Ambohimidasy, nutrition advisor Virginie Razanatsoa is defiant that the country must overcome malnutrition. "We must fight against it," she says. "Because it's not acceptable. It's not acceptable for the future of our nation."
Register for free to continue reading
Registration is a free and easy way to support our truly independent journalism
By registering, you will also enjoy limited access to Premium articles, exclusive newsletters, commenting, and virtual events with our leading journalists
Already have an account? sign in
Join our new commenting forum
Join thought-provoking conversations, follow other Independent readers and see their replies