The vaccines that bring hope to the children of Africa
This year's Sport Relief will help to fund a £5m immunisation programme
Jeremy Clarke
Friday 23 March 2012 01:00 Comments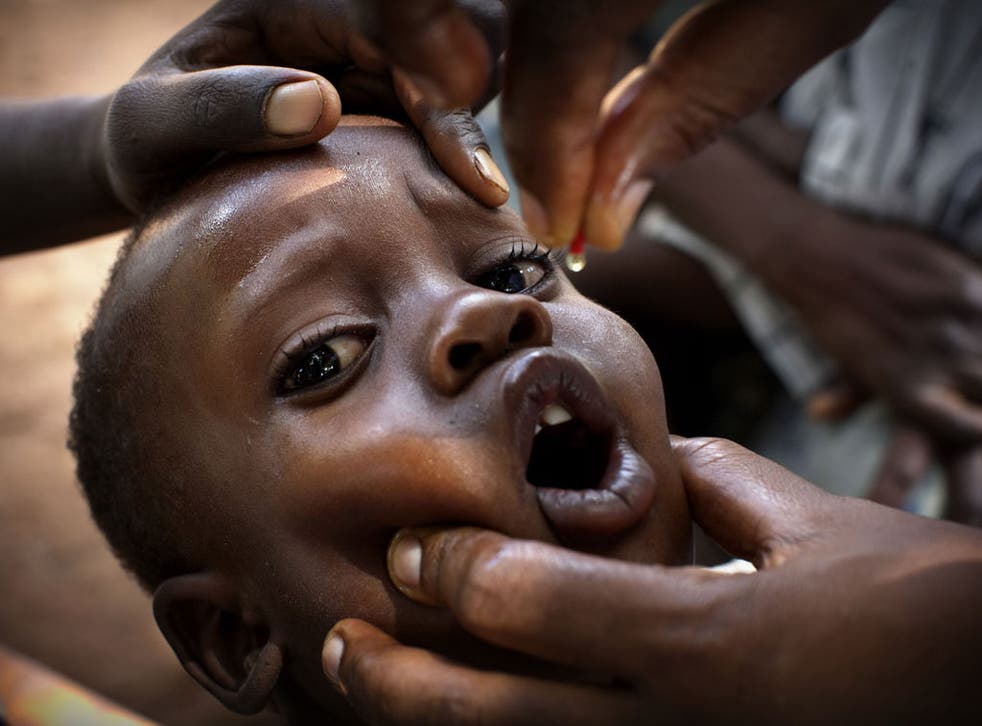 At first light mothers gather outside dozens of small health clinics in one of Nairobi's teeming slums. They emerge from thousands of homes made of rusted metal sheets and sodden cardboard, and wait next to rivers of sewage and waste where goats forage for breakfast.
Each mother carries a small infant on her hip, or in a makeshift sling across her back. They are queuing up for the life-saving vaccines for their children that many of us take for granted.
Across Africa, preventable diseases are still claiming the lives of children in their hundreds of thousands each year. "These clinics are busy every day, every session – mothers with children are lining up all morning and in the afternoon," said Josephine Odanga, an emergency health officer with Unicef in Kenya.
"The highest infant mortality rates are in high-density areas, and in remote areas where care-givers have to travel long distances to reach some communities. We need to do more to get health services to them."
In Kenya alone, 1.5 million children are being targeted for these essential vaccinations. "We need to protect against a huge range, from TB to measles, diphtheria, whooping cough, Hepatitis B, meningococcal, many others," she said.
Far from bustling Nairobi, on the other side of the continent in a remote, clinic in Sierra Leone, tiny two-and-a half-year-old Abdul was close to death when he and his mother, Aisha got there. "He's been sick for four days," Aisha said. "He had diarrhoea and he kept getting weaker. He lost his appetite and stopped playing. Whatever he ate, he threw up. I just didn't know what to do."
She thought she was going to lose him. "He's my only child," said the single mother, who ekes out a living washing for her neighbours after her husband left her when she was two months pregnant. But Abdul was one of the lucky ones; within an hour with the right treatment he was sitting up and asking for food.
Each year, around 2 million children die from vaccine-preventable diseases, mainly in developing nations. Sierra Leone is one of the world's poorest countries. For every 1,000 children born there, 140 do not live until their fifth birthday (in Kenya the number is 94). As in Abdul's case, many of the illnesses that kill these children are avoidable, such as diarrhoea and pneumonia.
"Diarrhoea cases here are a common, common condition," said Mohamed Tarawally, the community health officer at Abdul's clinic. "Sometimes, before the parents get here, the child dies on the way."
Sierra Leone has applied to the Gavi Alliance, a public-private international health partnership, for a vaccine that will protect children against rotavirus, the leading cause of severe infant diarrhoea. Rotavirus-related diarrhoea kills more than half-a-million children every year. "The rotavirus vaccine would be perfect if it is introduced in our country," said Mr Tarawally.
Every year, more than 2.5 million lives are saved and countless illnesses prevented because of vaccines. Comic Relief is working closely with the Gavi Alliance to support its immunisation programmes, funding pentavalent, rotavirus and pneumococcal vaccines.
Pneumococcal disease is the leading cause of deadly pneumonia, which is responsible for close to one in five child deaths – about 750,000 die in Africa from the disease each year.
In 2011, Kenya introduced the pneumococcal vaccine (PCV10) with the support of the Gavi Alliance. Providing pneumococcal vaccines in 40 low- income countries such as Kenya will save up to 7 million lives by 2030, according to Gavi. The alliance said if it is fully funded it can accelerate access to new vaccines that will save a further four million lives by 2015.
Comic Relief hopes to raise at least £2.5m towards children's vaccines from this year's Sport Relief campaign, and this contribution will be matched by the Bill & Melinda Gates Foundation, making a total donation of £5m to the Gavi Alliance to fund their immunisation work in Africa. According to Gavi, £5 could pay for a vaccine that will protect a child against five deadly diseases.
Immunisation is one of the most cost-effective health investments. It has eradicated smallpox, reduced the global incidence of polio by 99 per cent, and decreased many other causes of illness and death. More children than ever before are being reached with immunisation. In 2009, an estimated 107 million children under the age of one were vaccinated with three doses of diphtheria-tetanus-pertussis (DTP3) vaccine.
In the Gavi Alliance's first decade, 288 million children have been immunised against life-threatening diseases, and more than five million future deaths have been prevented.
Register for free to continue reading
Registration is a free and easy way to support our truly independent journalism
By registering, you will also enjoy limited access to Premium articles, exclusive newsletters, commenting, and virtual events with our leading journalists
Already have an account? sign in
Join our new commenting forum
Join thought-provoking conversations, follow other Independent readers and see their replies