Tunisia hotel attack: Flailing investigators ask, did the killer get his training in Libya?
Kim Sengupta reports from the home of Seifeddine Rezgui as officials try to solve the mystery of his radicalisation
Kim Sengupta
Tuesday 30 June 2015 01:06 Comments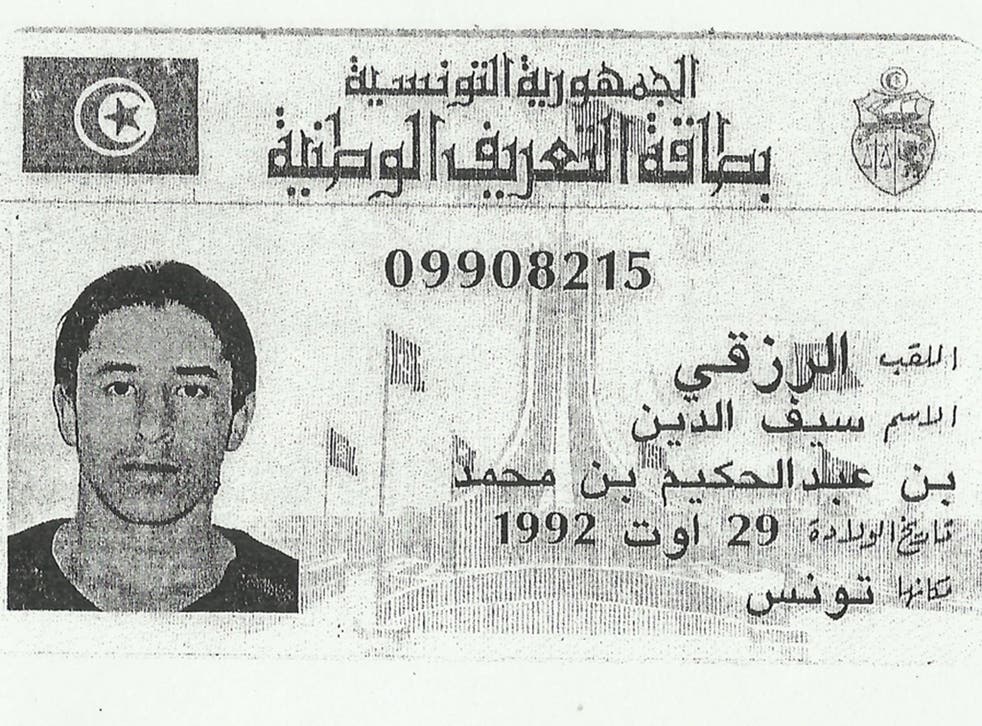 Authorities in Tunisia suffered from a catastrophic failure of intelligence over the massacre of tourists at the beach resort in Sousse. Police admitted in the hours after the bloodbath that they had no idea that Seifeddine Rezgui was a terrorist threat, The Independent has learned.
The deaths of 38 holidaymakers and the ensuing damaging impact for the country's tourist industry has led to a massive crackdown by the Tunisian government followed by a series of arrests. Interior Ministry spokesman Mohamed Ali Aroui stated that three of those detained on Monday were young men who had shared a house with the 23-year-old killer in the city of Kairouan.
The suspects are being questioned over possible links to the supply of weapons, documentation and planning of the attacks. Officials say that the investigation is also looking at whether Rezgui received combat training during a visit to Libya three months ago.
It has emerged, meanwhile, that the authorities were desperately short of information following the murders. Police found Rezgui's student registration card in his blood-soaked clothing after shooting him dead and rushed to his college, asking staff to help them build up a picture of him.
Tunisian Interior Minister Mohamed Gharsali said that those arrested in the past 24 hours were "from the network that was behind this terrorist criminal". But according to staff at l'Institut Superior des Sciences Appliquees et de Technologie (Issat) in Kairouan, where Rezgui studied, Ministry of Interior officials and police officers had said earlier that they had no knowledge that he was a member of a jihadist network.
Karem Belgharag, secretary general and head of administration at Issat, said he received a telephone call from the Ministry of Interior an hour and half after the murders on Friday afternoon saying Rezgui's student card connected him to the college. "I was still in a state of shock when the police arrived 10 minutes later. There were six or seven of them, they too seemed to be in shock. They said he had never been a suspect for anything and they were desperate for anything we could give them," said Mr Belgharag. "We gave them all the files we had on him they were very grateful. They took away his laptop. Since then we have had four more visits from different law agencies; they have spoken to teachers and students, they are devoting a lot of resources to it now."
The police were given a mobile phone number used by Rezgui they had not known about before. Days after his death, the number still rang, going to a voicemail message. Schaier Saleem, the director of Issat, said: "We could not give the police any information about extremist links Rezgui had because we simply did not know of them. We have almost 1,000 students here but we have never had any political problems with anyone, including Rezgui. There were no disciplinary problems with him, either. He was seen as a pleasant, friendly person, that's what his teachers said."
The description is at wide variance with neighbours of Rezgui in the city's Sidi Belkhacem district, who have stated that he and six other religiously devout young men sharing a rented house, next to the Mosque of the Seven Virgins, led secretive lives and avoided talking to local people. The group, they say, suddenly disappeared a month before the murders.
Sitting at his desk in Issat, Mr Belgharag shook his head. "All of us here feel the same way: we could never have foreseen what would happen – he did not take part in student politics and he was not particularly religious," he said. "Some religious students, for example, object to exams taking place during Ramadan but he had no problem with that. He obviously had many faces: at the other end from what happened in Sousse was that he was into things like breakdancing – we couldn't imagine that, either."
Rezgui was not studying aviation engineering, as some reports have suggested, but network management. He passed his first set of examinations for a master's degree on 22 May, picking up his certificate six days later. He travelled from Kairouan to Sousse a few days later, reportedly seeking a job in the tourist industry, but did not find one.
Asked about Rezgui's possible visit to Libya, Mr Belgharag said it could have been undertaken during a two-week spring break from college in May. But he stressed that he had no knowledge of such a visit. "I have been told that his passport did not have immigration stamps for Libya, although it is, of course, possible that someone could be smuggled over the border," he said.
The Tunisian government and the Libyan administration based in Tripoli – vying for control of the country with a rival regime in Tobruk – have repeatedly accused each other of exporting terrorism. The Libyans claim that the Tunisians, who comprise the largest contingent of foreign jihadists in Syria, are providing the leadership for Isis forces which have taken control of Muammar Gaddafi's former home city of Sirte and towns in the east of the country. The Tunisians claim that gunmen who killed 20 foreigners in an attack on the Bardo Museum in Tunis three months ago were trained in Libya.
Register for free to continue reading
Registration is a free and easy way to support our truly independent journalism
By registering, you will also enjoy limited access to Premium articles, exclusive newsletters, commenting, and virtual events with our leading journalists
Already have an account? sign in
Join our new commenting forum
Join thought-provoking conversations, follow other Independent readers and see their replies