Tunisia Hotel Attack: Man who 'took a bullet' for his fiancee alive in hospital
At least five Britons have been confirmed killed among the current death toll of 37 in Sousse Tunisia
Louis Dore
Friday 26 June 2015 23:16 Comments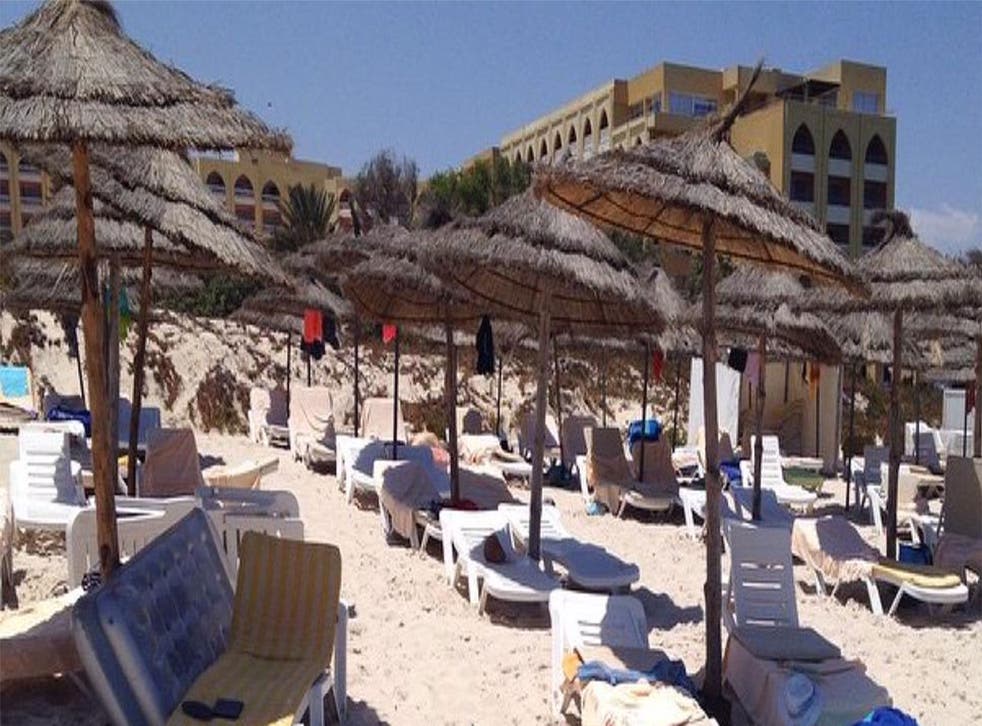 A Welsh tourist who was shot three times during the Tunisian terrorist attack used his body as a human shield to protect his fiancée, she has said.
Saera Wilson said gas engineer Matthew James, 30, was shot in the shoulder, chest and hip, protecting her when the gunman opened fire.
Ms Wilson told BBC News: "He took a bullet for me. I owe him my life because he threw himself in front of me when the shooting started.
"He was covered in blood from the shots, but he just told me to run away.
She said they had left their two children, Tegan, six, and Kaden, 14 months, at home with family to jet out to Sousse on 21 June for a two week break.
Matthew is alive and being treated for his wounds in a hospital.
She added: "You just can't explain how terrible it was. It was chaos with screaming and gunshots. I'm just so glad Matthew is alive because so many other people are dead."
Other Britons have given accounts of the shootings, including an unidentified man who told BBC News he had been hit by a bullet in the arm.
Former British tour tennis player, Ellie Makin, 22, described how she "saw a guy get shot in the stomach and then another in the head."
Miss Makin said "there was blood everywhere" as she fled the gunman on the beach, who was walking around with an umbrella prior to the shooting.
"All of a sudden he dropped the umbrella and had a gun, and he started shooting everyone to the right of me.
"He was to the right of me. I got up and just happened to look right and I saw the gun and the umbrella being dropped and then he started firing to the right.
"If he had fired to the left I don't know what would have happened. We're quite lucky."
Foreign Secretary Philip Hammond has also confirmed that "at least five Britons have been killed" in the shootings, and that "we must expect that there will be more reports of fatalities as we establish the detail on the ground."
A consular team is in Sousse, with two rapid response teams travelling to the region overnight, Mr Hammond said.
"We are working with the Tunisian authorities to understand what they are doing in response to this incident and around the tightening of security in this area.
"We are talking to other national authorities - particularly the German authorities who had large numbers of tourists in the area - and I have just finished a conference call with the tour operators who operate the majority of flights into this area."
Anyone affected or concerned about family and friends can contact the Foreign Office helpline on 020 7008 0000.
Register for free to continue reading
Registration is a free and easy way to support our truly independent journalism
By registering, you will also enjoy limited access to Premium articles, exclusive newsletters, commenting, and virtual events with our leading journalists
Already have an account? sign in
Join our new commenting forum
Join thought-provoking conversations, follow other Independent readers and see their replies