Tunisia presidential election: The birthplace of the Arab Spring continues on path to full democracy
A woman is on the candidates list shows just how far the country has come
Emma Gatten
Sunday 23 November 2014 01:00 Comments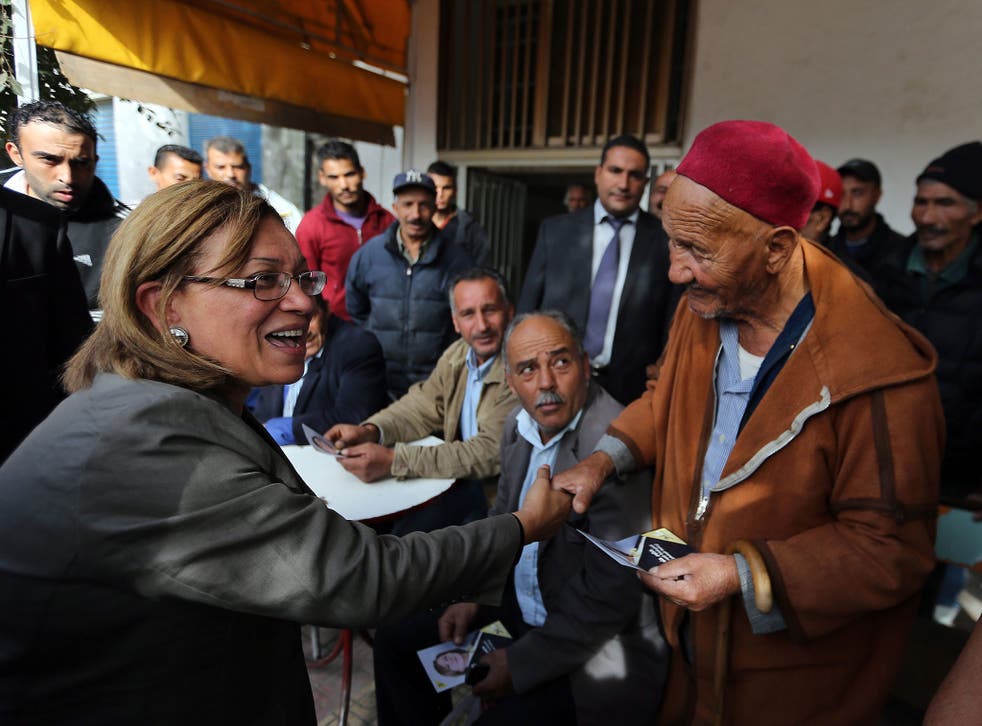 Amid the violence that has marked change in the Middle East in recent years, the birthplace of the so-called Arab Spring has been making steady progress towards democracy. Today marks a milestone in that journey, as Tunisia holds a vote for its first democratically elected president.
Among the 25-plus candidates is another first: Kalthoum Kannou, a 55-year-old judge, is Tunisia's first female presidential candidate.
"It could be a very strong message to say that Tunisia is going the right way and that an Arab country and Muslim people can be progressive … if we were to elect a female president," Ms Kannou said yesterday.
Her own history follows the trajectory of the country. Born in 1959, three years after independence, she began her career as a lawyer under the government of Habib Bourguiba, whose constitution enshrined women's rights, largely as a symbol of modernisation and a way to move women into a rapidly expanding workforce. She later became a fierce critic of Tunisia's dictatorial leader Zine El Abidine Ben Ali, who held power from 1987 until he was ousted following mass demonstrations nearly four years ago.
In the past few weeks, she has recalled another presidential first with the English-language slogan for her independent campaign: "Yes We Kannou". She has campaigned determinedly, securing almost double the 10,000 signatures from members of the public needed to run.
But despite rampant support on social media, and the attention she has garnered as a female candidate, Ms Kannou is aware that she is on the sidelines of today's vote.
The election's front-runner is Beji Caid Essebsi, an 87-year-old former autocrat from the Ben Ali era and the founder of Nidaa Tounes, the secular party that won a plurality of votes in parliamentary elections last month. He is expected to lead the country in a coalition.
Mr Essebsi has cast himself as a statesman in the mould of Bourguiba, promising stability to a country troubled by Islamic extremism and high unemployment.
His main opponent is Moncef Marzouki, who has led the country since 2011. Though an incumbent, supporters say that 69-year-old Mr Marzouki represents a break from the past compared with Mr Essebsi, having spent his political career as an activist and dissident.
The path to these elections has not been smooth. It began in December 2010, when 26-year-old Mohamed Bouazizi, a street vendor, set himself on fire in frustration at police harassment. Less than a month later, after mass demonstrations and riots, President Ben Ali fled the country.
In October 2011, the moderate Islamist party Ennahda won elections, but ceded power to an interim government after protests following the assassinations in 2013 of opposition leaders Mohamed Brahmi and Chokri Belaid by extremists.
But Tunisia's experience of Islamist politics has largely been one of co-operation and consensus. The country's history of strong trade unions and a relatively developed opposition has enabled it to bypass the violence and chaos that has characterised post-revolutionary regional counterparts such as Libya, Egypt and Syria.
And the role of women in Tunisia's post-revolutionary politics also reflects the strong foundations laid in the post-independence era, says Vikki Chambers, co-author of a upcoming report from the Overseas Development Institute on the position of Tunisian women since the 1990s.
No matter what happens after today's vote, Ms Kannou believes her candidacy is a positive sign for her country. "Women in Tunisia are considered an equal half of society," she says. "There is no reversing that."
Register for free to continue reading
Registration is a free and easy way to support our truly independent journalism
By registering, you will also enjoy limited access to Premium articles, exclusive newsletters, commenting, and virtual events with our leading journalists
Already have an account? sign in
Join our new commenting forum
Join thought-provoking conversations, follow other Independent readers and see their replies