Tunisian jihadists' hit list of targets over the summer revealed
Isis-linked social media sites reveal attack plans as security chiefs say Rezgui trained in same camp as Bardo gunmen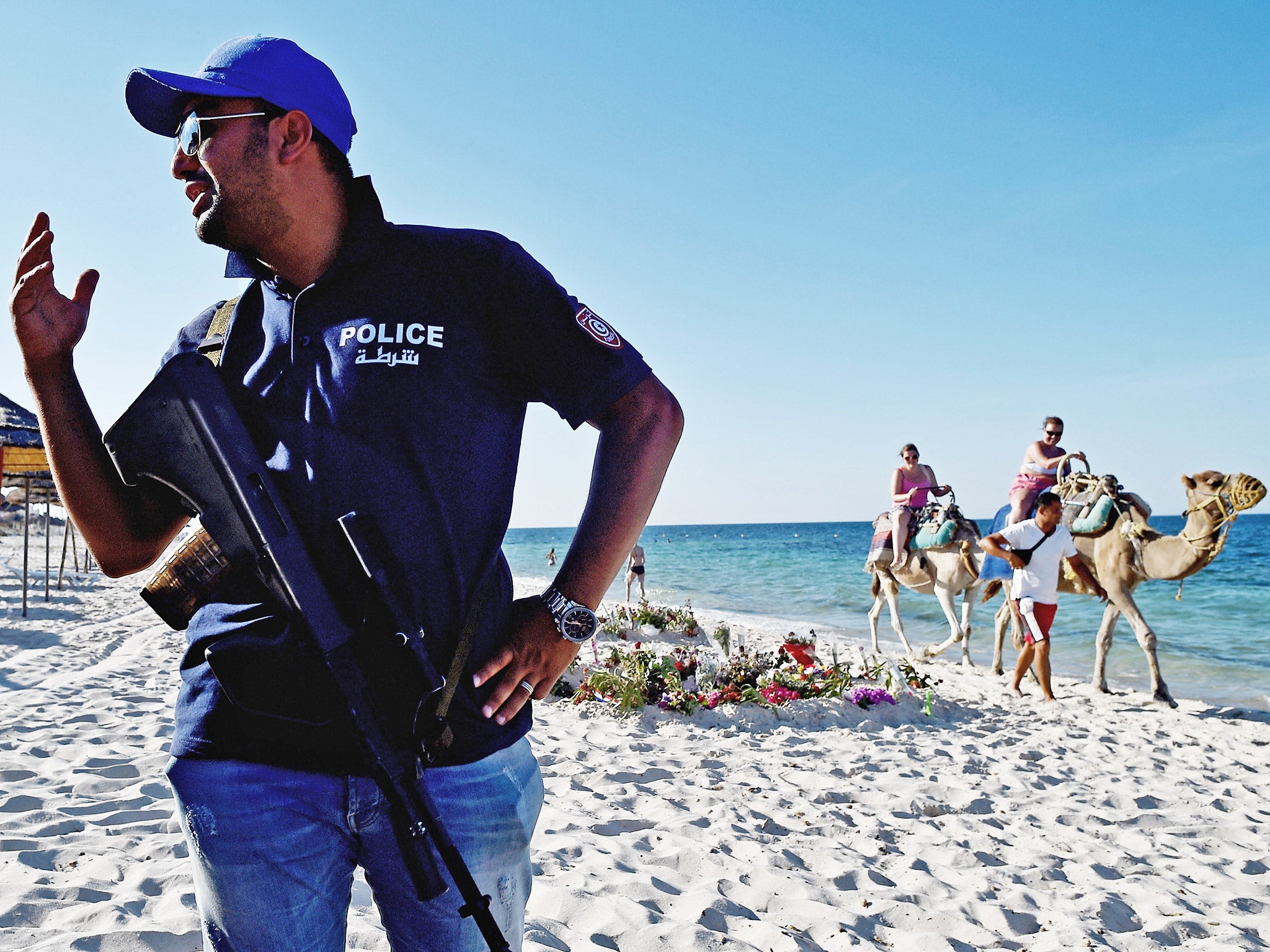 Tunisian jihadists linked to Isis have drawn up a target list for the coming months that includes alcohol stores, bars, the country's main airport, the tourist resort island of Djerba and the security forces, The Independent has learned.
Investigation of Isis-linked social media and internet forums has revealed a pattern of wide-ranging discussion of possible objectives for attack. At the same time a senior Tunisian official told The Independent that the authorities believe a further two or three recruits attended the same training camp in Libya as Seifeddine Rezgui, the gunman who killed 38 tourists in Sousse on 26 June, and may themselves be planning imminent attacks.
The evidence of Isis engagement in Tunisia suggests the terrorist group has been playing a far greater part behind the scenes that the authorities are far prepared to admit, as it attempts to create chaos and instability in this fragile new democracy.
In pictures: Tunisia hotel attack
Show all 32
Experts in Tunisian Salafist-jihadist movements say the authorities have been reluctant to acknowledge that the attack in March on the Bardo Museum in Tunis, in which more than 20 died, was committed by Isis, instead attributing it to the al-Qaeda-linked Okba Ibn Nafaa Brigade. It emerged that the two Bardo gunmen also attended terrorist training in Libya at the same time as Rezgui.
Tunisian supporters of Isis issued two "briefing" documents on 27 February and 3 March, announcing a change of strategy to focus on "crusader" (meaning Christian or Western) and Jewish tourists, and the media.
One declared: "People of Tawhid [accepting one God], as has been said there are Christians coming to your home under the guise of tourism and there are many Jews in our country and there is the apostate army – and all whom we mention are legitimate targets for your men."
"There were many warning signs, and yes there will be other attacks," said Sergio Altuna Galan, a researcher at the Global Security Institute think-tank who is based in Tunis, and who follows jihadist movements in the Maghreb closely.
Among repeated warnings to tourists on social media was one, just days after the Bardo attack, in which someone on an Isis-linked account tweeted "I will come to Tunisia this summer", using the national tourist board's slogan, alongside an image of a masked gunman holding two Kalashnikovs.
On 27 May, there was a threat in Arabic against Tunisair, the national airline: "Attention to all Muslims: we inform you that you should not get onto Tunisair planes. You have been warned."
That particular threat was withdrawn three days later, after Isis strategists issued a document pointing out that many Muslims would inevitably be killed if the airline were attacked.

Mr Altuna said the authorities have down-played the threat posed by Isis in Tunisia, even as scrutiny of the internet revealed that many Tunisian Salafist jihadis began to switch allegiance last year. He said that between the Bardo and Sousse attacks there were two or three smaller clashes for which Isis has claimed responsibility.
Thousands of tourists have left Tunisia's beaches since the attack and the government has warned of losses totalling $500m (£320m) as tour companies cancel booked trips. A further 1,000 armed tourism police were deployed on 1 July and the government said it planned to call up army reserves to help after acknowledging that it was caught by surprise, despite the earlier Bardo attack.
Tourism police in shorts and carrying rifles walked among the scattered tourists on Sousse beach, as others rode beach buggies or moved on horseback among the seaside hotels.
Despite Tunisia's political progress, more than 3,000 Tunisians have also left to fight for militant Islamist groups in Syria, Iraq and now Libya. Some have threatened to return to carry out attacks in their homeland.
Part of the Isis strategy is to provoke government clampdowns that fuels a popular sense of injustice, boosting its recruitment by "winning hearts and minds", said Mr Altuna. He added: "Very, very dangerous things await Tunisia."
Join our commenting forum
Join thought-provoking conversations, follow other Independent readers and see their replies