Two British Al-Jazeera journalists face terror trial in Egypt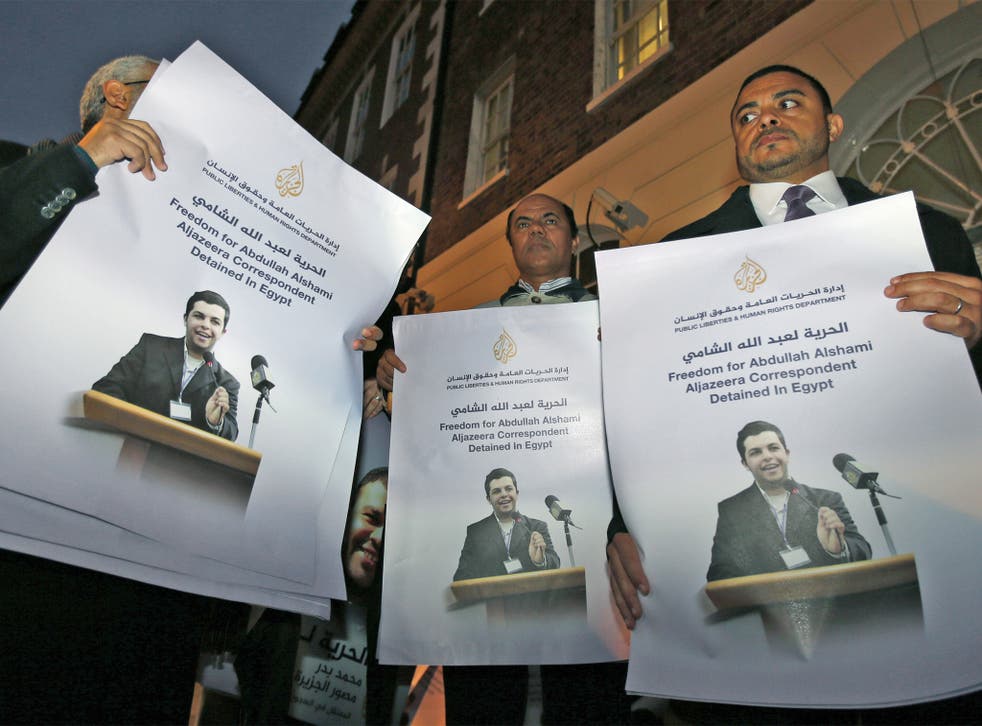 Two Britons are among a group of 20 journalists working for Al-Jazeera facing criminal trial in Egypt on charges of aiding or joining a terrorist organisation – the latest press crackdown in a country which is facing growing instability.
Three of Al-Jazeera's journalists; Peter Greste, an Australian, Mohamed Fahmy, a Canadian-Egyptian national, and Baher Mohamed, an Egyptian, were detained in Cairo on 29 December. A further two journalists from the broadcaster's Arabic-language channel – Abdullah al-Shami and Mohammed Badr – were detained last year and have been in prison since August.
The identities of the two Britons and Dutchwoman mentioned by the prosecutor are not immediately clear.
In a statement, the prosecutor accused the individuals of manipulating video footage "to produce for the [world] abroad an unreal scene that the country is undergoing a civil war that portends the downfall of the state ."
The four foreign defendants have been charged with colluding with the 16 Egyptian defendants "to agree upon and assist in supporting members of that groups with funds, equipment, tools and information, while being informed of the purposes of that group." They are also charged with "broadcasting false news", and filming without permits.
The 16 Egyptians are facing trial for belonging to a "terrorist organization", an apparent reference to the Muslim Brotherhood, which was designated as a terrorist group by the government in December.
The Brotherhood has been protesting against the government since July when the army toppled Islamist President Mohamed Morsi, a member of the group and Egypt's first elected civilian president. The Brotherhood says it is a peaceful organization.
Egypt's violent crackdown on dissent has raised questions about the North African country's move towards democracy and greater freedoms three years after an uprising that brought down the 30-year dictatorship of Hosni Mubarak.
Sherif Fahmy, 29, the youngest brother of Al Jazeera producer Mohamed Fahmy, 39, said he was "shocked" by the prosecutor's charges.
"We were assured that the charges against Mohamed and his alleged relationship with the Muslim Brotherhood were over. But, suddenly, today from the document we read all the charges against him are being brought up again," Fahmy said by telephone.
"I don't know why they're doing this. Maybe they want to set Mohamed as an example for anyone that goes against the current situation in Egypt or the current party in Egypt," Fahmy said.
Many Egyptians view Al-Jazeera as being biased and sympathetic towards the Muslim Brotherhood, and its relationship with Egyptian authorities has fallen foul since Morsi's ouster in July.
Gamal Eid, a lawyer at the Cairo-based Arabic Network for Human Rights Information, who is involved in the case defending the detained Al-Jazeera journalists, also expressed dismay at today's statement.
"This is case is politicized and represents a violent campaign against press freedom in Egypt," Eid said by telephone. "The statement basically says that if you work for Al-Jazeera this is terrorism. Al-Jazeera is a news channel. The journalists weren't doing anything violent, they weren't in possession of weapons. For us, this case doesn't deserve to go to trial," he said.
Fahmy said his brother is being kept in a prison cell next to people accused of belonging to an extremist militant group in Egypt, and a senior member of the Muslim Brotherhood.
Join our new commenting forum
Join thought-provoking conversations, follow other Independent readers and see their replies