Gay men 'tortured and sodomised' by police in Uganda to 'prove they are gay'
Homosexuality banned in Uganda since 1952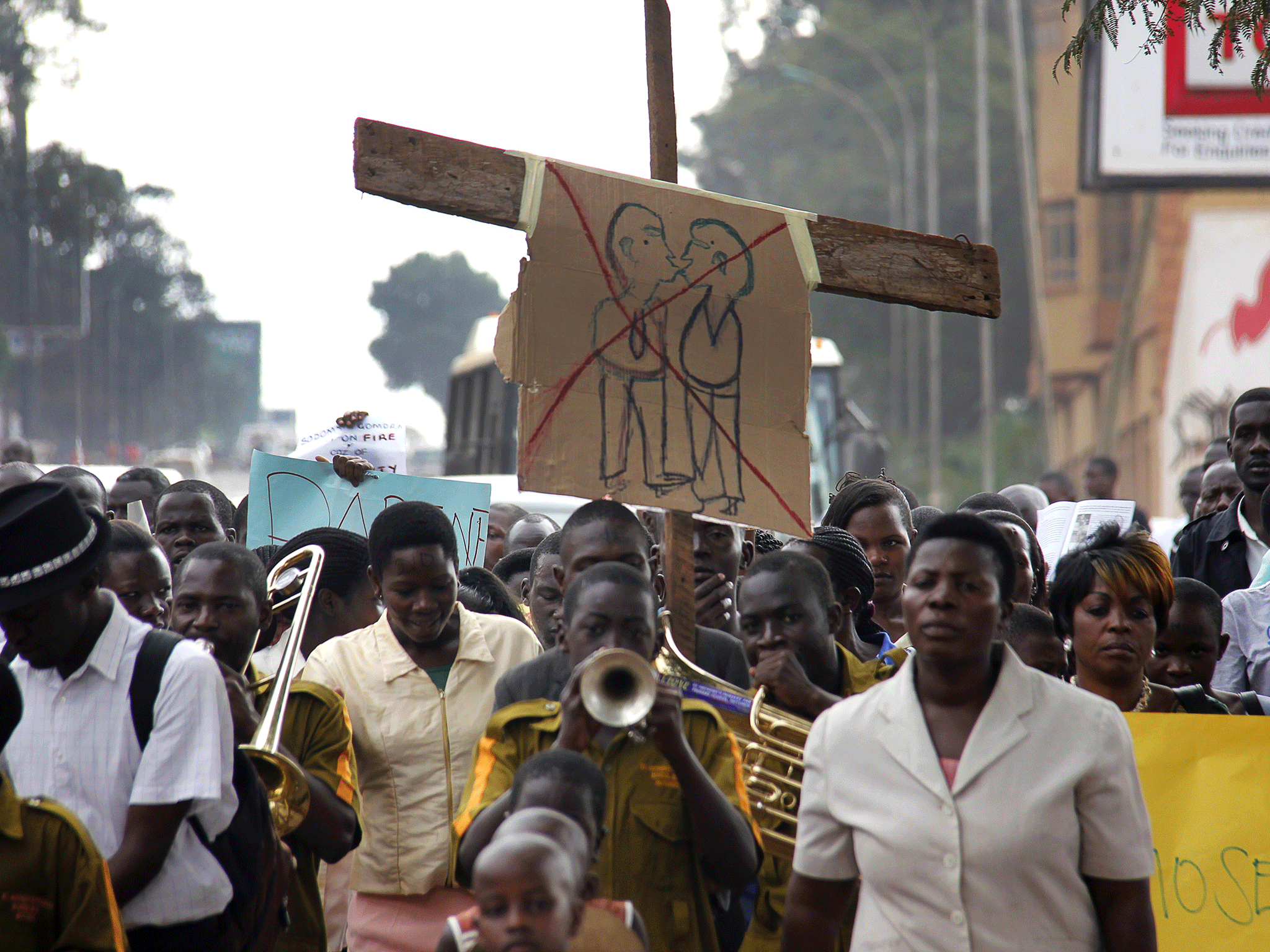 A gay Ugandan man has told how he was subjected to torturous anal examinations to prove his sexuality, in a country notorious for its violent homophobia.
The man, named only as Mukasa, said he was woken by a mob banging spoons on metal cooking pots, while shouting "out with the homos" and "the homos are in there".
The 21-year-old said he and his male friend were dragged out of his Kampala home and beaten.
The vicious punishment is just the latest example of forced anal examinations, tracked by Human Rights Watch, in the east African country.
"We opened the door, and there were police and people everywhere," Mukasa told the Thomson Reuters Foundation.
"The local councilman was there, yelling 'Out with the homos! You are scaring people in the area'.
"I still have scars from the beatings that followed. We were questioned, beaten again and forced to admit to homosexuality.
The top 15 worst countries to be gay in Europe

Show all 15
"They took us to … a clinic in Kampala where we were examined.
"It is so painful. The doctor puts a machine up your rectum. It hurts so much, and there is blood."
Ex-restaurant worker Mukasa, who was beaten in January 2014, also said he could not walk the street, collect medicine or claim benefits "because I am a homosexual".
He has changed his name and says he lives in a shelter away from friends and family.
Uganda is one of 36 countries in Africa where homosexuality is illegal and one of eight countries globally where Human Rights Watch has evidence of forced anal examinations to prove homosexuality.
Kampala police spokesman Emilian Kayima denied the use of forced anal examinations to prove homosexuality.
"When we arrest gay people, we take them to the courts of law," said Mr Kayima.
"If any gay person claims they have been tortured or forced to undergo anal examination, they need to come forward with evidence stating when and where it happened instead of running to the press to make baseless claims."
The anal examination practice is used as an HIV prevention method, but Ugandan lawyer Nicholas Opiyo says it is a form of discrimination and abuse.
"We want them banned," said Mr Opiyo.
Uganda abandoned an infamous "Kill the Gays" bill in 2014 because its first draft included the death penalty for gay sex, after worldwide outrage and threats foreign aid would be withdrawn.
Ugandan police stormed a gay pride event in August, while a Lake Victoria gay pride event was blocked by ministers because it was "illegal".
Homosexuality was banned in Uganda in 1952 and offenders can be sentenced to life in prison.
Join our new commenting forum
Join thought-provoking conversations, follow other Independent readers and see their replies