Uganda gay pride event 'blocked by police' after government minister declares it illegal
More than 100 LGBT people turned up for the event at a beach on Lake Victoria
Rodney Muhumuza
Saturday 24 September 2016 16:16 Comments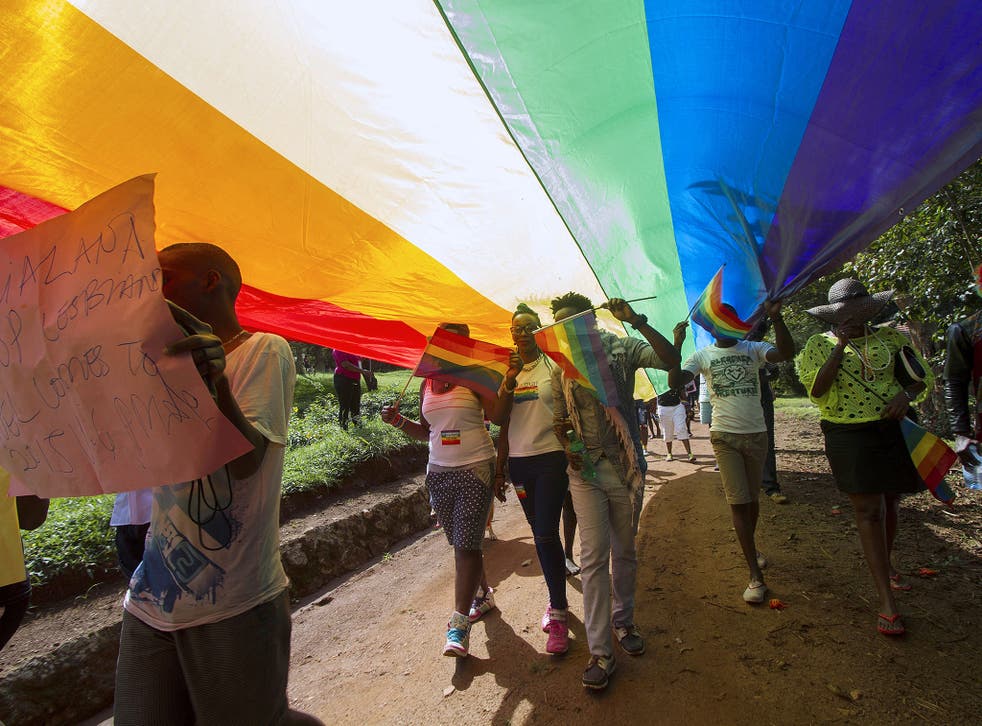 A Ugandan gay pride parade has been blocked by police after a government minister declared the event was illegal.
Officials stopped organisers from staging the parade at two locations outside the capital, Kampala, local activists said.
Simon Lokodo, the Ugandan minister in charge of ethics and integrity, issued a strong statement earlier this week condemning the public activities of homosexuals.
He urged police to arrest LGBT activists who went ahead with the parade.
More than 100 LGBT people turned up for the event at a beach on Lake Victoria.
Most were later ordered into minibuses and escorted by police to Kampala, apparently for questioning. One young man jumped off a moving minibus and injured himself, Mr Mugisha said.
"They are traumatised," Mr Mugisha added, and also said the LGBT people who had travelled in the minibuses were later set free.
The police's conduct led to an outpouring of solidarity online, with Twitter users from around the world expressing their sympathy for the group.
Homosexuality is a crime in Uganda, as in a number of African countries. A colonial-era law proscribes homosexual sex acts as "against the order of nature".
The LGBT community has faced frequent discrimination, violence and extortion, according to activists.
In August, Ugandan police briefly arrested about 20 people attending a gay pride event at a nightclub in Kampala. Following the raid, Mr Mugisha and his colleagues decided to postpone the pride parade until September.
LGBT+ rights around the globe

Show all 9
In 2009, a Ugandan lawmaker introduced a bill that prescribed the death penalty for some homosexual acts, saying he wanted to protect Ugandan children.
The proposed bill prompted international condemnation. A less severe version of the bill passed by lawmakers was rejected by a Ugandan court as unconstitutional.
Associated Press
Register for free to continue reading
Registration is a free and easy way to support our truly independent journalism
By registering, you will also enjoy limited access to Premium articles, exclusive newsletters, commenting, and virtual events with our leading journalists
Already have an account? sign in
Join our new commenting forum
Join thought-provoking conversations, follow other Independent readers and see their replies