US official says Isis bomb is 'most likely' reason behind Russian jet crash in Egypt
The claim raises a huge new challenge for air traffic security
Andrew Buncombe
New York
,
David Usborne
Wednesday 04 November 2015 22:00 Comments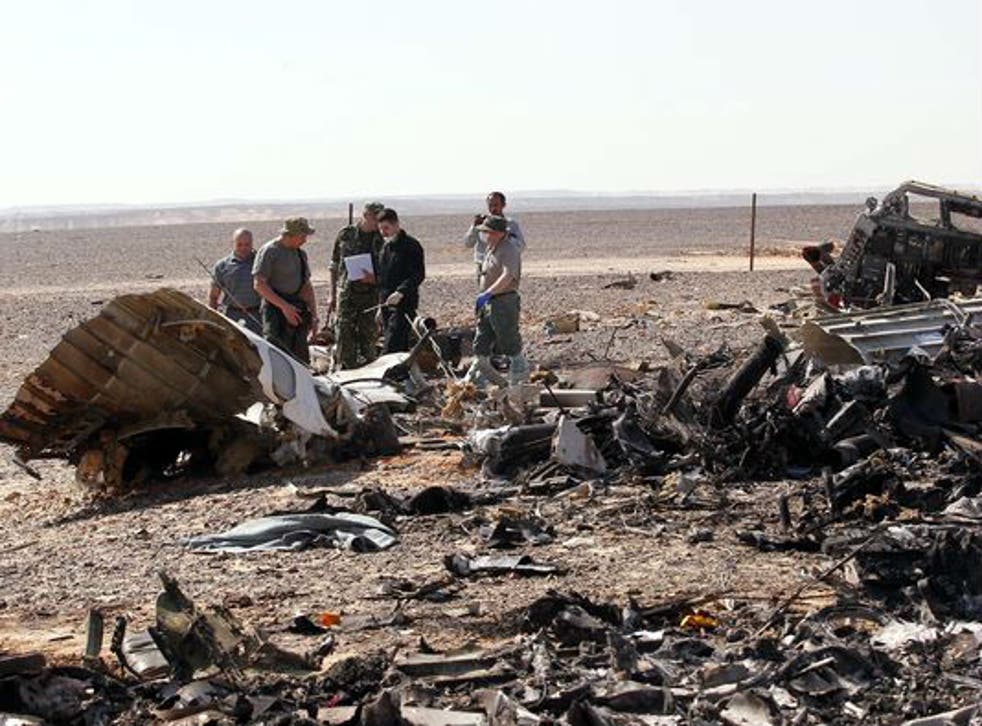 A US intelligence source has said an Isis bomb is the 'most likely' reason behind a Russian jet crash, as the UK ordered all flights from Egypt to be grounded in a move that stranded up to 20,000 Britons.
Reports in the US media said US intelligence had concluded a bomb planted by Isis terrorists was most likely behind the plane's demise and the death of 224 people. The British Foreign Secretary Philip Hammond said there was a "significant possibility" the crash was caused by an explosive device.
Security services came to the conclusion after looking back at intelligence reports gathered shortly before Saturday's crash, which killed all people on board, CNN reported. A US official told NBC News he expects Russia to retaliate "heavily and militarily" if the theory is borne out.
An unnamed US security source said: "There is a definite feeling it was an explosive device planted in luggage or somewhere on the plane."
The source told CNN while the US did know about a specific threat, prior to the incident, "there had been additional activity in Sinai that had caught our attention."
The development came on the day that the British government said it feared that the Russian plane that crashed in Egypt may have been downed by an "explosive device". Investigators in Egypt also believe an explosion probably caused the crash, but said it remained unclear whether a bomb or technical problems were to blame.
All flights to and from Sharm el-Sheikh and the UK were suspended on Wednesday evening to allow British experts to assess security at the airport, Downing Street said.
A Number 10 spokesperson said the delays had been brought into place because "more information has come to light".
Egypt: Russian crash investigators search Sinai for victims' belongings
A Downing Street spokesman said around 20,000 Britons are currently in Sinai, the Egyptian peninsula that includes the Sharm el-Sheikh resort.
Number 10 said in a statement that it could not say "categorically" why the Russian jet had crashed.
If evidence surfaces that an explosive device was planted on the Metrojet airliner, the effect on the civil aviation industry will be chilling, evoking grave memories of past such attacks – and attempted attacks - going back to the Lockerbie disaster in 1988 when a bomb planted in the luggage by a Libyan agent brought down Pan Am flight 103 over Scotland in 1988 killing all 270 people on board.
The era of comprehensive security checks at airports which has transformed the traveling experience for a new generation of air travelers began in earnest in the immediate aftermath of the 9/11 attacks in the United States in September 2001 when 18 al-Qaeda terrorists commandeered four American airliners in US airspace, crashing two of them into the New York twin towers and one into the Pentagon outside Washington DC. The fourth plane crashed into a field in Pennsylvania.
The 2001 plot unleashed a domino run of events around the word from the US invasion of Afghanistan, to the opening of the Guantanamo prison in Cuba and the killing of the leader of al-Qaeda, Osama bin Laden, in May 2001.
In December 2001, meanwhile, a British citizen, Richard Reid attempted to mark the13th anniversary of the Lockerbie attack by packing explosive into his shoe on an American Airlines flying to the US from London with 197 people on board.
In anther near-disaster a Nigerian national narrowly failed to bring down a trans-Atlantic Delta Airlines flight from Amsterdam as it approached Detroit in 2009. The student, Umar Farouk Abdul Mutallab, who became known as the 'Underwear Bomber', suffered severe burns to his upper legs after a device he had concealed inside his trousers ignited but then fizzled.
Now 42 years old, Reid has spent the last 14 years in Supermax prison in Colorado where he is serving a life sentence. Last year, he said he still had no remorse for his actions.
"I do believe my actions to have been permissible in Islamic law, although I admit that many people would dispute that and disagree with me on that point," he told researchers from the Virginia-based Justitia Institute.
Register for free to continue reading
Registration is a free and easy way to support our truly independent journalism
By registering, you will also enjoy limited access to Premium articles, exclusive newsletters, commenting, and virtual events with our leading journalists
Already have an account? sign in
Join our new commenting forum
Join thought-provoking conversations, follow other Independent readers and see their replies