Witnesses claim 2,000 people were killed in a Boko Haram assault that destroyed a town
Television footage showed scores of civilians waiting on the outskirts of Baga to catch buses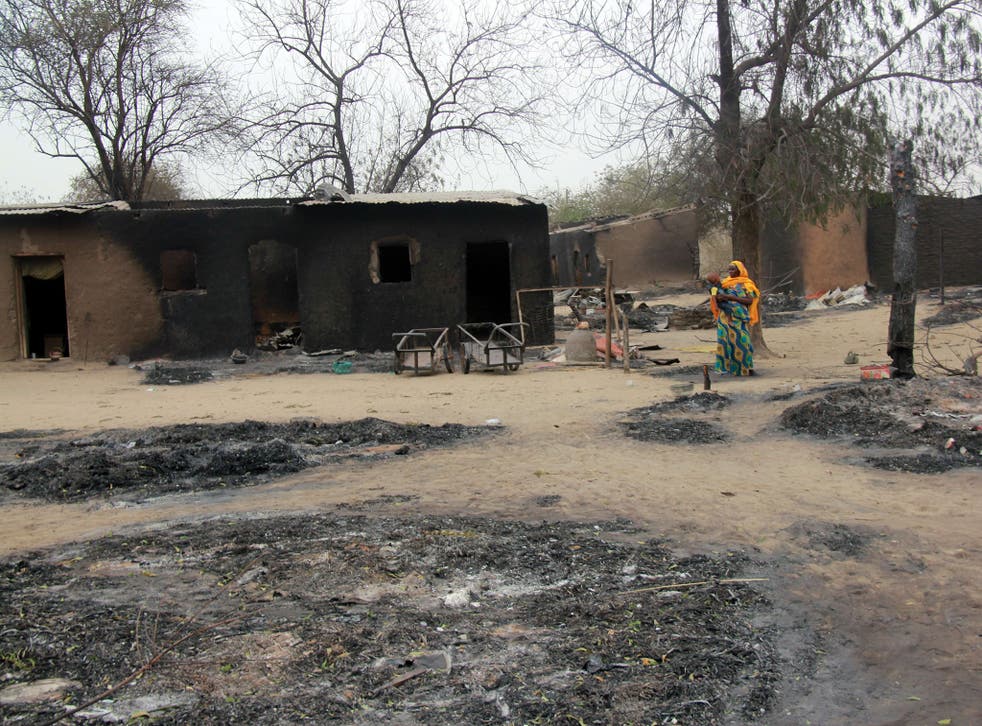 Two thousand men, women and children may have died in Boko Haram's latest blood-letting in Nigeria's north-east. Those, at least, are the claims.
But in the restive regions where the Islamists passage is barely opposed by government forces, few facts – as human rights groups told The Independent yesterday – are verifiable. Even as President Goodluck Jonathan launched his campaign for re-election this week, evidence appeared to emerge indicating that his government's attempt to prevent Boko Haram forming an Islamic "caliphate" in the northern regions is failing.
As the militants swept through, over-running government forces, one town populated by thousands, Baga, had until last weekend held out against the insurgency.
Protected by a multinational military base manned by troops from Niger to Chad, it was the last place in Borno State under the national government's control. Over the weekend, that changed. "They came through the north, the west and from the south of the town because the eastern part is only water," one resident told the BBC. "So, when we [went] toward the western part, we saw heavily armed Boko Haram men coming toward us."
At the sight of the insurgents, the soldiers put up scant resistance before abandoning their base and leaving residents defenceless. Politician Maina Maaji Lawan said Baga had been "burnt down" and estimated that 2,000 may have been killed. But other estimates placed the number dead at closer to 200. More than 10,000 people have been killed in the past year and more than a million displaced within Nigeria as a result of the five-year insurgency.
And Baga, local government officials now say, is no more, described as "virtually non-existent". One man who escaped with his family told Agence France-Presse he had to navigate through "many dead bodies on the ground" and that the "whole town was on fire". Another told Reuters: "I escaped with my family in the car after seeing how Boko Haram was killing people… I saw bodies in the street. Children and women, some were crying for help". He added that bodies were "littered on the streets and in bushes".
Television footage showed scores of civilians waiting on the outskirts of Baga to catch buses. Many carried the possessions they had salvaged, such as bags of clothes and rolled-up mattresses.
In pictures: Nigeria kidnapped schoolgirls

Show all 35
In the past week, around 2,000 Nigerians and 500 Chadians have fled Boko Haram attacks in Chad's Lake region, the Chadian Prime Minister, Kalzeubet Pahimi Deubet, said on Wednesday. According to AFP, Boko Haram's recent attack means the group controls all of Borno's borders with Niger, Chad and Cameroon.
The Cameroon President, Paul Biya, yesterday appealed for international assistance to fight Boko Haram. The group is part of a movement that has attacked Mali, the Central African Republic and Somalia in its drive to establish its authority from the Indian Ocean to the Atlantic, he said. "A global threat calls for a global response. Such should be the response of the international community, including the African Union and our regional organisations."
Register for free to continue reading
Registration is a free and easy way to support our truly independent journalism
By registering, you will also enjoy limited access to Premium articles, exclusive newsletters, commenting, and virtual events with our leading journalists
Already have an account? sign in
Register for free to continue reading
Registration is a free and easy way to support our truly independent journalism
By registering, you will also enjoy limited access to Premium articles, exclusive newsletters, commenting, and virtual events with our leading journalists
Already have an account? sign in
Join our new commenting forum
Join thought-provoking conversations, follow other Independent readers and see their replies