Zoo denies painting black stripes on donkey to look like a zebra
Egyptian student posts pictures of animal on Facebook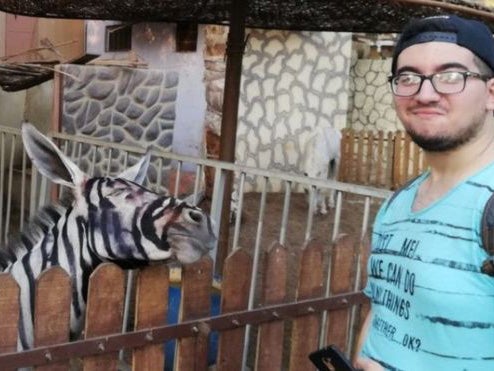 A zoo has denied painting black stripes on a donkey to make it look like a zebra, following a series of images which appeared online.
Mahmoud Sarhan, an Egyptian student, posted pictures of the animal on Facebook after visiting Cairo's International Garden park. He said the donkey enclosure featured two painted animals.
Experts were quick to agree with Mr Sarhan's assessment.
Alex Adams, a wildlife biologist and researcher at Colorado State University, said there was no doubt it was something other than a zebra.
"The stripes (on a zebra) are always defined, never smudged, and zebras can be small but never that small," he told The Independent.
"The ears are rounded, not oblong and pointy, and of course zebras have black skin, answering that age-old question of them being black with white stripes."
World news in pictures
Show all 50
But when contacted by a local radio station, zoo director Mohamed Sultan insisted all the donkeys were real.
It is not the first time a company has been accused of painting its animals to look like another species. In 2014, a travelling circus in Italy convinced visitors its Chow Chow dogs were a rare example of the Chinese bear.
The white dogs, originally shipped from Hungary, were seized from the circus by authorities in Italy after a tip-off.
Join our commenting forum
Join thought-provoking conversations, follow other Independent readers and see their replies