'God has given us this second chance': Zimbabweans vote in first post-Mugabe elections
Acting president Emmerson Mnangagwa faces off against opposition leader Nelson Chamisa, who has won Robert Mugabe's support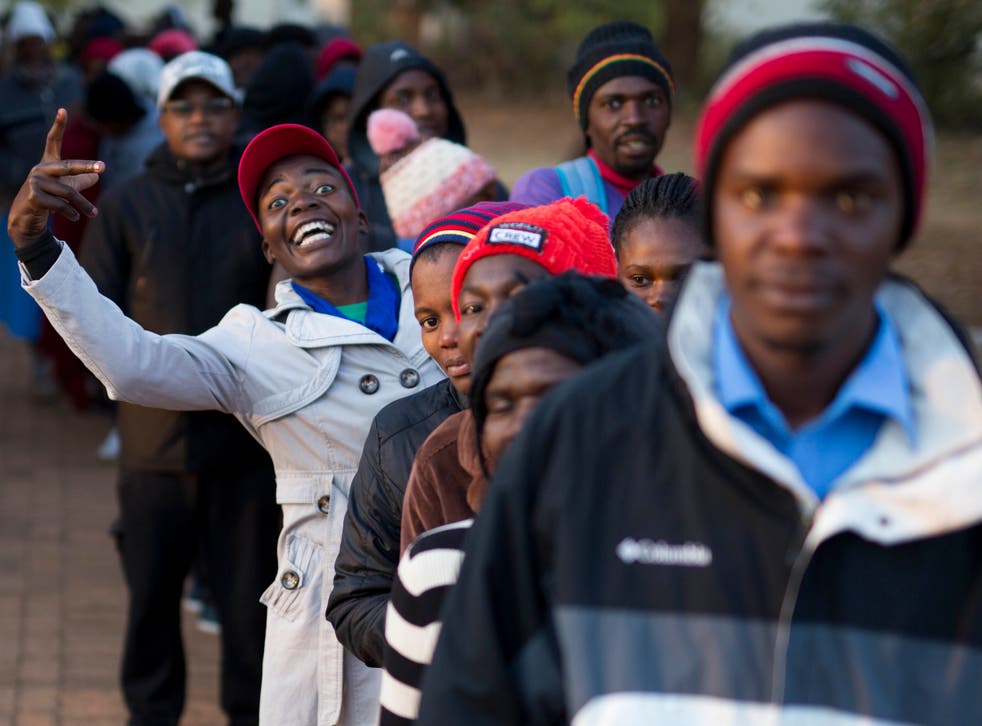 Families with babies, elderly people in wheelchairs and carried by relatives, men and women in brightly coloured outfits and their Sunday best – Zimbabwean society in all its richness came out in overwhelming numbers for a landmark election.
"This is like 1980, the election after independence, my first as a free man," said Josiah Tambara, as a long line formed outside the polling station in Harare on Monday morning. "It is the same kind of feeling of something really important happening."
Mr Tambara added: "The difference is at the time there was also so much hope. This time there is fear that things could get even worse if we do not get it right.
"God has given us this second chance. I keep telling the young generation they must vote and not throw away this opportunity."
A former guerilla fighter against white rule, the 70-year-old adds that he is not overly impressed with Nelson Chamisa, the 40-year-old leader of the opposition MDC (Movement for Democratic Change) alliance – but he is still voting for him.
"I think he has been saying some silly things in the rallies and he is disrespectful and insulting to people. But it is time for a change. I only hope he learns some wisdom and governs well if he wins," he said.
"Otherwise he would not last the full five years; the mood of the people is that they would not tolerate a leader who lied to them."
Mr Tambara insisted that his decision was not influenced by the dramatic intervention of Robert Mugabe on the day before polling.
The former president made his first public appearance since he was overthrown eight months ago in an extraordinary press conference to announce that he would not support Zanu-PF, the party he once led, and its candidate Emmerson Mnangagwa, endorsing Mr Chamisa instead.
"Comrade Mugabe was our commander in the war and he sacrificed a lot to get us freedom. I know some friends who were undecided who went for Chamisa after listening to Comrade Robert. But I make up my own mind," Mr Tambara said.
"I just think it is time to give the young a chance. After all, we the old ones have not done too well for this country if you think about it."
But age does not appear to be a deciding factor for many voters in this election.
At the polling station in Kawadzara, where Mr Tambara offered support, albeit qualified, to Mr Chamisa and where the MDC leader himself voted yesterday, a number of young people were backing "ED" – 75-year-old Emmerson Dambudzo Mnangagwa.
In pictures: Zimbabwe votes in historic election

Show all 55
"I voted for ED because he is experienced, he has been around for a very long time. He can look at the mistakes which have been made, policies which are wrong and put things right," said 31-year-old Tonderai Muzunze.
"Chamisa is too young, he hasn't done anything, maybe he should come back when he has had some experience and we'll think again".
Rutendo Kudzai, 26, echoed this view.
"ED knows about government, he has been in charge as [acting] president for just some months, and he is already improving things slowly. We should give him a chance."
Both Mr Muzunze, an electronic technician, and Ms Kudzai, a nurse, are unemployed and both felt job-creation must be the priority for whoever wins the election.
"You have a generation being wasted", Mr Muzunze pointed out.
Both voters also felt that there will be no overall winner at the poll, with the decision coming at a second round in September.
Mr Chamisa declared when he arrived to vote: "This is a great moment for Zimbabwe. The people have spoken, I know we are winning, I know we have won."
Later he claimed that victory could be snatched from him by attempts to "suppress and frustrate" in urban areas where the opposition is expected to do well, and vote-rigging in the rural regions where Zanu-PF is strong.
Mr Chamisa was trailing Mr Mnangagwa, who was Mr Mugabe's vice president, by three points in the last days of the campaign, although he had been attracting far larger crowds for his speeches.
One MDC official, Denver Mudima, however, was concerned that the rallies may not translate fully into votes. "Many of the young may not have registered", he worriedly muttered.
The MDC leader had warned that there would be rolling street protests if he and the party were denied victory by an electoral commission which he claims is biased in favour of Zanu-PF, although he had also said, at times, that the protests would be peaceful.
That was not, however, a guarantee that some of his supporters were prepared to give. At the polling station at Highfield, where Mr Mugabe voted, many MDC voters were convinced that there would be fraud.
"Zanu-PF has never given up power and why should they do so easily this time?" asked 52-year-old Jairus Mujei.
"Maybe they will try to put it off for a second round, this gives them more time to manipulate. But if the election is stolen then there will be war," he said, holding up a rifle: "Mugabe stole elections, we can't let that happen again, those days have gone".
Mr Mugabe however, got a warm reception when he came to vote with a small crowd chanting support.
It was the first time he was doing so without being a candidate: the 94-year-old former president walked with some difficulty, supported by his wife Grace, but raised a clenched fist before entering the polling station at Mofu Primary School, where an assistant helped him fill in the ballot paper.
"We miss him, he has been there all my life, it's strange that he has gone", said 23-year-old Joyce Muto, dabbing her eyes.
Mr Mnangagwa was casting his vote at his home town of KweKwe to a very different reception.
There was no cheering or clapping as he arrived and people stood with arms folded, many grim-faced, as his motorcade left. The acting president responded to Mr Mugabe's attack on him saying: "He is a private citizen, he can engage with me anytime."
His focus, he added, was to create a Zimbabwe where people "have the right to express their views, positive or negative."
Former leader Mugabe arrives to vote in Zimbabwe election
KweKwe had been the scene of confrontation and violence between Zanu-PF and MDC over many years, with people killed and injured, driven out and their homes destroyed.
Shadreck Tobaiwa, a former MDC mayor of the town, recalled assaults, systematic intimidation and threats to kill.
"I remember the warning I got that they were going to burn down my house, they came after three days of worry for me and my family, and it was a full attack by a very large gang.
"We had to fight them off with no help from the police who acted as agents of Zanu-PF at the time", recalled Mr Tobaiwa.
This was just one of many instances of such violence. People have long memories and Mr Mnangagwa is not particularly welcome here.
"What will happen at this election? In 2008, MDC had won the first round and Zanu-PF then organised days of violence. We had to drop out of the second round to avoid any more violence," said Mr Tobaiwa.
"There are perhaps too many international eyes watching this election for that to happen again. Let's really hope that is the case."
Join our new commenting forum
Join thought-provoking conversations, follow other Independent readers and see their replies