Zimbabwe's Robert Mugabe will rule until he is 100 from special wheelchair, his wife claims
Alistair Dawber
Sunday 22 November 2015 21:39 Comments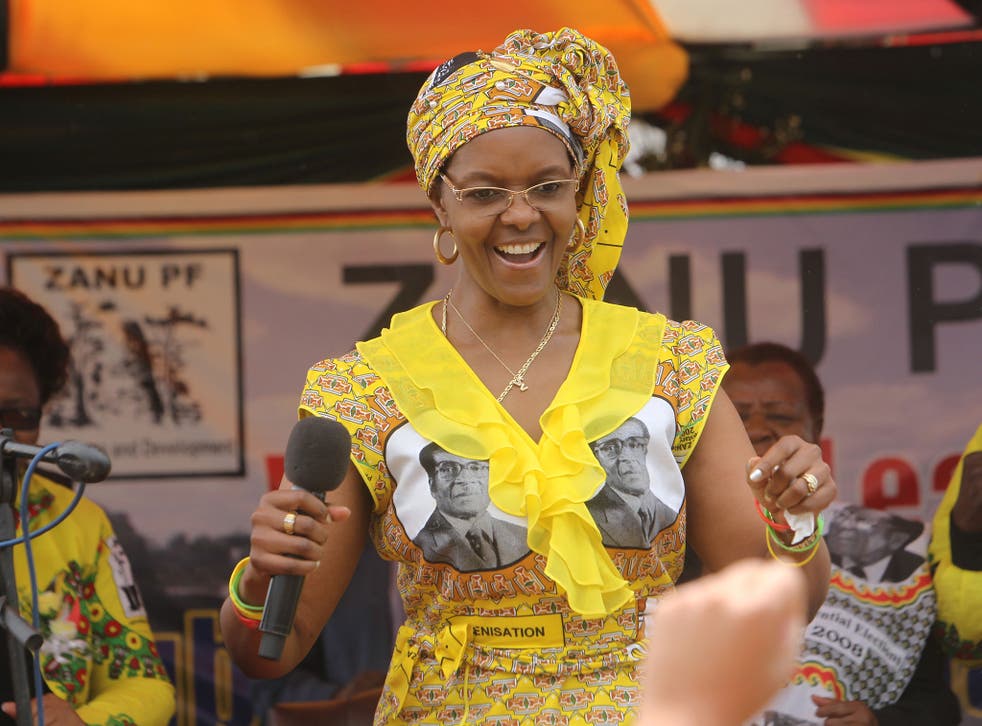 Robert Mugabe will continue as President of Zimbabwe until he is 100, governing from a "special wheelchair", his wife has said.
Grace Mugabe, herself a cabinet minister, said in a speech over the weekend that while the 91-year-old's mind might be willing, increasingly his body may not be. According to reports in the Zimbabwean press, Mr Mugabe has recently had trouble walking, as his advanced years begin to catch up with him.
"We are going to create a special wheelchair for President Mugabe until he rules to 100 years, because that is what we want," Mrs Mugabe said. "That is the people's choice. We want a leader that respects us."
The people will get the chance to voice their opinion in 2018 when Zimbabwe next goes to the polls to decide who rules them. Mr Mugabe, who has suffered a number of embarrassing public stumbles in recent months, has already been declared as the Zanu-PF candidate despite the fact that he will be 94 at the time of the election. Mr Mugabe has been President in Harare since 1980.
Mrs Mugabe did not give details about quite how the wheelchair would be special, but vowed to push it herself.
If the point was designed as a message to those that have reportedly begun to jockey for position ahead of Mr Mugabe's inevitable demise, she later directly addressed divisions that have formed within Zanu-PF.
Speaking to those who have designs on the presidency, she said: "With factionalism that [Mugabe's remaining in power] will not happen. There is a lot of factionalism, but the grassroots people are not stupid and those fanning factionalism will reap what they sow."
The 50-year-old Mrs Mugabe has herself been mentioned as a possible successor to her husband, who has insisted he will not retire.
The days of Mr Mugabe enjoying total loyalty from his key lieutenants have gone. The dire state of the economy and the leader's age have meant that the number of those willing, or forced, to adhere to the leader's word is dwindling.
Earlier this year, a leading former member of Mr Mugabe's government, Joice Mujuru, set up a rival party to Zanu-PF, leading Mr Mugabe's remaining allies to accuse her of witchcraft.
Within Zanu-PF, the Zimbabwean Vice-President, Emmerson Mnangagwa, is also considered to be a possible future leader.
A former head of Zimbabwe's domestic security force, Mr Mnangagwa earned the nickname "the crocodile" on account of his ruthlessness.
Mr Mugabe's health was the subject of a parliamentary question last week, when an opposition MP, Godfrey Sithole, asked Mr Mnangagwa about Mr Mugabe's appearance at the G20 summit in Turkey, when he appeared to have difficulty walking to meet Turkey's President Recep Tayyip Erdogan.
"I can assure the MP the President is healthier than him," replied Mr Mnangagwa.
Register for free to continue reading
Registration is a free and easy way to support our truly independent journalism
By registering, you will also enjoy limited access to Premium articles, exclusive newsletters, commenting, and virtual events with our leading journalists
Already have an account? sign in
Join our new commenting forum
Join thought-provoking conversations, follow other Independent readers and see their replies