A conservation crisis: The aftermath of Gabon's hidden elephant massacre 
We are working with conservation charity Space for Giants to protect wildlife at risk from poachers due to the conservation funding crisis caused by Covid-19. Help is desperately needed to support wildlife rangers, local communities and law enforcement personnel to prevent wildlife crime. Donate to help Stop the Illegal Wildlife Trade here.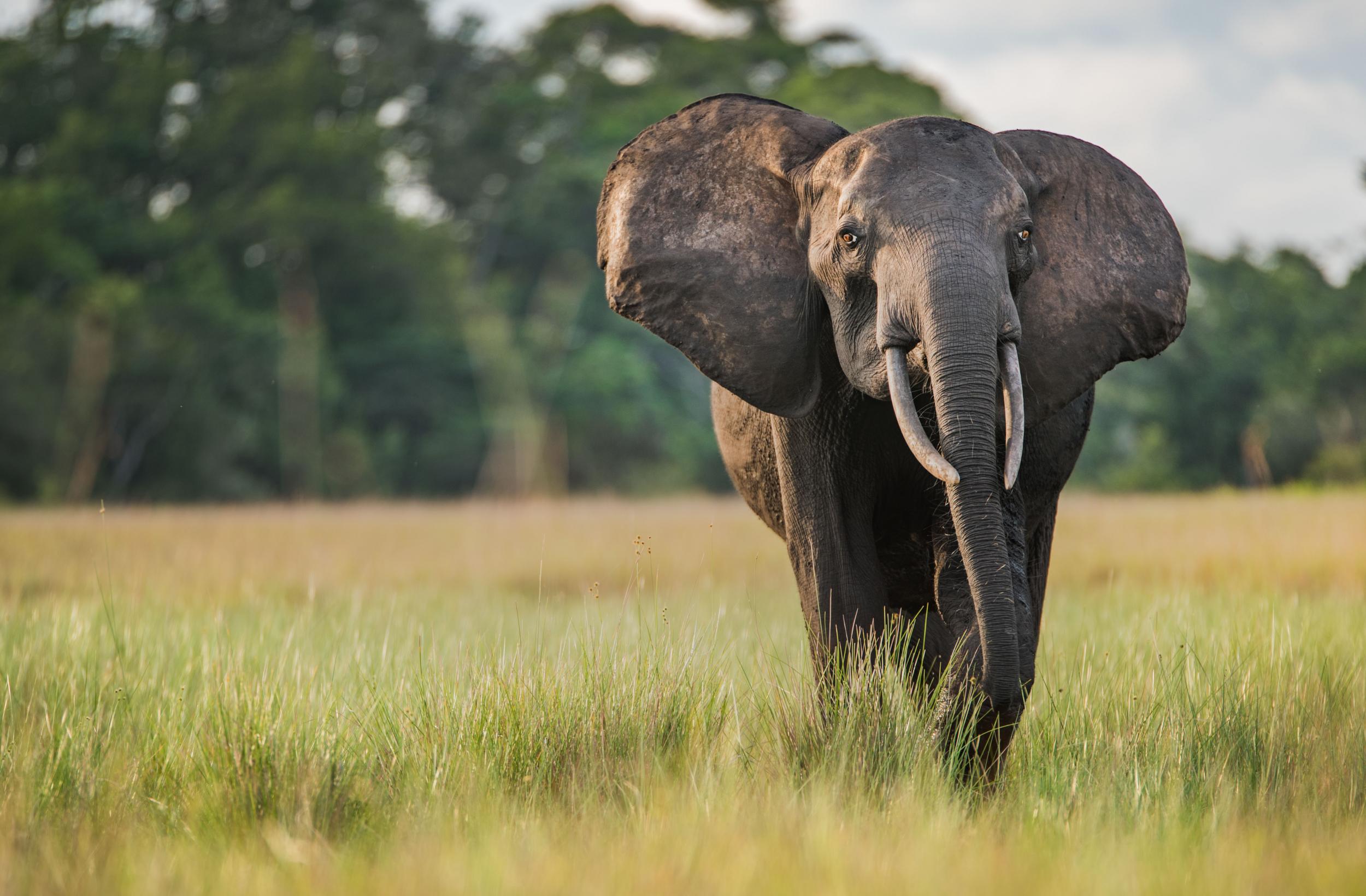 A new study has revealed that one of the world's most endangered species of elephant is under greater threat than previously thought.
Africa's forest elephants have been decimated by the illegal wildlife trade, with more than two thirds killed in the last decade. There was estimated to be around 90,000 left, with about half of that population believed to be in Gabon.
However, a study by a 10-member international research team fears that the total remaining population could be between 40 to 80 percent smaller. The study, published in PLOS ONE, shows the urgency of The Independent's Stop The Illegal Wildlife Trade campaign, which calls for an international effort to clamp down on the illegal trade of wild animals.
Funds raised will pay for vital wildlife protection projects implemented by the campaign's partner charity Space for Giants. This will work to help stop the poaching and illegal trafficking of animals
The illegal trade of wild animals is the world's fourth largest criminal enterprise, after arms, drugs and human trafficking.
The forest elephant has been ruthlessly hunted by poachers in the rainforests of Democratic Republic of the Congo, Cameroon and Gabon. The ivory is smuggled to Asia where it is in high demand for intricate carving. However the full extent of the bloodshed has been hidden from the world's gaze.
Professor Lee White, Gabon's Minister of Water, Forests, Oceans, Environment and Climate Change, welcomed The Independent's Stop The Illegal Wildlife Trade campaign and said that the world must act now to end wildlife crime, to both protect forest elephants but also for greater global security.
"The illegal trade of wildlife wreaks havoc in Africa and even threatens to destabilise whole countries," White said. "The ivory trade is linked to terrorists and criminal syndicates who also smuggle gold, guns and people at Gabon's border with Cameroon."
White says some poachers in Gabon "take a 'shoot on sight' approach" to confrontation with law enforcers, and have become "much more violent and threatening" in the past five years.
"It is partly because we have become more professional and aggressive, but also because there's now much more involvement of organised crime."
The new report provides insight into the species' devastating decline. Biological anthropologist Nelson Ting co-led the study, which revised the population size by using a method known as genetic capture-recapture, which involves assessing dung piles.
Ting said "Gabon was thought to be a population stronghold, but even our most optimistic results suggest a smaller population size. Our research shows how endangered they really are.
"Forest elephants are among the most threatened animals. More information is key to figuring out the best ways to prevent extinction."
Forest elephants are the smaller, rarer cousins of the giant savannah elephant, and their densely wooded habitat makes them harder to study and count.
White, a biologist born in Manchester, spent his childhood in Uganda where he developed a passion for elephants.
Before becoming a Minister in 2019, he had been director of the Gabonese National Parks Agency since 2009. The Agency was only established in 2007, and White told The Independent "the first thing I discovered [in 2009] was there had been this massacre.
"Tragically, nobody had noticed that Gabon had lost about a third of its forest elephants. You can't fly over and see the carcasses because they're hidden"
As poachers continued to empty the country of its forest elephants, White spearheaded a war against them - and against ivory trafficking in particular.
The roll-out of sustained, militarised anti-poaching initiatives during White's time as director of Gabon's National Parks Agency - managing a network of national parks covering 11% of the country - has underpinned great conservation successes.
The threat to forest elephants has been greatly reduced, but danger still looms large. Gabon has maintained its usual level of frontline protection throughout the Covid pandemic in case of any upturn.
Elephants can also be killed during conflict with local people, often after trampling or eating crops.
Space for Giants is working with the National Parks Agency and Assala Energy over three years to build 23 miles of electrified farm boundary fences to keep elephants from danger, and to protect people's livelihoods.
Several fences have already been completed. These types of projects provide local communities with a sustainable way to earn a living, and are designed to incentivise the communities to help protect their primary source of undeveloped wealth capital, Gabon's rich biodiversity and forest elephants.
White was appointed to Gabon's cabinet by President Ali Bongo Ondimba, whom he calls "one of the planet's greenest heads of state", and today he works to not only save forest elephants for their own sake, but to also protect the health of the whole planet.
Space for Giants Founder and CEO Dr Max Graham explains: "Forest elephants are incredibly important for the health of our whole ecosystem and in fighting global warming.
"They play a role in the dispersal of seeds, which have to go through their gut to germinate, and the unique way in which they forage creates a forest canopy structure that is perfect for carbon sequestration.
"They take out the young growth and leave what is longstanding, which has been attributed to creating carbon stock worth billions."
The survival of forest elephants is a human issue, inextricably linked to issues around environment, poverty, law enforcement and finance.
White believes that international effort is needed to end the poaching war being waged against Africa, and that wildlife crime needs to become a new global priority in order to protect species and prevent another global pandemic.
"If we don't deal with the illegal wildlife trade we'll have criminal and terrorist groups rampaging across the continent, destabilising countries," says White. "But we also cannot continue to aggress nature and think there will be no price to pay.
"If we continue to cut down forests, kill animals and destroy ecosystems the consequences will be catastrophic. We must be stewards of nature if we want it to keep being friendly".
Join our commenting forum
Join thought-provoking conversations, follow other Independent readers and see their replies