Abu Hamza: Former imam of Finsbury Park mosque convicted in New York of assisting terror groups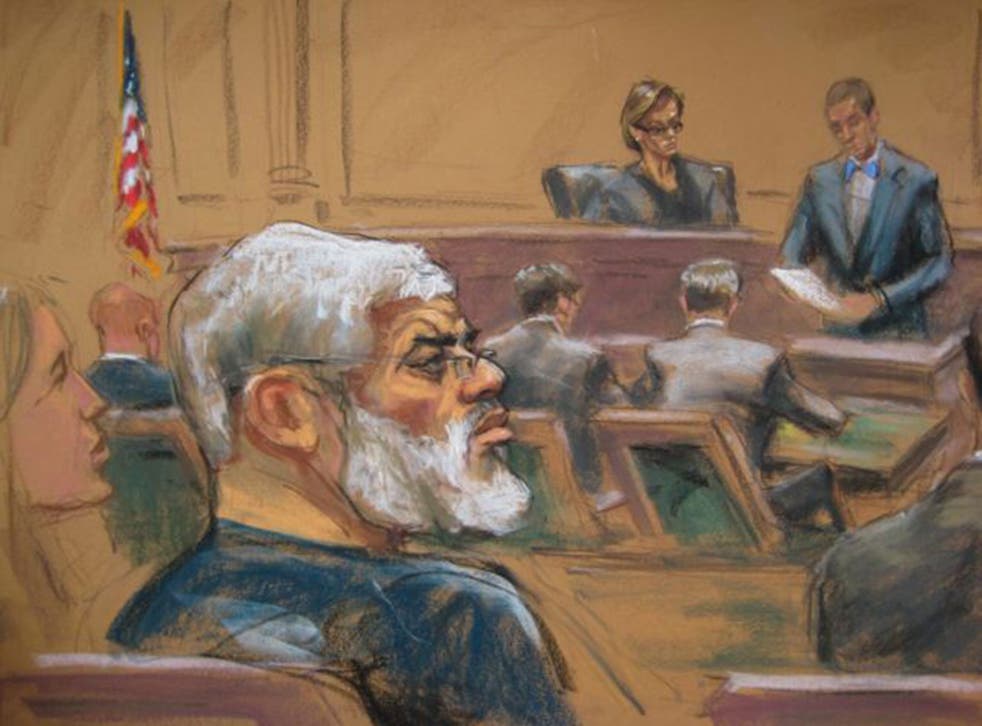 After barely two days of deliberation, a New York jury on Monday convicted Abu Hamza, the former imam of Finsbury Park mosque in north London, on all counts of assisting terrorists groups like al-Qa'ida, offering vindication to US government prosecutors and possible solace to victims of terrorist attacks.
Abu Hamza, who had taken the stand in trial as the only witness for the defence, looked straight ahead as the verdicts were read in the court of Judge Katherine Forrest. At sentencing, the Egyptian-born cleric who attracted extreme followers of Islam after becoming imam of the mosque in 1997, faces life behind bars. Had he been acquitted, he would have been free to return to London, presumably to resume preaching.
The conviction on all 11 counts against the defendant, comes on the heels of the successful prosecution of Suleiman Abu Ghaith, a son-in-law of Osama bin Laden, who was found guilty of terrorism-related charges by a separate New York jury. Eric Holder, the US Attorney General, said after the March verdict that it had demonstrated the ability of America's civil courts to try and convict terrorist suspects.
At the heart of the trial, which last five weeks, were allegations that Abu Hamza, 56, who lost both hands and one eye in an explosion in Pakistan in the early 1990s, had conspired along with jihad militants who took 16 foreign tourists hostage in south Yemen in 1998 providing them with a satellite phone. The incident left four travellers dead. He was also accused of sending at least one of his followers to Afghanistan to fight with al-Qa-ida and trying to set up a jihad training camp in Bly, Oregon.
The jury heard tapes and saw video clips of interviews and sermons given by Abu Hamza in Britain filled with hateful language, including statements that non-believers entering Muslim lands could be dealt with like pigs and taken to slaughter.
Prosecution witnesses included Mary Quin, a New Zealand native, who was among the travellers kidnapped. The jury heard a taped interview she conducted with Abu Hamza in 2000, in which he was heard to say that the hostage-taking "Islamically" had been "a good thing".
The verdicts bring near to a close a long and sometimes tortuous effort by the US government to bring Abu Hamza to justice on American soil. Britain agreed in 2012 to extradite him after he had served six years in a British prison following his convictions of inciting murder and racial hatred. Among those who had attended his mosque was Richard Reid, the shoe-bomber, now in a US supermax prison.
In closing arguments last week, defence lawyer, Jeremy Schnieder, had implored jurors to get past their "gut feelings" about his client and argued that the prosecution had found him guilty only of harsh words but not the deeds contained in the charges. "He is not a mushy guy," he suggested. "He might be arrogant, maybe he was narcissistic but that does not mean he was a kidnapper."
Mr Schneider also questioned whether it had been possible to ensure the former cleric a fair trial in a court house that is just blocks from the site of the 9/11 attacks in lower Manhattan.
"This is what we feared, that there would be no deliberations at all, essentially," Joshua Dratel, another defence lawyer said after the verdict last night. "Beliefs are not a crime." He said he plans to appeal the conviction. But the jury's foreman, Howard Bailynson, a 44-year-old Xerox employee, told reporters there was "no doubt" Abu Hamza received a fair trial.
On the stand, Abu Hanza had adopted a calm and almost scholarly tone. But for the prosecution Ian McGinley told jurors not to be "fooled by his testimony". He added: "Don't let the passage of time diminish what he did". Mr McGinley showed the jury a copy of the Encyclopaedia of Jihad seized by British police from his home. "This not a dictionary, it is not the Encyclopaedia Britannica. It is a detailed manual on how to kill and kidnap".
Register for free to continue reading
Registration is a free and easy way to support our truly independent journalism
By registering, you will also enjoy limited access to Premium articles, exclusive newsletters, commenting, and virtual events with our leading journalists
Already have an account? sign in
Register for free to continue reading
Registration is a free and easy way to support our truly independent journalism
By registering, you will also enjoy limited access to Premium articles, exclusive newsletters, commenting, and virtual events with our leading journalists
Already have an account? sign in
Join our new commenting forum
Join thought-provoking conversations, follow other Independent readers and see their replies