Activist arrested after climbing flagpole, removing Confederate flag from South Carolina's Capitol
'This flag comes down today'
Justin Carissimo
Monday 29 June 2015 20:33 Comments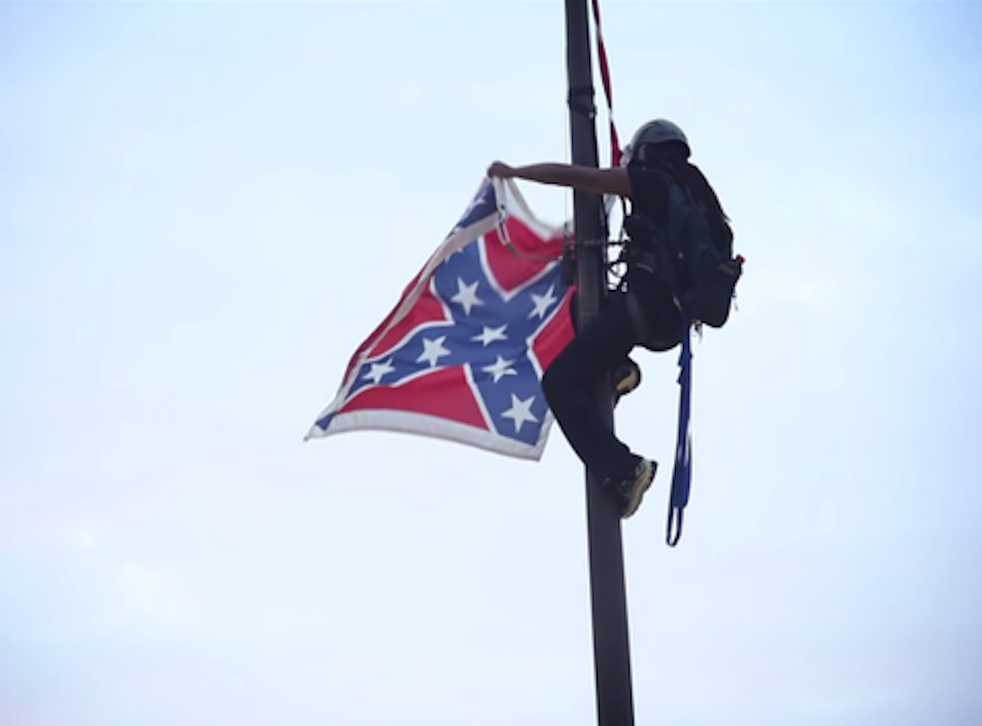 An activist scaled the flagpole in front of the South Carolina Statehouse, removing the Confederate flag on Saturday morning.
Brittany "Bree" Newsome, a North Carolina activist, was arrested for the flag's removal alongside James Ian Tyson, 30, who accompanied her.
As the 30-year-old activist unhooked the flag, Ms Newsome looked down and yelled to officers: "You come against me with hatred, and oppression and violence. I come against you in the name of God… This flag comes down today!"
As she descended the flag, she recited Psalm 27: "the Lord is my light and my salvation. Who shall I fear?" She was then arrested without resistance or incident and smiled as she was taken into police custody.
Ms Newsome, a graduate of New York University, is an advocate for human rights and social justice. She was also arrested last year during a sit-in at the North Carolina State Capitol where demonstrated against the state's recent Voter ID laws.
The flag is protected by state law and was raised by officials after the arrest. A rally for Confederate flag supporters and Ku Klux Klan members are scheduled to rally at 11 am Saturday morning. The flag has been flown at the Statehouse since 1962.
Shaun King, an activist with ties to Ms Newsome, said that donors had raised $10,000 in an effort to release the pair on bail. Mr King insisted that Ms Newsome engaged in an act of non-violent resistance and did not remove the flag for money.
"Her team asked that we support her bail and that all other funds go to Charleston," Mr King wrote on Twitter.
Register for free to continue reading
Registration is a free and easy way to support our truly independent journalism
By registering, you will also enjoy limited access to Premium articles, exclusive newsletters, commenting, and virtual events with our leading journalists
Already have an account? sign in
Join our new commenting forum
Join thought-provoking conversations, follow other Independent readers and see their replies