Ahmed Mohamed: Family of Muslim 'Clock Boy' files lawsuit against school that accused him of building bomb
The 14-year-old's family say the teenager's civil rights were violated after he was interrograted, arrested and suspended from school - for bringing a homemade clock to class
Rachael Revesz
New York
Monday 08 August 2016 14:58 Comments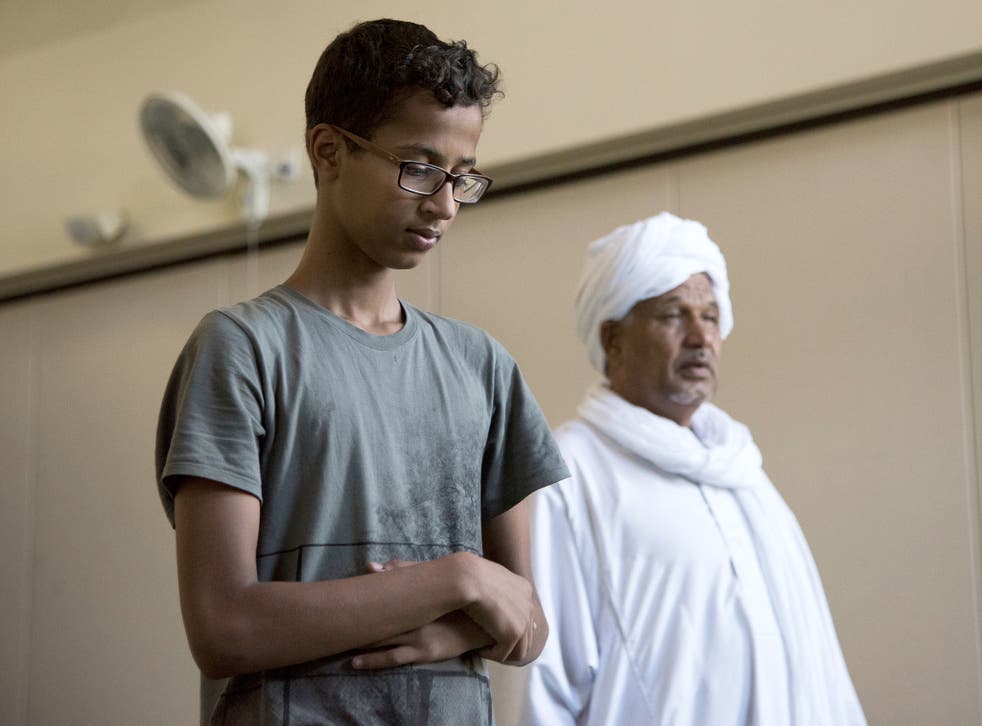 The family of the teenager that was arrested and accused of bringing a homemade bomb to class has filed a lawsuit against the school.
Ahmed Mohamed, then 13, who brought a ticking clock to his class that was mistaken for a bomb, has accused the school of violating his civil rights in a lawsuit that was filed in Irving, Texas.
MacArthur High School suspended the teenager for three days even though they dropped the charge - a possession of a hoax bomb.
The lawsuit cites a number of severe disciplinary actions against black students and a history of anti-Muslim feeling in Irving to support the case that Ahmed was racially profiled and discriminated against.
The school "gets a 'D' for anti-Muslim sentiment and politicising history, it gets an 'F' for continuing a long tradition of racial disparity in student discipline," the lawsuit read.
His case even prompted president Barack Obama to write it was a "cool clock" on twitter: "We should inspire more kids like you to like science. It's what makes America great."
The science fan was interrogated alone by police and the school principal, Daniel Cummings, for over an hour before he was arrested.
Science news in pictures

Show all 20
"I have lost my innocence. I can never look at the world in the same way," the teenager recently told The Independent.
"I like science, but I look like a threat because of my brown skin."
The family moved to Qatar in October, but came back to Texas over the summer and hired the law firm Hutchinson & Stoy, the same company representing a Baylor University student whose school reportedly told her that she had violated the school's "honour code" after she reported her alleged rape.
The Irving Independent School District and city officials have not yet commented on Ahmed's family lawsuit, which does not include a specific figure of compensation.
In November his family demanded $15 million compensation and written letters of apology, otherwise they would file a lawsuit.
Ahmed was invited to meet the president at the White House, as well as the offices of Nasa, Google and the Massachusetts Institute of Technology.
Register for free to continue reading
Registration is a free and easy way to support our truly independent journalism
By registering, you will also enjoy limited access to Premium articles, exclusive newsletters, commenting, and virtual events with our leading journalists
Already have an account? sign in
Join our new commenting forum
Join thought-provoking conversations, follow other Independent readers and see their replies