Alabama Senate primary: A proxy battle between Trump and Bannon for heart of Republican party
Mr Trump is backing 64-year-old Luther Strange, while the former White House chief strategist supports Judge Roy Moore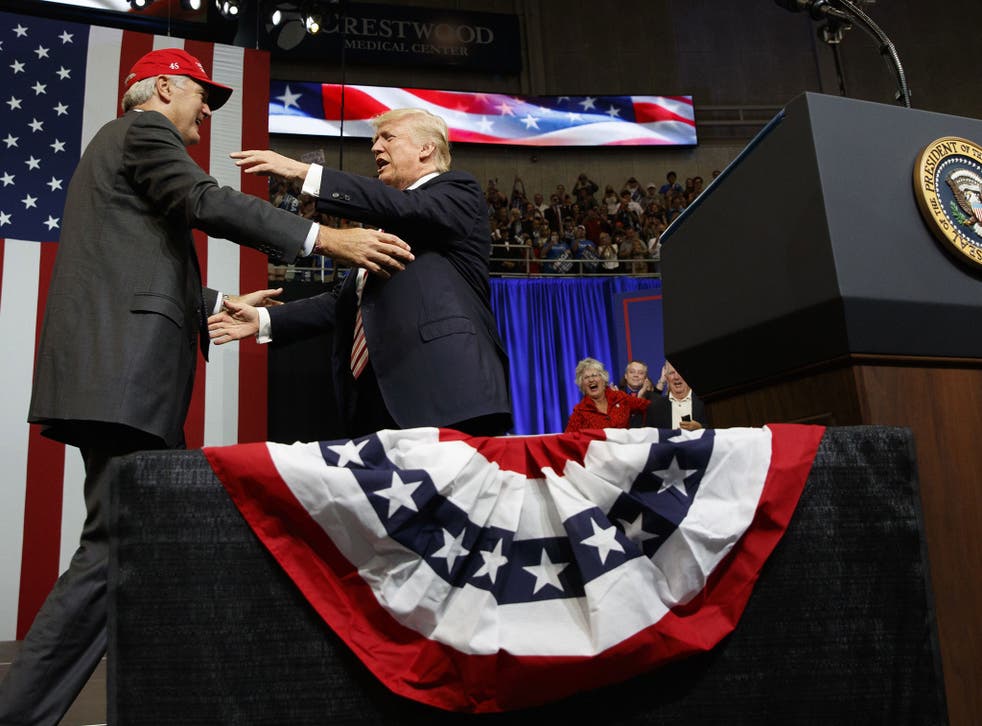 Their names are not on the ballots.
But when voters in Alabama go the polls this week to select a Republican senate candidate, it will be Donald Trump and his recently ousted strategist Steve Bannon whose names are on people's lips.
In recent days, what would otherwise have been a straightforward – albeit colourful – contest between two candidates vying to fill the seat vacated by former Jeff Sessions, has turned into an increasingly bitter proxy war between Mr Trump and some of his formerly closest aides, who fear his anti-establishment instincts are being diluted by mainstream Republicans.
Last week, at a rally for the "insurgent" candidate Judge Roy Moore, a 70-year-old religious conservative who sought to have a statue of the Ten Commandments installed in his courthouse and who lost his job as Alabama's top judge after telling his colleagues to ignore a Supreme Court ruling on same-sex marriage, former vice presidential candidate Sarah Palin said voters needed to fight for their ideas. A member of Mr Trump's cabinet, Ben Carson, is also supporting Mr Moore.
Ms Palin said the "Washington swamp" was threatening to force the President's hand on various issues: apparently a reference to Mr Trump's bipartisan deal with the Democrats and his backtracking on a promise to deport so-called Dreamers.
"The swamp is trying to steal the victory that we worked so long and hard for – to steal the victory that a lot of us put our reputations on the line for. We voted to put America first, not the political elite that had ignored us for decades," she said.
Mr Bannon, now back at the helm of the powerful alt-right Breitbart News, is also backing Mr Moore – a trial run for any of a number of insurgent campaigns he is planning against mainstream candidates during the 2018 midterms.
In the city of Selma, many African American residents said they were impressed with neither candidate. Laurie Washington, who was sitting on the stoop of a friend's home, said many believed Mr Strange was seizing on an easy opportunity after Mr Sessions joined the cabinet. She said many people felt Mr Moore was not qualified for the job. "They just appear to be at each other," she said.
Another woman, who asked to be identified by her first name, Brenda, said she was not impressed by Mr Strange's performance as the state's Attorney General. "Luther Strange wants to be the senator but he's not done anything," she said.
On the eve of voting on Tuesday, Mr Bannon will appear with Mr Moore at a rally hosted by Phil Robertson, a star of the Duck Dynasty reality television series, in southern Alabama.
Mr Trump, meanwhile, is backing 64-year-old Luther Strange, whom he has dubbed "Big Luther" in a reference to his 6ft 9in stature and who he has said will do a fine job for the state and the nation.
At a rally in Huntsville, in the north of the state, on Friday night, Mr Trump spoke for close to 90 minutes – mostly about himself – but also urging voters to put their support behind Mr Strange. He implored the crowd to back Strange so that "we can defend your interests, fight for your values, and always put America first".
He also launched a strange, rambling attack on the NFL and the mainly African American players who had refused to stand for the national anthem, in a peaceful protest against the way police frequently treated minority suspects.
Mr Bannon believes Mr Strange, a state official and prosecutor, can be attacked as a Washington insider. He was appointed to temporarily fill the position after Mr Sessions become Attorney General by the then-governor whom Mr Strange was investigating for alleged corruption.
The governor resigned in April after it emerged he had used public resources to allow him to carry on an extramarital affair.
Mr Strange has also received nearly $9m (£6.7m) worth of advertising from a political action committee linked to Republican Senate majority leader Mitch McConnell: an individual detested by Mr Bannon and someone Mr Trump has also railed against.
The most recent polls suggest the race will be close, though Mr Moore appears to have a small lead. Should he win, it would likely inspire other insurgent candidates in next year's races – potentially splitting Republican loyalties and even providing an opening for Democrats, who are desperate for victories while the Republicans are controlling both the White House and the houses of Congress.
"Should Moore win, Bannon and his allies such as Sarah Palin will be emboldened and will end up challenging a fair number of more establishment conservative Republicans in 2018 primaries," said Larry Sabato, professor of politics at the University of Virginia.
"Bannon and company will portray themselves as giant killers and can convince big donors to give. Should Strange win, though, some of the air will go out of the trial balloons Bannon has launched for 2018."
Register for free to continue reading
Registration is a free and easy way to support our truly independent journalism
By registering, you will also enjoy limited access to Premium articles, exclusive newsletters, commenting, and virtual events with our leading journalists
Already have an account? sign in
Register for free to continue reading
Registration is a free and easy way to support our truly independent journalism
By registering, you will also enjoy limited access to Premium articles, exclusive newsletters, commenting, and virtual events with our leading journalists
Already have an account? sign in
Join our new commenting forum
Join thought-provoking conversations, follow other Independent readers and see their replies