Two Alaska moose discovered frozen to death after locking horns in mating ritual
The fight ended badly for both animals when their horns could not be separated and they died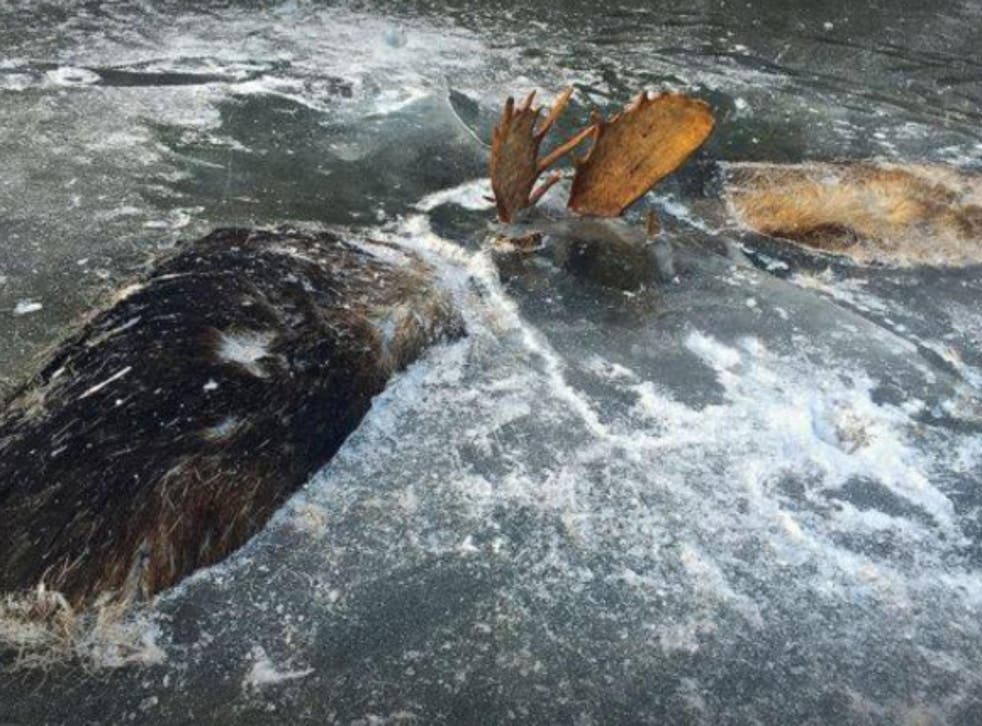 When Brad Webster came across a dark object protruding out of the snow in Alaska, he moved closer to see what it was.
An entanglement of horns and two dark, hairy humps were visible above the clear ice sheet.
To his amazement, the social studies and science teacher saw two bull moose, locked by their horns and perfectly preserved under eight inches of ice.
"We were both kind of in awe," Mr Webster told The Washington Post.
"I've heard of other animals this had happened to, but I've never seen anything like this."
His friend, Jeff Erickson, posted pictures of the animals on Facebook and they have been shared thousands of times.
He said that even elders in the Western Alaska village on the Norton Sound had never seen anything like it.
"2 bulls got in a tussle over some ladies....and ended up being put on ice," Mr Erickson wrote on Facebook. "The plan is to remove intact for a very unique head mount."
The animals were likely battling over a female moose as part of a mating ritual when they locked horns and could not separate, with one animal dragging the other into the water and drowning.
The group of friends and a taxidermist reportedly went back to the site to retrieve the moose heads to mount as "unique wall-hangings".
It took several hours to break through ice with a pick and chainsaw.
They left the carcasses, which may be used to feed sled dogs.
"Life in Northwest Alaska can have a stark reality and brutal consequences," said Mr Erickson.
"I was just happy to be part of the recovery. [...] The view of the antlers protruding from the ice with the soft layer of snow on the carcasses not encased in the ice was such a stark and eerily beautiful scene."
Join our new commenting forum
Join thought-provoking conversations, follow other Independent readers and see their replies