'Hoax' email bomb threat shuts down all public schools in Los Angeles
America's second largest school district closed on Tuesday after an electronic bomb threat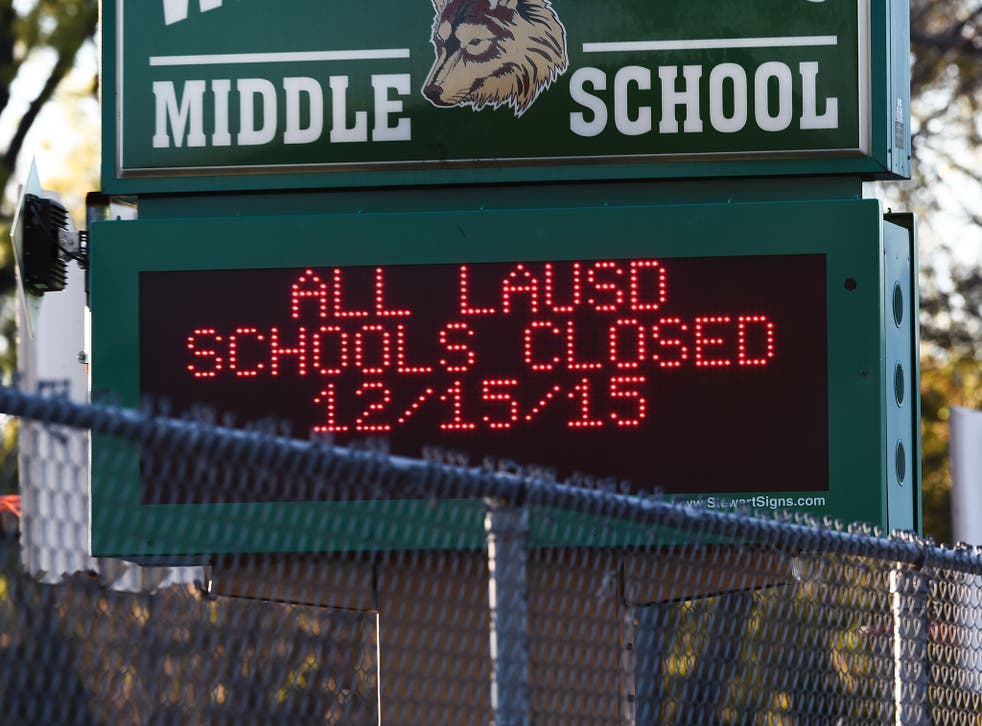 All public schools in Los Angeles were closed on Tuesday after a threat was emailed to officials in California and New York that were later considered a hoax.
"The preliminary assessment is that it was a hoax or something designed to disrupt school districts in large cities," said Adam Schiff, California Representative and ranking member of the House Intelligence Committee, according to the Los Angeles Times. "The investigation is ongoing as to where the threat originated from and who was responsible."
The FBI, Los Angeles Police Department and LA Sheriffs all assisted the school to investigate the "credible bomb threat," Monica Carazo, spokesperson for the LAUSD Superintendent's Office told The Independent.
Officer Wendy Reyes, an LAPD spokesperson, told The Independent that she was unable to specify the nature of the threat.
"The superintendent has elected to close the schools for the day," she said during a phone interview. "We basically just respond to emergency calls that require immediate response. We are in high visibility especially around the schools."

Later, LAUSD Superintendent Ramon Cortines told the press that the threat was made to "not one school, two schools or three schools — it was many schools" and that he wants each of his buildings searched immediately.
"I want them searched and a report made to me and the board of education that it is safe," he said during a televised press conference. "I can't take a chance, and all schools I've asked to be searched today. Staff will work systematically searching all schools, divided into six districts."
"This is a rare threat, we get threats all the time. I think the circumstances in the neighboring San Bernardino, what has happened in the nation, what happened internationally, I as superintendent will not take the chance with the life of a student," he said. "We do get individual threats, we do evacuate schools, we do lockdown schools and do not release students until we notify parents. What we are doing today is no different than what we always do but we're doing this in a mass way."
In New York City, Mayor Bill de Blasio said that he was convinced there was no danger to schoolchildren who attended New York City schools, while NYPD Commissioner William Bratton accused LAUSD officials of overreacting. The city's public schools refused to close their doors as officials deemed the threats were not credible.
Nearly an hour after Mr Cortines' press conference, an LAUSD spokesman said that the threat came from an email associated with an IP address in Frankfurt, Germany, Reuters reports.

Charlie Beck, Los Angeles police chief, immediately defended the district's decision: "It is very easy in hindsight to criticize a decision based on results that the deciders could have never known. I think it's irresponsible based on facts that have yet to be determined to criticize that decision at this point," he said during a news conference.
"All of us have the same goal in mind: We want to keep our kids safe."
LAUSD elementary school teacher Anna Maria Kochakji told The Independent that regardless of whether the threat was credible, she supported Mr Cortines' safety measures, especially following the San Bernardino attack early this month that left 14 dead and more than 20 wounded.

Early Tuesday, Ms Kochakji was informed via text to stay home, but only found out about the bomb threat after turning on the news. While she waits for her school to reopen, Ms Kochakji hopes to find out "what professional psychologists are recommending in terms of what to tell students. Some kids will be informing other children and that's not the best way for kids to hear things."
"This is really something we need to address as a school system as well: How do we prepare the children without making them fearful? That's a question adults need to address themselves too: How to prepare for emergencies without being consumed by the fear or terror," Ms Kochakji said.

LAUSD currently enrolls more than 640,000 students in kindergarten through 12th grade. More than 900 schools and 187 public charter schools are the district.
Linda Zintz, communications director at San Diego Unified School District, said that his schools would remain open amid the cancelations.
"Our School Police are closely monitoring the events in Los Angeles. They are in communication with LAPD and SDPD," she said, according to NBC News. "There have been no threats to San Diego. As a precaution, SDPD will assist our School Police with extra patrols to our schools throughout the school day."
Join our new commenting forum
Join thought-provoking conversations, follow other Independent readers and see their replies