Kerchers' lawyer says Amanda Knox murder acquittal is 'defeat for Italian justice system'
Meredith's mother Arline said she is 'very shocked' by the decision
Lamiat Sabin
Saturday 28 March 2015 13:48 Comments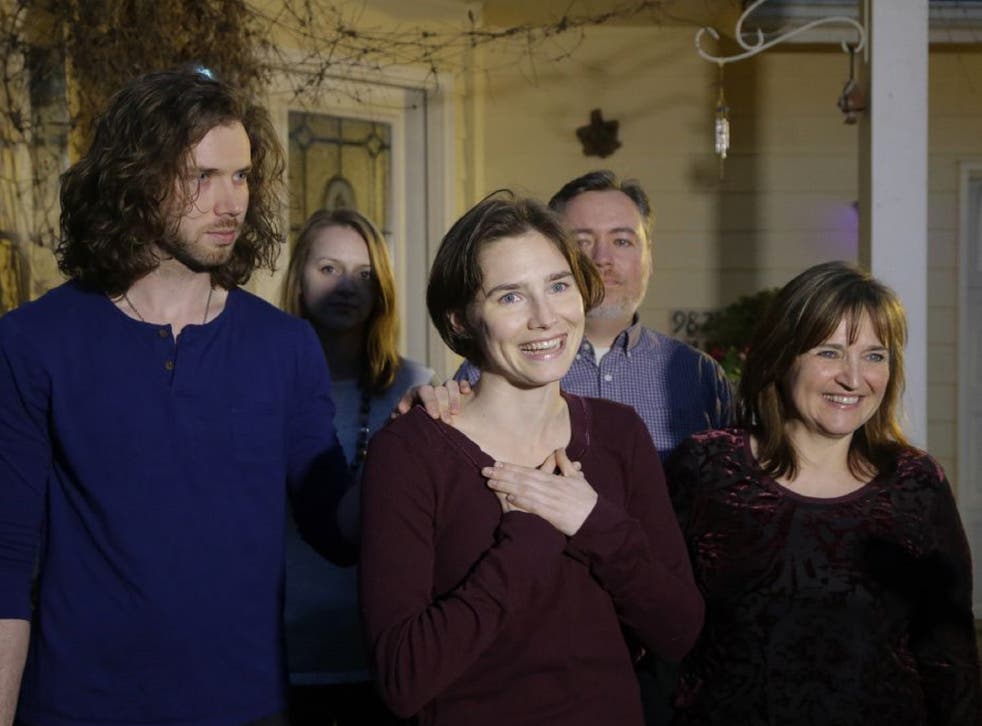 The family and lawyer of murdered British student Meredith Kercher expressed their disappointment and shock with the acquittal of Amanda Knox – who was tried in absentia over the death.
Ms Knox, 27, who spoke from outside her mother's home in Seattle, Washington, said she is "relieved and grateful" that a court overturned her conviction for the third time.
The US former exchange student was found guilty in 2011 and again last year before the highest court in Italy – the Court of Cassation – acquitted her again yesterday at the end of a lengthy appeal process.
When asked what she would say to the Kercher family, Ms Knox said: "Meredith was my friend. She deserved so much in this life."
In pictures: The trial of Amanda Knox and Raffaele Sollecito

Show all 14
Francesco Maresca, the lawyer for the Ms Kercher's family, was disappointed by the ruling. He said: "I think that it's a defeat for the Italian justice system."
The judges will release the reasons for their decision within 90 days after concluding that a conviction could not be supported by the evidence.
Ms Knox was sentenced in January – along with her then-boyfriend Raffaele Sollecito – to 28 years in prison over the death of Ms Kercher, who was her flatmate in Perugia, Italy.
She claims that she found the body, which was naked except for a T-shirt pulled over her shoulders, after returning home on 2 November 2007 from a night at her boyfriend's apartment.
Ms Kercher died of suffocation and blood loss from neck stab wounds.
Her mother Arline, from Surrey, said: "[I am] a bit surprised, and very shocked, but that is about it at the moment.
"They have been convicted twice so it's a bit odd that it should change now."
Asked whether she had any plans following the ruling, she said: "I really don't know at the moment, I haven't got any plans."
Rudy Guede, a 20-year-old man who lived in Perugia since the age of five, was sentenced in 2008 to 30 years in prison for the murder and sexual assault of Ms Kercher.
Although he was at the girls' flat at the time of the murder, he claims he was out of the room at the time of the attack, that he had claimed was carried out by an intruder.
After his fingerprints were found at the crime scene, he was extradited from Germany – where he travelled to a few days after the murder – to Italy where a fast-tracked trial found him guilty in 2008 due to strong DNA evidence.
The court ruled that Guede's account did not corroborate with the discovery of his bloody palm print on Ms Kercher's pillow. He claims she was clothed at the time he left the room for the bathroom. His sentence has since been reduced to 16 years.
Ms Knox claims she first saw the body when she returned home the following day. She was accused of having been involved in a twisted sex game with her boyfriend and Guede, in which Ms Kercher was the victim.
None of her DNA was found on the body while multiple traces of Guede's DNA were found on Ms Kercher, inside her body and around her bedroom – according to court documents.
Sollecito has also been acquitted of the murder conviction, for which he was sentenced to 25 years.
Ms Knox's mother Edda Mellas said she is "so thankful that everything is finally right" after her daughter had spent four years in prison before travelling back to the US and refusing to return to Italy to reappear in court.
Since having returned to Washington, Ms Knox finished a creative writing degree and now works as a theatre critic and freelance journalist for her local West Seattle Herald newspaper.
Standing with her mother and fiancé Colin Sutherland, she responded to a question about what her future holds by saying: "I don't know. I'm still absorbing the present moment, which is full of joy."
Register for free to continue reading
Registration is a free and easy way to support our truly independent journalism
By registering, you will also enjoy limited access to Premium articles, exclusive newsletters, commenting, and virtual events with our leading journalists
Already have an account? sign in
Join our new commenting forum
Join thought-provoking conversations, follow other Independent readers and see their replies