America's most senior general warns against rash action on Syria and Iran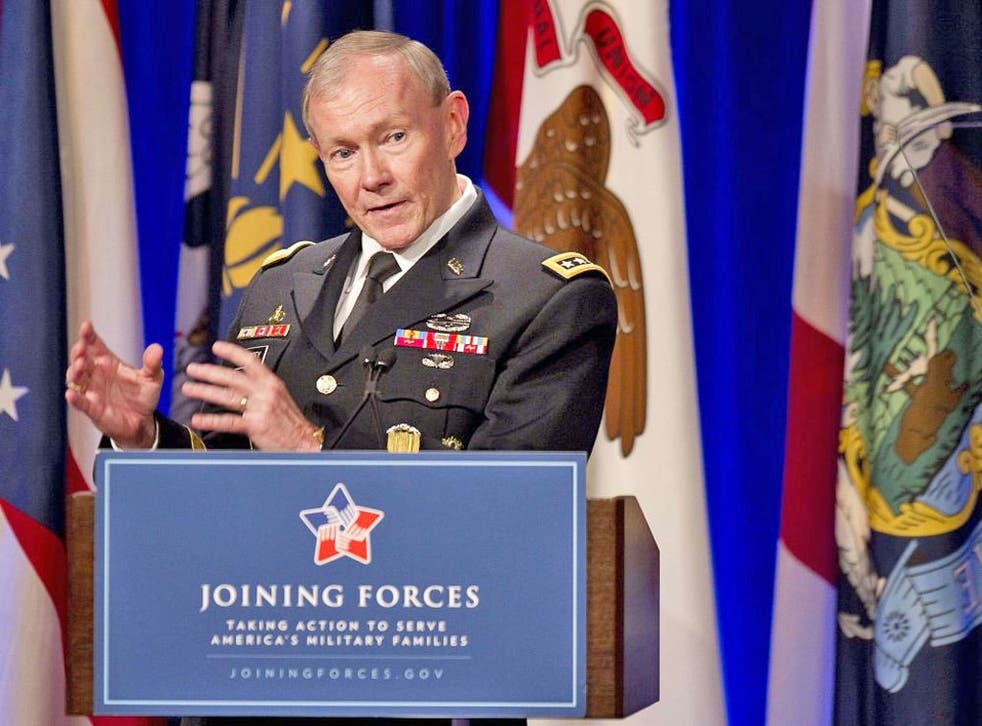 The head of the American military has stated that the worst possible outcome of the Syrian civil war would be an "unstable state with all the risks that involves".
General Martin Dempsey, the chairman of the joint chiefs of staff in the US, pointedly avoided repeating the demands by David Cameron and other Western leaders that Bashar al-Assad must quit to enable the strife to end.
General Dempsey's public remarks during a visit to London illustrate the apprehension felt by the most senior Western commanders about military intervention in Syria. Mr Cameron last week echoed President Obama's warning that the Syrian regime must not cross the "red line" of moving its stockpile of chemical weapons.
The General stressed that frequent comparison of the Syrian situation with that in Libya, where a "no-fly zone" was imposed following a United Nations resolution was, at best, a source of "amusement".
General Dempsey also warned that an Israeli military strike on Iran would have dangerous consequences on a highly volatile region. He added that he has not asked Tel Aviv for advanced warning of such an attack partly because he did not want to be "complicit" and be responsible in any way for the aftermath.
The latest Western leader to call for the setting up of security zones inside Syria for the growing numbers of civilians fleeing the fighting is French President François Hollande, with Paris officials saying that consultations have been taking place with Turkey, which is hosting tens of thousands of refugees.
General Dempsey revealed however that possible refugee zones have so far been considered inside Turkey and Jordan but "none that I am aware of inside Syria". He also pointed out that the hierarchy of the Turkish armed forces had stressed that any action to set up security buffer areas inside Syria should be the task of Nato as a whole rather than individual countries.
General Dempsey cautioned that if Nato did decide to go ahead with establishing a "no-fly" or "no-drive" zone it must allocate adequate resources for it to function: "If you chose to establish one you would assume the responsibility for protecting it. If you are tasked to protect it you have to look at those who might seek to attack it or to influence it and that could take you, depending on weapons systems, it could take you to a limited no-fly zone it could take you to the point of having to interdict air and ballistic missile systems."
The Libyan crisis showed the problems that Nato's European member states faced in carrying out a bombing campaign against a country without any effective air defence without a large degree of American participation. The US military is facing a trillion dollars worth of cuts and this will pose obvious challenges said General Dempsey.
Although diplomatic and political solutions were by far the preferred options to end the conflict, General Dempsey said, the regime and its allies had shown little willingness to follow this path. President Assad had shown "a degree of arrogance which does not convince one that he actually wants to resolve this through the political process".
Neither was he convinced by the initiative by Iran, a key ally of Assad, to broker a peace deal. "They are saying all the right things, but then you have to look at their actions. We know they are involved inside Syria, they are involved in pro-regime militias. So we have to examine their real motives."
General Dempsey maintained that an Israeli military attack on Iran would be counter-productive and there were no guarantees that it would end Tehran's nuclear ambitions. Insisting that despite the strong strategic ties between the two countries he was not privy to Tel Aviv's planning, he added: "What I am saying is based on what I know of their [Israeli] capabilities and I may not know about all their capabilities. But military strikes would possibly delay but not destroy Iran's nuclear capabilities.
"There are now economic sanctions in place which are being effective, the international community may achieve its aims without military action."
Join our new commenting forum
Join thought-provoking conversations, follow other Independent readers and see their replies