Muslim faith leaders address Donald Trump: 'This is our home and we are not going anywhere'
Faith leaders and activists tell the president-elect that they would hold him to the highest standard when it came to protecting all Americans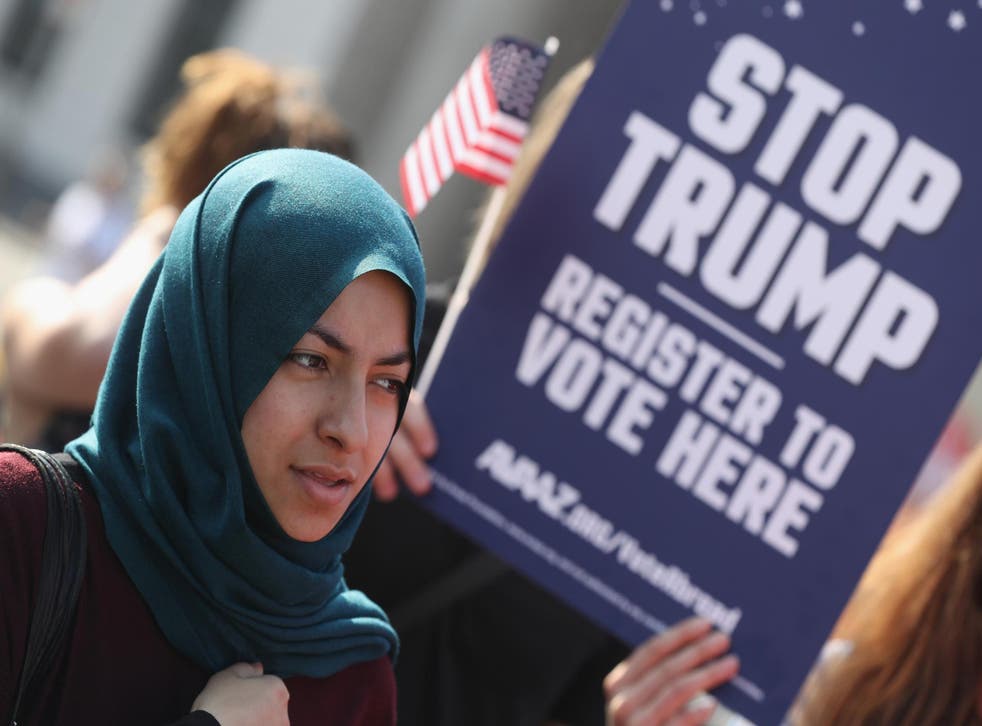 Faith leaders and civil rights activists have warned president-elect Donald Trump that Muslim Americans who live in the US "are not going anywhere".
Ten months after Mr Trump proposed to ban the immigration of all Muslims to the US, Nihad Awad, national executive director of the Council of American-Islamic Relations (CAIR) said at a press conference that Muslims would not move, regardless of who won the election.
"We are not going anywhere and we will not be intimidated or marginalised.
"God willing, the American Muslim community will continue to mobilise to challenge bigotry, to uphold justice and protect freedoms and rights of all Americans," he said.
He was joined by other Muslim, Jewish and Christian leaders who asked Mr Trump to ditch his divisive rhetoric and adopt a more positive and inclusive tone to combat the fear currently felt by many women, people of colour and minority groups.
"We will hold the new president to the highest standard in defending the rights of all those residing in our nation as guaranteed by the US constitution," Mr Awad added.
"To those who are fearful, know that America is your home and the home for your children. This is your future. You are not going anywhere, and you have the same rights and responsibilities as all other Americans."
Mr Awad added that young people are "terrified" by Mr Trump's proposals in the US, the only country they have ever known.
Berkeley High School Walkout in protest against Donald Trumps election
Imam Johari Abdul-Malik, director of outreach at the Dar Al Hijrah Islamic Center in Virigina, said he hoped Donald Trump would work by the values he held up at his victory speech, such as Mr Trump's call for unity and to stand for the civil liberties of all Americans.
"It is our commitment to reach out and engage in social change that will improve the quality of life in America, not just for historical minorities but also for white and middle class Americans who have gotten behind the tenor of the American political process," he said.
Anthony Romero, executive director of the American Civil Liberties Union, said he urged the president-elect to change path on "wrongheaded" and "unconstitutional" proposals such as deporting Muslims, extreme surveillance, punish women for getting abortion and authorising torture like waterboarding.
"If you do not reverse course and instead endeavor to make these campaign promises a reality, you will have to contend with the full firepower of the ACLU at every step," he wrote.
"Our staff of litigators and activists in every state, thousands of volunteers and millions of card-carrying members and supporters are ready to fight against any encroachment on our cherished freedoms and rights."
As of election morning, the December 2015 statement pleding to completely ban all Muslims from entering the US was taken down from the Trump website. The page now redirects to his fundraising page.
Register for free to continue reading
Registration is a free and easy way to support our truly independent journalism
By registering, you will also enjoy limited access to Premium articles, exclusive newsletters, commenting, and virtual events with our leading journalists
Already have an account? sign in
Register for free to continue reading
Registration is a free and easy way to support our truly independent journalism
By registering, you will also enjoy limited access to Premium articles, exclusive newsletters, commenting, and virtual events with our leading journalists
Already have an account? sign in
Join our new commenting forum
Join thought-provoking conversations, follow other Independent readers and see their replies