Amtrak crash: Engineer does not remember the crash, lawyer says
Brandon Bostian still has not spoken with police about the accident
Payton Guion
Thursday 14 May 2015 17:41 Comments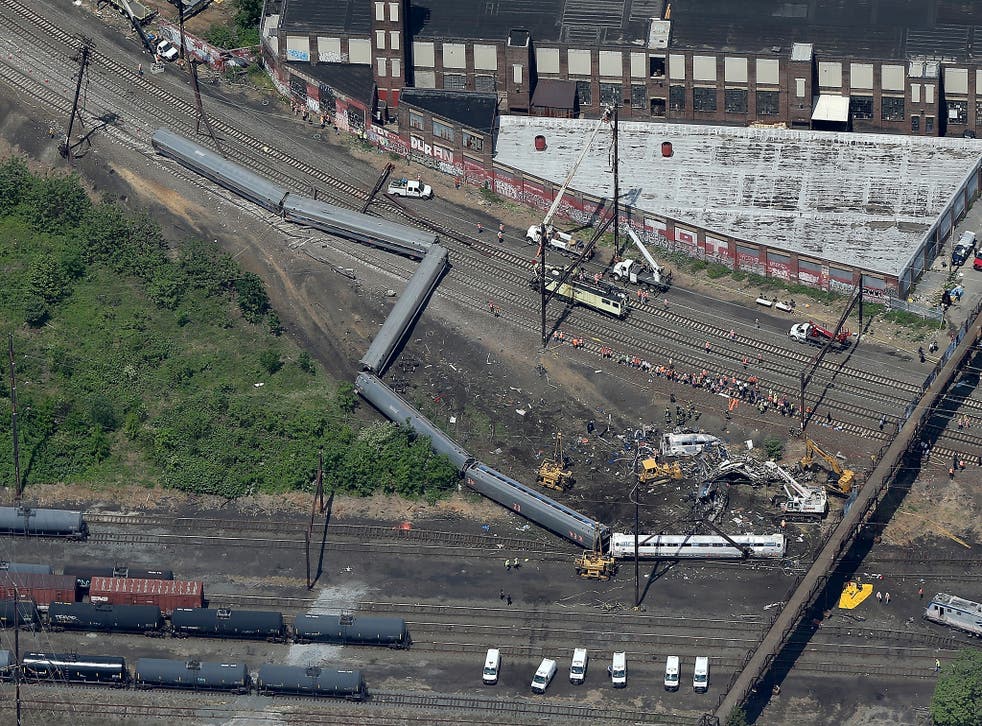 The engineer at the helm of the ill-fated Amtrak train that crashed in Philadelphia, killing seven, has said he does not remember the accident, according to his lawyer.
Brandon Bostian, the 32-year-old engineer, still has not spoken to police about the crash, but his lawyer said Mr Bostian has been cooperative, the Associated Press reported.
"He remembers coming into the curve. He remembers attempting to reduce speed and thereafter, he was knocked out," Robert Goggin told ABC. The lawyer said the last thing Bostian remembered was coming to, looking for his bag, retrieving his cell phone and calling for help.
In pictures: Amtrak Philadelphia train crash

Show all 15
Amtrak Train 188 was travelling between Washington DC and New York on Tuesday night with some 243 people on board. Just after it stopped in Philadelphia, the train derailed in a curve. Seven people have been confirmed dead and more than 200 were injured. Some passengers still are missing in the wreckage.
The National Transportation Safety Board has been investigating the crash and determined that the train was travelling at 106 mph – in a 50 mph section of track – just before it derailed. Passengers have described being tossed around easily in the cars, with luggage and seats flying.
Philadelphia Mayor Michael Nutter called Mr Bostian irresponsible and said that, although he was unaware what happened in the train car, there is no excuse for the excessive speed going into the curve.
Mr Bostian suffered a concussion and had 14 staples put in his head, according to the engineer's attorney. Eight people remain in critical condition, most with rib injuries.
The Amtrak crash is the deadliest train accident in the US in six years and that, along with a string of recent train crashes in the US, has brought train safety under the microscope. Even Thursday morning, a freight train derailed in Pennsylvania, though no injuries have been reported.
Amtrak is in the process of installing safety measures that likely would have prevented the accident, but it had not installed them on the stretch of track where the accident occurred.
Follow @PaytonGuion on Twitter.
Register for free to continue reading
Registration is a free and easy way to support our truly independent journalism
By registering, you will also enjoy limited access to Premium articles, exclusive newsletters, commenting, and virtual events with our leading journalists
Already have an account? sign in
Join our new commenting forum
Join thought-provoking conversations, follow other Independent readers and see their replies