Amtrak ordered to install more speed controls after deadly crash
The railroad did not have latest speed controls in curve where train crashed
Payton Guion
Thursday 21 May 2015 21:40 Comments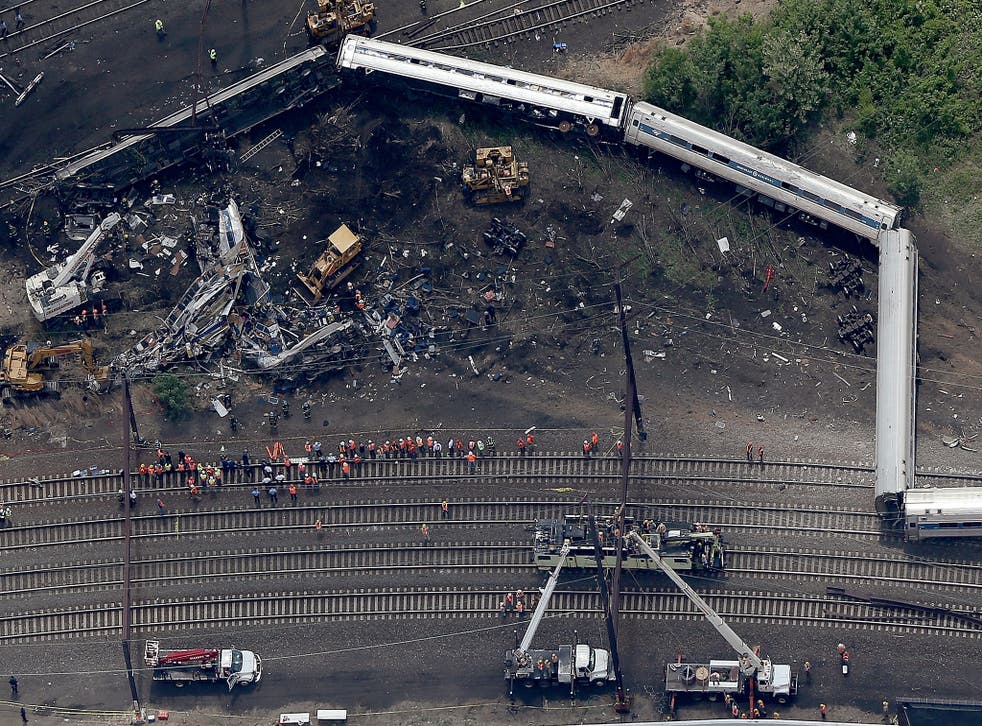 The Federal Railroad Administration has ordered Amtrak to install speed controls along its busiest route, controls experts say likely would have prevented last week's crash that killed eight people and injured more than 200.
The FRA previously had said that it would take this step, but Thursday's order formalises the request, according to Reuters.
Amtrak now must identify dangerous curves along its track in the Northeast Corridor, which runs from Washington DC to Boston, and activate controls that would slow down a speeding train, the order says.
Amtrak Train 188 was traveling between Washington DC and New York last week when it derailed on a curve just after stopping in Philadelphia. Investigators have determined that the train was travelling at 106 mph – in a 50 mph zone – just before the crash.
"Although we do not yet know what caused the derailment of Amtrak Train 188, the information we do have underscores the need to continue to do all we can to further promote safety along the Northeast Corridor," said U.S. Transportation Secretary Anthony Foxx in a statement. "Today's action will help prevent similar incidents from occurring on the NEC until Amtrak completes its installation of Positive Train Control later this year."
The speed control Amtrak has now been ordered to install along the Northeast Corridor is called automatic train control, which senses when a train is travelling faster than the speed limit and sends a signal to the engineer. If the train does not slow after the signal is sent, the system will apply the brakes.
Experts have said that such a system likely would have prevented last week's crash. Amtrak has automatic train control in place along certain curves on the southbound portion of the track, but not on that northbound portion.
In pictures: Amtrak Philadelphia train crash

Show all 15
Follow @PaytonGuion on Twitter.
Register for free to continue reading
Registration is a free and easy way to support our truly independent journalism
By registering, you will also enjoy limited access to Premium articles, exclusive newsletters, commenting, and virtual events with our leading journalists
Already have an account? sign in
Join our new commenting forum
Join thought-provoking conversations, follow other Independent readers and see their replies