An ungodly row: Dawkins sues his disciple
Evolutionist's charity accuses protégé of stealing hundreds of thousands of pounds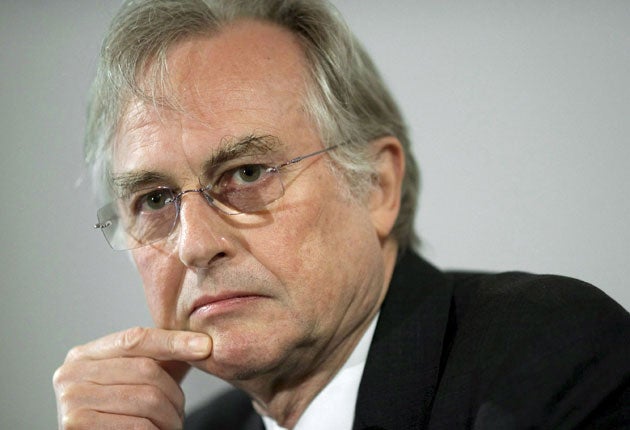 Josh Timonen was one of a small coterie of young protégés around Richard Dawkins, sharing his boss's zealous atheism. But now he and the evolutionary theorist have fallen out spectacularly. Professor Dawkins's charity has accused Mr Timonen of embezzling hundreds of thousands of pounds.
The two atheists had become close in recent years, with Dawkins, the best-selling author and Emeritus Professor of Biology at Oxford University, even dedicating his latest book, The Greatest Show on Earth, to him. But Mr Timonen and the Dawkins foundation are now preparing for a legal wrangle.
The Richard Dawkins Foundation for Reason and Science, has filed four lawsuits in a Californian court alleging that Mr Timonen, who ran its online operation in America, stole $375,000 (£239,000) over three years. It is claiming $950,000 in damages, while Mr Dawkins is suing him for $14,000 owed to him personally. Mr Timonen strongly denies the allegations.
In the 18-page complaint filed in a Los Angeles court, the foundation claims that Mr Timonen said the website he was running was just "squeaking by," making only $30,000 in three years, when in fact it was grossing 10 times that sum. The charity alleges that Mr Timonen pocketed 92 per cent of the money generated by the store, with his girlfriend spending $100,000 of the charity's money on upgrading her home before putting it on the market.
The funds apparently came on top of Mr Timomen's pay – of $278,750 over three-and-a-half years (£50,000 a year) – which legal documents filed by the foundation describe as "exceedingly generous and well above-market for someone of Timomen's age and experience, particularly for someone providing the bulk of his efforts to a charitable organisation".
Blaine Greenberg, the foundation's attorney, told The Independent: "It's not a happy thing for Professor Dawkins, because as many people know he's had a lot of respect and affection for Josh Timonen in the past and is very disappointed that it has come to a point where their relationship has severed on this basis." He added the foundation was "heartbroken" and had a "fiduciary obligation" to recover the money.
Mr Timonen has hit back, calling the action "the ultimate betrayal," adding: "This lawsuit is a joke, and completely ridiculous. The accusations are baseless and unfounded."
Mr Timonen wrote in an email last night: "I know Richard very well, and it's hard for me to wrap my head around the fact that he could have signed off on this bizarre lawsuit filled with fabrications and lies." He said he would soon release a fuller statement through his lawyers.
The foundation hired Mr Timonen in 2006 to produce videos and run the website for the charity, which describes itself as "a clear-thinking oasis" and aims to support "critical thinking" to overcome "religious fundamentalism, superstition, intolerance and human suffering".
Mr Timonen was tasked with running the US division of Professor Dawkins's online store, selling educational DVDs, T-shirts, hats and mugs to benefit the foundation.
The pair became friends, with professor Dawkins writing in the preface to The Greatest Show on Earth: "This book is dedicated to Josh Timonen, with thanks to him and to the small and dedicated band who originally worked with him to set up RichardDawkins.net. The web knows Josh as an inspired site designer, but that is just the tip of an amazing iceberg. Josh's creative talent runs deep, but the image of the iceberg captures neither the versatile breadth of his contributions to our joint endeavour, nor the warm good humour with which he makes them."
In documents filed at the court, the foundation says it spotted the alleged embezzlement this year when books were found detailing $500 meals, trips to Malibu Beach Inn and $314,000 in salaries paid to Mr Timonen and his girlfriend.
Beside his work for Professor Dawkins, Mr Timonen has been employed by fellow atheist Christopher Hitchens and the British Humanist Foundation, according to his website.
Join our commenting forum
Join thought-provoking conversations, follow other Independent readers and see their replies