Anderson Cooper gives Kellyanne Conway exasperated eyeroll as she defends Trump firing James Comey
'Why now are you concerned about the Hillary Clinton email investigation when as a candidate, Trump was praising it from the campaign trail?' asks anchor
Maya Oppenheim
Wednesday 10 May 2017 11:31 Comments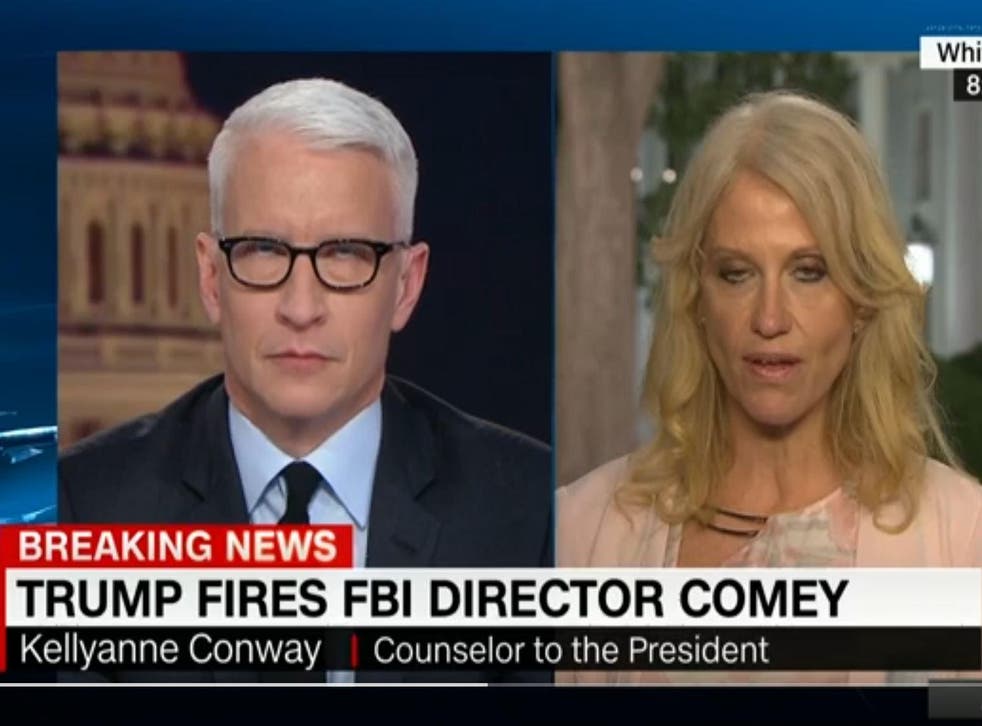 Kellyanne Conway's attempt to defend Donald Trump's decision to fire James Comey has elicited a visibly exasperated eye roll of disbelief from the host.
President Trump has sparked shock and outrage for firing Mr Comey – the FBI director who was leading an investigation into alleged links between President Trump and Russia.
Ms Conway, the senior Trump advisor who has been noticeably absent from media appearances in recent weeks, sought to defend President Trump on Monday night on CNN. However the host Anderson Cooper appeared less than impressed with her explanation.
Ms Conway insisted the praise Mr Trump heaped upon Mr Comey for his handling of Hillary Clinton's email saga during the presidential campaign was wholly unrelated to his decision to now sack him for the email furore.
Mr Cooper said: "As a candidate, Donald Trump praised James Comey, he talked about this on the campaign all the time."
"All of a sudden, the White House is concerned about James Comey's handling of Hillary Clinton's emails? Why now are you concerned about the Hillary Clinton email investigation when as a candidate, Trump was praising it from the campaign trail?"
Ms Conway, who coined the now-infamous phrase "alternative facts", interjected: "I think you're looking at the wrong set of facts here".
Mr Cooper hit back and argued the reasoning included in the memo sent to Mr Trump was "bogus" and ridiculous".
He asked: "You don't think it looks odd at all that the President of the United States is firing the guy who's leading the investigation into the President's White House and the people around the president?"
Donald Trump's first 100 days: in cartoons

Show all 33
But Ms Conway argued President Trump was "not under investigation", saying: "I'm around the President, I'm not under investigation. I can name several people in that same situation".
Later in the interview, Cooper played a series of clips from the campaign trail in which President Trump commended Mr Comey for how he dealt with the Clinton email saga but Ms Conway continued to argue the divergent responses to the same investigation were unrelated.
She said: "You're conflating two things that don't belong together. Thanks for the trip down memory lane. I was on your show often last fall saying we were going to win Michigan and how we were going to do it, so that was fun."
Cooper reacted with what The Daily Beast dubbed "the largest eye roll from Cooper ever seen on cable news."
His eye roll sparked immediate interest on Twitter with people terming it an instant classic and suggesting it would become a popular gif.
The anchor added: "So that person doesn't exist anymore, candidate Donald Trump, that's a fictional character we are no longer allowed to refer to? We can now only refer to the Donald Trump that exists today?"
Ms Conway has been notably absent from media appearances in recent weeks since a string of on-air gaffes. These include using a TV interview to invent a terrorist attack that never happened termed the "Bowling Green massacre", making a sales pitch for Ivanka Trump's line of products on live TV, and claiming National Security Advisor, Michael Flynn, had the "full confidence" of President Trump hours before he too was fired.
Noting her absence, Saturday Night Live recently featured a sketch called 'Where in the World is Kellyanne Conway?', a spoof of 90s American game show Where in the World is Carmen Sandiego?
Register for free to continue reading
Registration is a free and easy way to support our truly independent journalism
By registering, you will also enjoy limited access to Premium articles, exclusive newsletters, commenting, and virtual events with our leading journalists
Already have an account? sign in
Join our new commenting forum
Join thought-provoking conversations, follow other Independent readers and see their replies