Anger as Barack Obama rewards Burmese President Thein Sein with White House visit despite recent claims of violence
Thein Sein becomes Burma's first head of state to visit Washington since Lyndon Johnson invited military dictator Ne Win in 1966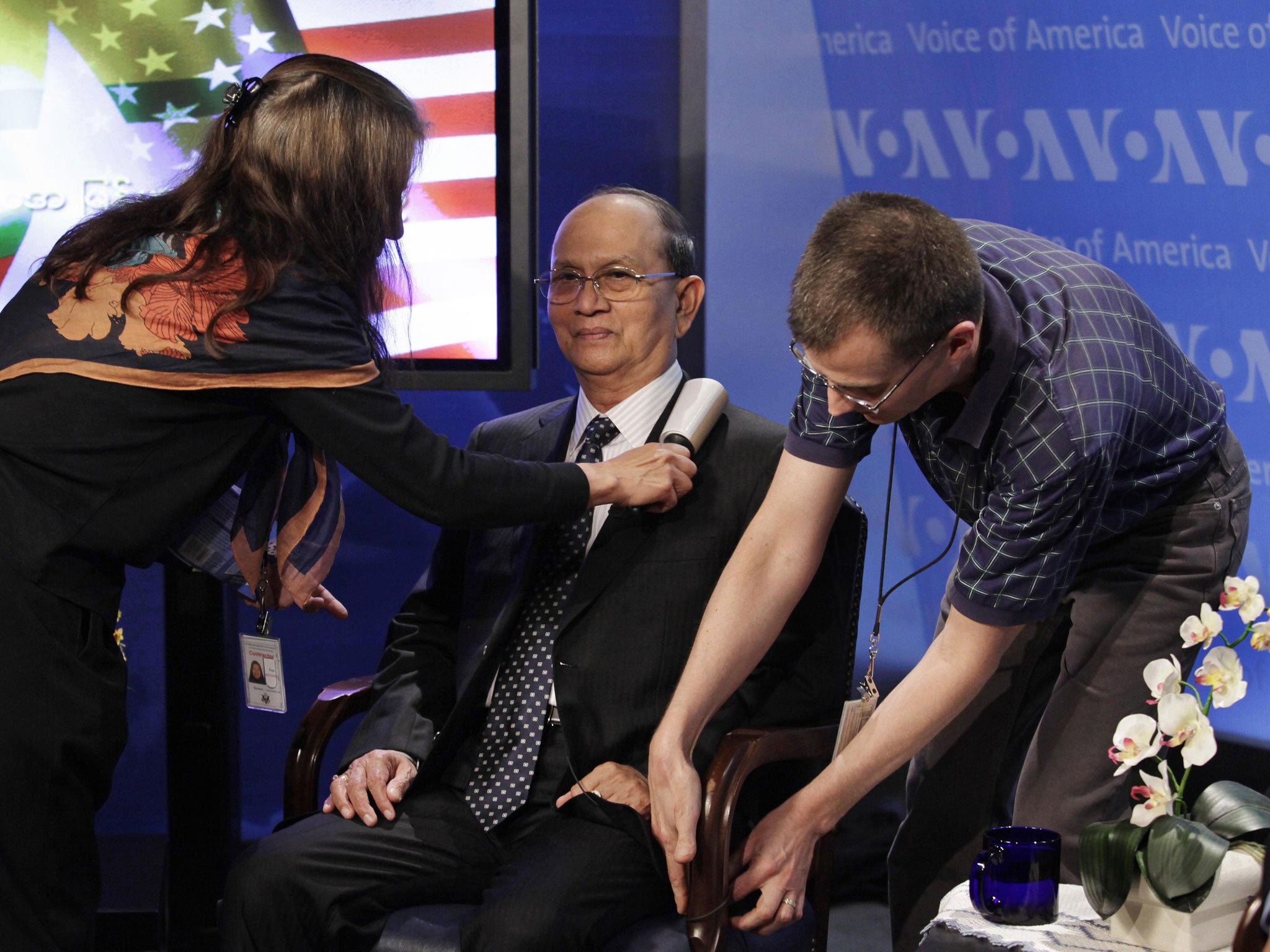 Welcoming the first Burmese head of state to visit the White House in nearly 50 years yesterday, President Obama said "the leadership of President [Thein] Sein" had "allowed this shift" in the relationship.
"Shift" is an understatement: eight months ago, Burma's President was still on a blacklist barring him from travelling to the United States. Yesterday he and his closest colleagues were honoured guests in the Oval Office.
Military rule was replaced by a new military-backed civilian government in Burma in 2010, and President Obama made "engagement" with the reclusive South-east Asian nation a theme of foreign policy in his first term - one that came to unexpected fruition after Thein Sein came to power in April 2011.
President Obama acknowledged the sweeping scale of the reforms enacted by Thein Sein. "Over the last two years, we've seen steady progress in which political prisoners including Aung San Suu Kyi  have been released and they have been incorporated into the political process," he said. "We've seen credible elections and a legislature that is continuing to make strides in more inclusivity and greater representation of all the various ethnic groups in Myanmar."
Replying, Thein Sein said that although the two countries now had "similar governments since Myanmar is now a democracy…our democratic government is just two years old…We need a lot of practice to be better." He described his talks with Obama as "fruitful, candid and frank."
Thein Sein's visit to Washington provoked a blistering attack by the US Campaign for Burma (USCB), which called it "yet another gift to the Burmese government". Activists point to multiple ongoing problems in Burma. Buddhist-Muslim violence has flared for decades, but the attacks in Arakan state last June and October, then in March in central Burma, caused far more death and dislocation than any in the past.
In a recent report, the New York-based Human Rights Watch claimed the October attacks were carefully coordinated, and saw the hand of the authorities behind them.
Trumpeted ceasefires with the Karen ethnic minority on the Thai border have yet to lead to solid peace agreements, while the army has been given a free hand to bomb and strafe Kachin ethnic rebels in the north.  Jennifer Quigley, executive director of USCB, criticised yesterday's visit. She said: "President Obama is sending the message that crimes against humanity by state forces against ethnic and religious minorities in Burma will be ignored by his administration."
Both Presidents conceded that Burma has a long way yet to go. Thein Sein said, "For democracy to flourish we will have to undertake more economic and political reforms in the years ahead...and will need the assistance and understanding of the international community, including the US."
President Obama, who called the country 'Myanmar', not Burma, following the Burmese military's usage, concurred. "As President [Thein] Sein is the first to admit," he said, "this is a long journey, and there is still much work to be done."
Join our commenting forum
Join thought-provoking conversations, follow other Independent readers and see their replies