Ann Coulter warns Donald Trump of voter backlash if he 'betrays' them on immigration
Among the circle of hardline Trump supporters, Ms Coulter seems to be getting nervous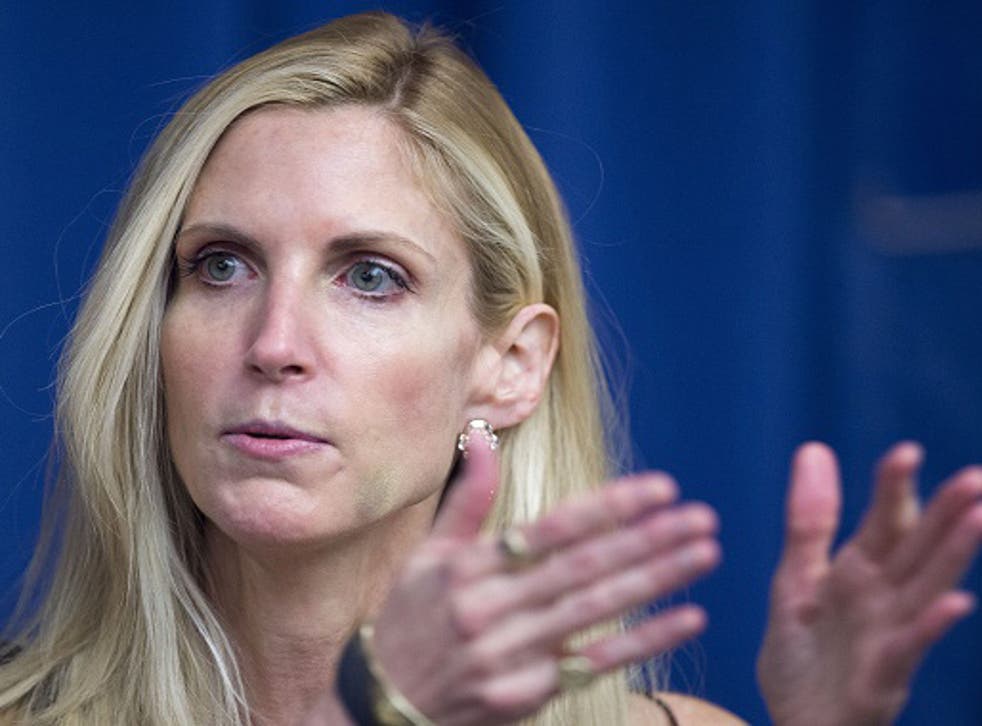 While the likes of Tomi Lahren and Meghan McCain are warming up the Donald Trump bandwagon, one prominent woman supporter appears increasingly frustrated with the President-elect.
Ann Coulter, the author and commentator who made her name by pushing a hardline anti-immigration stance and who praised Mr Trump's June 2015 speech accusing Mexicans of being "rapists", has taken to social media to warn Mr Trump to stick to his campaign pledges of immigration reforms. That includes temporarily banning Muslims, building the wall along the Mexican border and stopping the so-called influx of Syrian refugees.
There is only one man who could complete these tasks as the head of the Department of Homeland Security, according to Ms Coulter. That is Kansas secretary of state Kris Kobach.
The frontrunner for the role believes that immigrants should be deported if they commit "any felony". He also wants to outlaw sanctuary cities and agrees with Mr Trump's incorrect assertion that three million people voted "illegally".
In Ms Coulter's latest blog, called "How Trump could ruin his presidency", Ms Coulter said that Mr Trump's views on immigration were the only reason that supporters stuck with him through his attack of Arizona senator and war hero John McCain, his "lazy" first debate performance and the leaked 2005 Access Hollywood tape which showed him bragging about grabbing women's genitals.
"But if he breaks a major campaign promise, his supporters will turn on him with a blind ferocity, dwarfing their rage toward Jeb! because Trump's is the more exquisite con. He will have duped them. And he will never, ever, ever get them back," she said.
Ann Coulter defends Trump
As Mr Trump arrived in Indiana to meet with the bosses at air manufacturing plant Carrier to announced his deal to save less than half the jobs from moving to Mexico, Ms Coulter re-tweeted people who had warned him not to "betray" them and asked him to move on from Indiana and start working on immigration.
"If Trump betrays voters on immigration, he can have as many rallies as he wants, but Americans will say, Been there, done that — you screwed us. He will never escape the stink of broken campaign promises," she wrote.
Her words mark a strong turnaround from the title of her latest book, released in August, called In Trump We Trust, a diehard loyalist's guide to Trumpism and his brand of "Make America Great Again". In the last few months, however, the President-elect has flirted with a more moderate view on immigration to get votes and appease critics.
Mr Trump has already irked some supporters by revealing during a meeting with the New York Times that he "no longer felt so strongly" about prosecuting Hillary Clinton and her alleged misuse of her personal email server - just one month after he promised to appoint a special prosecutor and investigate the Democrat.
If Mr Trump does not carry out his campaign pledges, it might not reflect well on Ms Coulter - although she has never said she liked the Republican as a person, describing him as "coarse" and "tasteless" - but it will help her to continue to sell books. She can continue to bemoan the state of the nation becoming "shorter" and "browner", and never have to defend a situation where her Trumpist ideals are implemented and yet might still fail to achieve her dreams of "whiter" America.
Join our new commenting forum
Join thought-provoking conversations, follow other Independent readers and see their replies