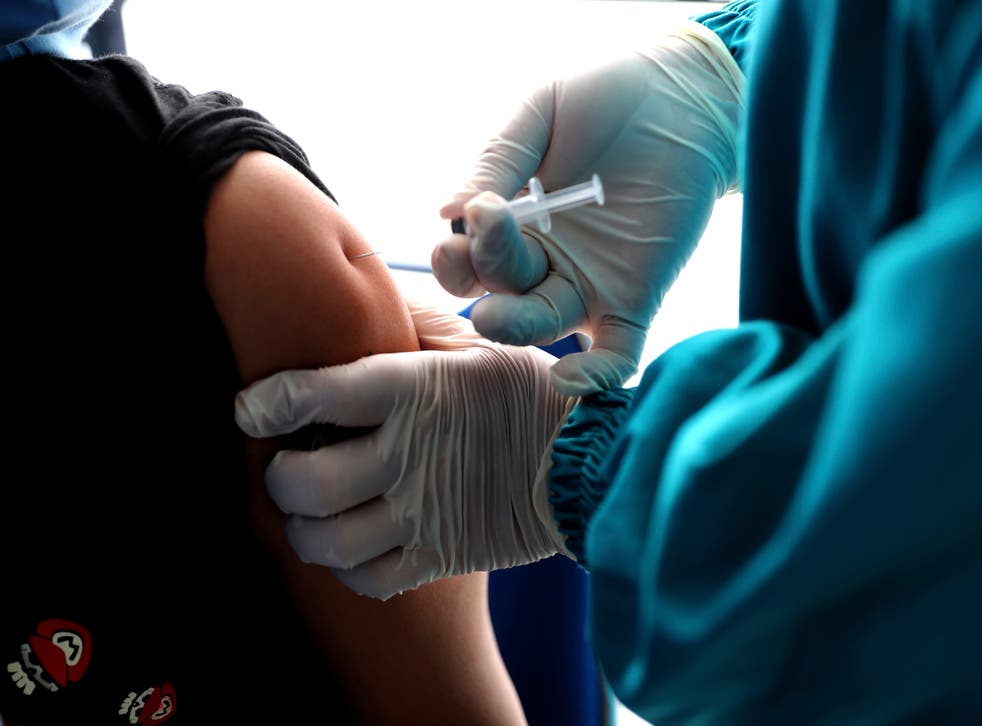 Here are the AP's latest coverage plans, top stories and promotable content. All Times EST. For up-to-the minute information on AP's coverage, visit Coverage Plan at https://newsroom.ap.org.
______________
TOP STORIES
______________
TRUMP IMPEACHMENT — President Donald Trump is impeached by the U.S. House for a historic second time, charged with "incitement of insurrection" over the deadly mob siege of the Capitol in a swift and stunning collapse of his final days in office. By Lisa Mascaro, Mary Clare Jalonick, Jonathan Lemire and Alan Fram. SENT: 1,310 words, photos video.
TRUMP — His place in the history books rewritten, President Trump faced his second impeachment largely alone and silent. It was a stunning coda for a term defined by a deepening of the nation's divides, his failures during the worst pandemic in a century and his refusal to accept defeat at the ballot box. By Jonathan Lemire, Zeke Miller and Jill Colvin. SENT: 1,180 words, photos. With TRUMP-BARRED FROM OFFICE-EXPLAINER — Keeping Trump from holding office again could be Congress' next step. SENT: 740 words, photos.
NATION'S CAPITAL-LOCKDOWN — All through downtown Washington, the primary sound is the beeping of forklifts unloading more fencing. Between the pandemic and the security threat, Mayor Muriel Bowser is flat-out asking people not to come to the District of Columbia for President-elect Joe Biden's inauguration. By Ashraf Khalil and Lolita C. Baldor. SENT: 760 words, photos. With TRUMP IMPEACHMENT-THE SCENE — The U.S. Capitol is transformed into an fortress. SENT: 700 words, photos.
VIRUS-OUTBREAK-CHINA-INVESTIGATORS — A global team of researchers has arrived in the Chinese city where the coronavirus pandemic was first detected to investigate its origins amid uncertainty about whether Beijing might try to prevent embarrassing discoveries. The 10-member team sent to Wuhan by the World Health Organization was approved by President Xi Jinping's government after months of diplomatic wrangling that prompted an unusual public complaint by the head of the WHO. By Sam Mcneil and Huizhong Wu. SENT: 760 words, photos, video.
VIRUS OUTBREAK — A coronavirus action plan from President-elect Joe Biden centers on a mass vaccination campaign and closer coordination among all levels of government. The Biden plan comes as a divided nation remains caught in the grip of the pandemic's most dangerous wave yet. By Ricardo Alonso-Zaldivar and Bill Barrow. SENT: 750 words, photo. UPCOMING: 900 words after 7:15 p.m. speech.
UGANDA-ELECTION — Long lines of Ugandans are voting in a presidential election tainted by widespread violence that some fear could escalate as security forces try to stop supporters of leading opposition challenger Bobi Wine from monitoring polling stations. Longtime leader Yoweri Museveni seeks a sixth term against a strong challenge from the young singer and lawmaker. The government has shut down internet access, and the military is on the streets of the capital. By Rodney Muhumuza. SENT: 765 words, photo.
FLINT-WATER-CHARGES — Former Michigan Gov. Rick Snyder has been charged with two counts of willful neglect of duty in the Flint water crisis. Residents' tap water became tainted by lead. A legionella outbreak has been connected by experts to ruinous decisions that turned a river into the city's water source in 2014-15. The indictment filed by the attorney general's office is groundbreaking. According to the state archivist, no governor or former governor in Michigan's 184-year history had been charged with crimes related to their time in that office. By David Eggert and Ed White. SENT: 530 words, photos.
_______________________________
WHAT WE'RE TALKING ABOUT
_______________________________
LOTTERY JACKPOTS — Wednesday night's Powerball jackpot was worth at least $550 million and grew to an estimated $640 million without a winner. The next drawing is Saturday. SENT: 200 words, photos.
TRUMP-SOCIAL MEDIA-BANS — YouTube suspends President Trump's channel for at least a week amid concerns over "ongoing potential for violence." SENT: 380 words, photos.
IMMIGRATION-AGENCY-LEADER-RESIGNS — The acting director of U.S. Immigration and Customs Enforcement has resigned only weeks after taking over the agency that detains and deports immigrants and runs international criminal investigations. SENT: 300 words, photos.
AUSTRALIA-PIGEON — A racing pigeon has survived an extraordinary 8,000-mile Pacific Ocean crossing from the United States to find a new home in Australia. Now authorities consider the bird a quarantine risk and plan to kill it. SENT: 580 words, photos.
FAA-UNRULY-PASSENGERS — Federal officials say they're going to get tougher on airline passengers who disrupt flights. The move Wednesday by the Federal Aviation Administration follows several incidents involving people who refused to wear masks or conducted in-flight demonstrations of support for President Donald Trump. SENT: 330 words, photo.
APPLE-BLACK-COLLEGES — Apple and a major utility are each giving $25 million to launch a learning center and business incubator for students of historically Black colleges and universities. SENT 480 words.
___________________
VIRUS OUTBREAK
___________________
VIRUS OUTBREAK-ASIA — China is seeing a new surge in coronavirus cases in its frozen northeast as a World Health Organization team arrived to investigate the origins of the pandemic. China also reported its first new death attributed to COVID-19 in months, raising the toll to 4,635 among 87,844 cases. SENT: 470 words, photos.
VIRUS OUTBREAK — Schools in the U.S. are forging ahead with in-person instruction despite being in the midst of a devastating period in the pandemic, heartened by the addition of teachers to the vaccination line, the development of on-site testing and impatience over being out of class for nearly a year in some places. By Lindsay Whitehurst, Terry Tang and Allen G. Breed. SENT: 850 words, photos. With VIRUS OUTBREAK-VACCINE ROLLOUT — EXPLAINER: Vaccine push gains steam but many still face wait. SENT: 840 words, photo.
VIRUS OUTBREAK-SHUTDOWN DEFIANCE — A growing number of restaurants nationwide are opening for indoor dining in defiance of strict COVID-19 regulations in their states. SENT: 1,090 words, photos.
VIRUS-OUTBREAK-VACCINE-RUINED — A state board has suspended the license of a Wisconsin pharmacist accused of ruining more than 500 doses of COVID-19 vaccine because he thought it was unsafe. The Wisconsin Pharmacy Examining Board said Wednesday that Brandenburg cannot practice pharmacy while suspended. SENT: 300 words, photo.
VIRUS-OUTBREAK-INDONESIA — Indonesia has started vaccinating health workers and public servants for COVID-19, a day after President Joko Widodo received the first shot of China's Sinovac Biotech vaccine. The Health Ministry is planning to vaccinate more than 1.3 million health workers and 17.4 million public officials in the first stage. Indonesia, the world's fourth most populous country, plans to vaccinate two-thirds of its population of about 270 million people — or just over 180 million people. SENT: 320 words, photos.
VIRUS-OUTBREAK-AFRICA-VACCINES — The African Union has announced it has purchased a total of 270 million doses of coronavirus vaccines for the continent from Pfizer, AstraZeneca through the Serum Institute of India, and Johnson & Johnson. The bloc's chairman, South African President Cyril Ramaphosa, said Wednesday that at least 50 million of the doses will be available in the months of April to June and the rest will be delivered before the end of 2021. By Andrew Meldrum. SENT: 420 words, photos.
Find more coverage on the Virus Outbreak on the featured topic page in AP Newsroom.
_______________________
WASHINGTON/POLITICS
_______________________
TRUMP-IMPEACHMENT-THE SCENE — The U.S. Capitol is transformed into an impeachment fortress as hundreds of National Guard members camp out in the building, protecting lawmakers still reeling from last week's deadly violence. By Kevin Freking and Andrew Taylor. UPCOMING: 700 words by 7 p.m., photos.
TRUMP IMPEACHMENT-SENATE — Senate Majority Leader Mitch McConnell blocks a quick Senate impeachment trial for President Trump but is not ruling out the possibility he might eventually vote to convict the now twice-impeached president. By Alan Fram and Andrew Taylor. SENT: 950 words, photos. With CONGRESS-EXPLAINING 2ND IMPEACHMENT — What's next? SENT: 1,150 words, photos.
CAPITOL BREACH-INTELLIGENCE — There is no shortage of potential threats and leads pouring into law enforcement agencies nationwide after the insurrection at the U.S. Capitol. The challenge is figuring out what's real and what's just noise. By Stefanie Dazio and Michael Balsamo. SENT: 920 words, photos.
_________________
INTERNATIONAL
_________________
HONG-KONG-CRACKDOWN — Hong Kong police have arrested a lawyer and 10 others on suspicion of helping 12 Hong Kong activists try to flee the city. The fresh wave of arrests comes a week after 55 activists were apprehended in the largest move against Hong Kong's democracy movement since Beijing imposed a new national security law last June to quell dissent in the semi-autonomous territory. By Zen Soo. SENT: 415 words, photos.
SKOREA-CORRUPTION — South Korea's Supreme Court has upheld a 20-year prison term for former President Park Geun-hye over bribery and other crimes as it wrapped up a historic corruption case that marked a striking fall from grace for the country's first female leader and conservative icon. The ruling means Park potentially serves a combined 22 years behind bars, following a separate conviction for illegally meddling in her party's candidate nominations. By Kim Tong-Hyung. SENT: 650 words, photos.
CHINA-MINE-EXPLOSION — Authorities have detained managers at a gold mine in eastern China where 22 workers have been trapped underground following an explosion Sunday. The condition of the trapped workers remains unknown. The official Xinhua News Agency said managers waited more than a day to give notice of the explosion in violation of rules saying accidents must be reported within one hour. SENT: 200 words, photos.
HONDURAS-MIGRANTS — About 200 migrants have begun walking up a highway toward the border with Guatemala two days before a migrant caravan is scheduled to depart. Some 75 police officers dressed in riot gear waited late Wednesday at a point farther along the highway on the outskirts of San Pedro Sula. One officer says the intention is to stop the migrants for violating a pandemic-related curfew. By María Verza. SENT: 550 words, photos.
UNITED-NATIONS-YEMEN — The U.N. humanitarian chief is urging the United States to reverse its decision to declare Yemen's Houthi rebels a terrorist group, warning its action will likely lead to "a large-scale famine on a scale that we have not seen for nearly 40 years." By Edith M. Lederer. SENT 650 words, photos.
INDONESIA-PLANE CRASH — Divers looking for a crashed plane's cockpit voice recorder search in mud and plane debris on the seabed between Indonesian islands. SENT: 630 words, photos.
____________
NATIONAL
____________
2020 CENSUS — The director of the U.S. Census Bureau is indefinitely halting efforts to compile data on who is in the country illegally after receiving blowback from civil rights groups and concerns raised by bureau statisticians about the accuracy of such figures. By Mike Schneider. SENT: 630 words, photo.
FEDERAL EXECUTIONS-JOHNSON — A federal inmate who could be executed less than a week before President Donald Trump leaves office was a gang member who was sentenced to death for the slayings of seven people in Richmond, Virginia, in 1992. Corey Johnson was scheduled to die Thursday. A federal judge halted his execution after he tested positive for COVID-19. But the U.S. Supreme Court has often overturned lower courts and allowed federal executions to proceed. By Denise Lavoie. SENT 850 words, photo.
WESTERN-WILDFIRES-FUELBREAK-FIGHT — Environmentalists have filed a notice of intent to sue the U.S. government to block plans to build up to 11,000 miles of fuel breaks they contend would violate the Endangered Species Act in six western states. By Scott Sonner. SENT: 620 words, photos.
NORTHWEST STORM — A powerful wind storm has rolled through the Pacific Northwest, killing one person and leaving a trail of damage. The storm nearly blew a tractor-trailer off a bridge in Washington state, caused a landslide in Oregon and left more than 500,000 people in the two states without power. SENT: 530 words, photos, video.
___________________
BUSINESS/ECONOMY
___________________
CHINA-TRADE — China's exports rose in 2020 despite pressure from the coronavirus pandemic and a tariff war with Washington, boosting its politically volatile trade surplus to $535 billion, one of the highest ever reported. Customs data show exports rose 3.6% over 2019 to $2.6 trillion, an improvement over the previous year's 0.5% gain. By Joe McDonald. SENT: 570 words, photos.
UNITED STATES-CHINA-FORCED LABOR — The U.S. government says it will halt imports from the Uighur region of China in its most sweeping action yet to pressure the Communist Party to stop a campaign against ethnic minorities. SENT: 620 words, photos.
SEPHORA-RACIAL BIAS ACTION PLAN — Global beauty retailer Sephora plans to expand the number of Black-owned brands, scale back on third-party security guards and offer more inclusive marketing as part of a wide-ranging plan to combat racial bias at its stores. The beauty company revealed its plan Wednesday as it released findings of an in-depth study commissioned by Sephora that examined racial bias in the U.S. retail shopping experience. By Anne D'innocenzio. SENT 300 words, photo.
________
SPORTS
________
HARDEN-TRADE — The Brooklyn Nets have agreed to acquire three-time scoring champion James Harden from the Houston Rockets, a deal that reunites him with Kevin Durant and gives him the move he has sought for weeks, said a person familiar with the situation. By Brian Mahoney and Kristie Rieken. SENT: 960 words, photos.
QB AGE GAP — The age gap between conferences for the quarterbacks in the divisional round is the biggest since the 1970 merger. The difference in average age between the conferences is 12 years, 98 days. By Schuyler Dixon. SENT: 930 words, photos.
RUSSIAN DOPING — In the report detailing its decision to shorten Russia's ban from the Olympics, the highest court in sports blasted the country's leaders for engaging in "a cover up of the cover-up," in a state-sponsored doping scheme but reduced the punishment nonetheless. By Eddie Pells. SENT: 490, photo.
MLB-POLITICAL CONTRIBUTIONS — Major League Baseball is suspending all political contributions in the wake of last week's invasion of the U.S. Capitol by a mob loyal to President Donald Trump. By Jake Seiner. SENT: 375 words, photo.
__________________
ARTS/ENTERTAINMENT
__________________
FILM-LOCKED-DOWN — In four months, in the middle of a pandemic and widespread shutdowns, filmmaker Doug Liman and his team wrote, shot and edited a glossy Harrods heist film in London with Anne Hathaway and Chiwetel Ejiofor. The result, "Locked Down," comes to HBO Max Thursday. By Lindsey Bahr. SENT: 940 words, photos.
TV-JEOPARDY — Katie Couric will become the first woman ever to host "Jeopardy!" when she serves a guest stint in place of the late Alex Trebek. The show announced Wednesday that Couric, the journalist and former "Today" show host, will be among those guest hosting on an interim basis along with NFL quarterback Aaron Rodgers, "Big Bang Theory" star Mayim Bialik and "60 Minutes" correspondent Bill Whitaker. SENT 280 words, photo.
____________________
HOW TO REACH US
___________________
At the Nerve Center, Sophia Tulp can be reached at 800-845-8450 (ext. 1600). For photos, ext. 1900. For graphics and interactives, ext. 7636. Expanded AP content can be obtained from http://newsroom.ap.org. For access to AP Newsroom and other technical issues, contact apcustomersupport(at)ap.org or call 877-836-9477.