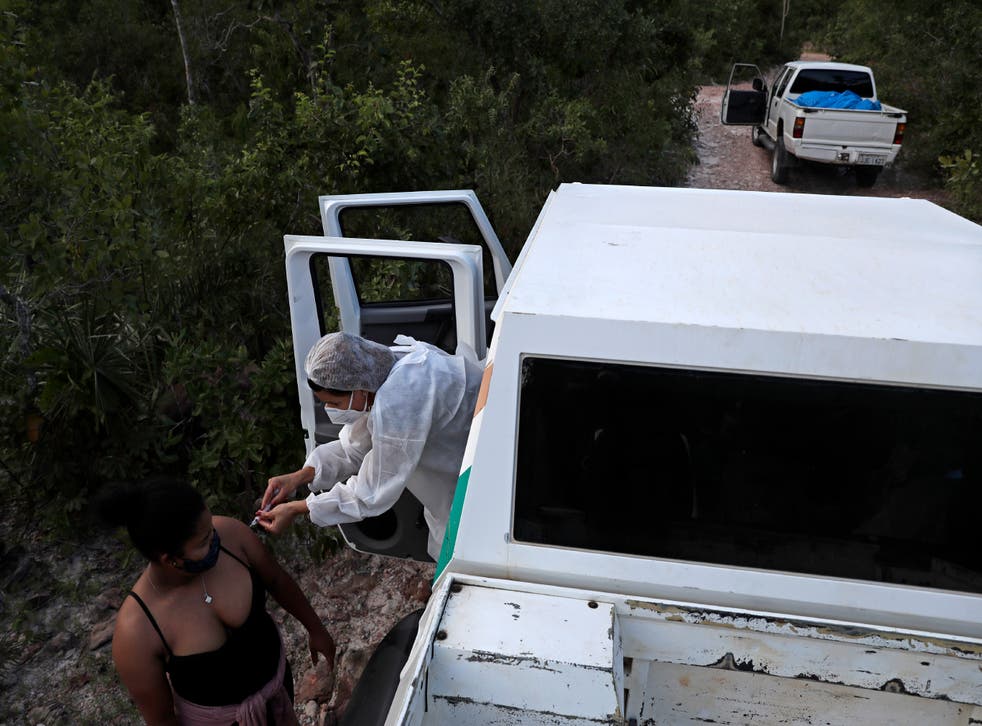 Here are the AP's latest coverage plans, top stories and promotable content. All times EDT. For up-to-the minute information on AP's coverage, visit Coverage Plan at https://newsroom.ap.org.
—————————
ONLY ON AP
————————-
IRAN-SPY CASE — A former U.S. Marine freed from Iranian custody five years ago is in court with the American government over whether he can collect a multimillion-dollar payment from a special fund for victims of international terrorism. Newly filed court documents show that the FBI opened an investigation into Amir Hekmati on suspicions that he went to Iran to sell classified information to the regime. He vigorously disputes those allegations. By Eric Tucker. SENT: 1,160 words, photo.
_____________
TOP STORIES
_____________
BIDEN — President Joe Biden visits a small business in Pennsylvania to highlight the benefits of his huge COVID-19 relief plan. It's part of an effort by Biden and his top surrogates — his wife and vice president among them — to flood the zone in what the White House calls its "Help Is Here" tour. By Darlene Superville, Jonathan Lemire and Zeke Miller. SENT: 980 words, photos, video. UPCOMING: 990 words after 3:30 p.m. Biden event.
VIRUS OUTBREAK-SCHOOLS — U.S. guidelines that say students should be kept 6 feet apart in schools are receiving new scrutiny from federal health experts, state governments and education officials working to return as many children as possible to the classroom. Even as more teachers receive vaccinations, the distancing guidelines have remained a major hurdle for schools as they aim to open with limited space. By Collin Binkley. SENT: 920 words, photos.
VIRUS OUTBREAK-CANCER SCREENING — Months after mammograms, colonoscopies and other routine cancer screenings were suspended because of the pandemic, researchers are studying the impact. By Chief Medical Writer Marilynn Marchione. SENT: 1,040 words, photos, video.
VIRUS-OUTBREAK-ASIA-ASTRAZENECA VACCINE — Thailand's prime minister received a shot of the COVID-19 vaccine manufactured by AstraZeneca, as much of Asia shrugged off concerns about reports of blood clots in some recipients in Europe, saying that so far there is no evidence to link the two. By Patrick Quinn. SENT: 700 words, photos.
EXPLAINING-GEORGE-FLOYD-OFFICER-TRIAL-JURY-DIVERSITY — Questions around race have been central to the murder case against the former Minneapolis police officer who leaned on George Floyd's neck while the Black man pleaded for air. Scholars, courts and legal groups have increasingly advocated for greater jury diversity, arguing, that by almost every metric, they make for better juries. By Michael Tarm. SENT: 570 words, photo. With GEORGE FLOYD-OFFICER TRIAL — Diverse jury so far for ex-cop's trial in Floyd's death.
ISRAEL-SEX ABUSE — For decades, Yehuda Meshi-Zahav was one of Israel's most recognizable faces, widely respected for founding an ultra-Orthodox rescue service that cared for victims of Palestinian attacks and bridged the divide between religious and secular Israelis. But in recent days, Meshi-Zahav has faced a growing list of accusers who say he committed horrendous acts of sexual abuse of men, women and children over several decades. By Ilan Ben Zion. SENT: 1,040 words, photos.
______________________________
WHAT WE'RE TALKING ABOUT
_______________________________
CHEERLEADER'S-MOM-MANIPULATED-IMAGES — Cheerleader's mom accused of making "deepfakes" of rivals. SENT: 180 words.
HARROWING BRIDGE RESCUE — Rescuers save two from pickup dangling over deep Idaho gorge. SENT: 430 words, photo.
RADIO-HOST-ARRESTED — Radio host Craig Carton fraud victim complains to judge. SENT: 520 words, photo.
_________________________________
MORE ON THE VIRUS OUTBREAK
_________________________________
VIRUS-OUTBREAK-CANADA-VACCINE-RACE — Canada is behind on vaccinating its population because it lacks the ability to manufacture the COVID-19 vaccine and has had to rely on the global supply chain for the lifesaving shots. SENT: 1,200 words, photos. With VIRUS-OUTBREAK-THE-LATEST.
VIRUS OUTBREAK-CHINA — China has approved a new COVID-19 vaccine for emergency use, one that was developed by the head of its Center for Disease Control, adding to its arsenal. SENT: 460 words, photo.
VIRUS-OUTBREAK-BRAZIL-MINISTER — With COVID-19 still raging in Brazil, President Jair Bolsonaro picked his fourth health minister since the pandemic began. SENT: 740 words, photo.
_____________________
WASHINGTON/POLITICS _____________________
BIDEN-GUNS — The Democratic Party has moved to a near-unanimous call to do something about gun violence after a spate of mass shootings, but in the early months of Biden's presidency, even popular proposals like background checks are lower on his list of priorities and prospects of passage in the Senate are cloudy. SENT: 970 words, photo.
REPUBLICANS-VACCINE HESITANCY — A new poll finds that 42% of Republicans say they probably or definitely will not get a COVID vaccine. SENT: 1,130 words, photos.
_________________
INTERNATIONAL
_________________
ASIA-US — Defense and foreign ministers from the U.S. and Japan are to discuss their concern over China's growing influence in the Indo-Pacific region as the Biden administration tries to reaffirm engagement with its key regional allies. SENT: 600 words, photos. With KOREAS-US — North Korea criticizes U.S.-South Korean drills before allies meet.
___________
NATIONAL
___________
ALCOHOL-FREE-BARS — Alcohol-free bars are opening around the world amid a growing number of people exploring sobriety. By Business Writer Dee-Ann Durbin. SENT: 830 words, photos, video.
CALIFORNIA-GOVERNOR-RECALL — A plodding, months-long review kicks off this week to confirm what appears inevitable: California Gov. Gavin Newsom will face a recall election that could oust the Democrat before his first term ends. SENT: 930 words, photos.
PORTLAND-PROTESTS — Leaders and elected officials in Portland, Oregon, came together to demand an end to violence, criminal destruction and intimidation by "anarchists" as destructive protests continue in the city. SENT: 610 words, photo.
______________
BUSINESS/TECH ______________
OPIOID-CRISIS-PURDUE — Purdue Pharma, which helped revolutionize the prescription painkiller business with its drug OxyContin, is proposing a $10 billion plan to emerge from bankruptcy that calls for it to be transformed into a different kind of company funneling profits into the fight against the nation's intractable opioid crisis. SENT: 870 words, photo.
FINANCIAL MARKETS — Asian shares mostly rose, cheered by a rally to all-time highs on Wall Street. By Business Writer Yuri Kageyama. SENT: 670 words, photos.
TESLA-CRASH-INVESTIGATION — The U.S. government's highway safety agency is sending a team to Detroit to investigate a crash involving a Tesla that drove beneath a semitrailer. By Auto Writer Tom Krisher. SENT: 430 words, photo.
CHINA-FACIAL-RECOGNITION — Chinese state TV has criticized bathroom fixtures brand Kohler and automaker BMW for using facial recognition to identify customers in a possible violation of privacy rules that took effect this year. SENT: 320 words, photos.
___________________
HOW TO REACH US
___________________
At the Nerve Center, Jerome Minerva can be reached at 800-845-8450 (ext. 1600). For photos, Shuji Kajiyama (ext. 1900). For graphics and interactives, ext. 7636. Expanded AP content can be obtained from http://newsroom.ap.org. For access to AP Newsroom and other technical issues, contact apcustomersupport(at)ap.org or call 877-836-9477.