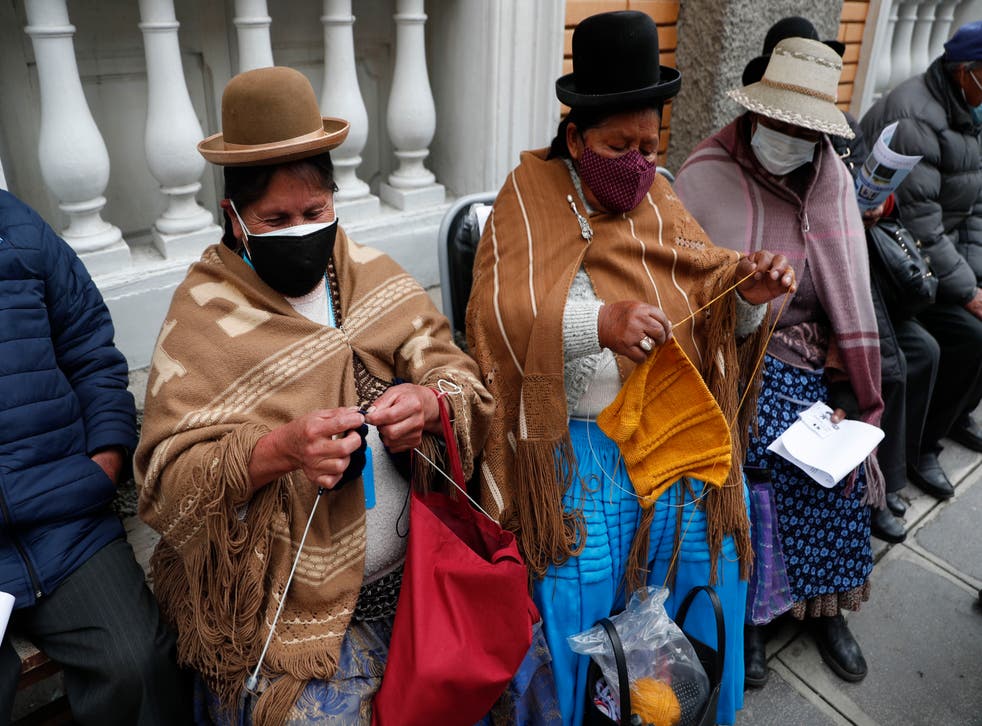 Here are the AP's latest coverage plans, top stories and promotable content. All times EDT. For up-to-the minute information on AP's coverage, visit Coverage Plan at https://newsroom.ap.org.
——————————————
NEW/DEVELOPING
——————————————-
ADDS: POLICE SHOOTING-DAUNTE WRIGHT; INTERIOR DEPUTY; BLUE ORIGIN-SPACE; EGYPT-MEDIA; FIRED OFFICER-PENSION; VOTING RIGHTS-KANSAS; TIGER CUBS-CLEVELAND; SHOOTING-MARYLAND-POLICE BARRACKS; ST. VINCENT-VOLCANO
————————-
ONLY ON AP
————————-
AP POLL-JOURNALISM VALUES — A study of the public's attitude toward the press reveals that distrust goes deeper than partisanship and down to how journalists define their very mission. In short: Americans want more than a watchdog. By Media Writer David Bauder. SENT: 810 words, photos, graphic.
____________
TOP STORIES
_____________
VIRUS OUTBREAK — Johnson & Johnson's COVID-19 vaccine will remain in limbo a while longer after U.S. health advisers told the government Wednesday that they need more evidence to decide if a handful of unusual blood clots were linked to the shot — and if so, how big the potential risk really is. By Lauran Neergaard and Mike Stobbe. SENT: 860 words, photos.
UNITED STATES-AFGHANISTAN — President Joe Biden says he will withdraw remaining U.S. troops from the "forever war" in Afghanistan, declaring that the Sept. 11 attacks "cannot explain" why American forces should still be there 20 years later. By Aamer Madhani and Matthew Lee. SENT: 1,020 words, photos, video. With AFGHAN WAR-ANALYSIS — Biden is taking a calculated risk that extremists can be handled by the U.S. and its partners elsewhere in the region. SENT: 920 words, photos; UNITED STATES-NATO-AFGHANISTAN — NATO agrees to withdraw its roughly 7,000 forces from Afghanistan to match Biden's decision. SENT: 390 words, photos.
POLICE SHOOTING-DAUNTE WRIGHT — Daunte Wright became a father while he was still a teenager, and seemed to relish the role of a doting young dad, his family and friends said. Wright, 20, was fatally shot Sunday by a police officer in the Minneapolis suburb of Brooklyn Center. As protesters and civil rights advocates called for justice and police accountability over his death, his family asked people to also remember his life. SENT: 800 words, photos. With: POLICE-SHOOTING-MINNESOTA — A Minnesota prosecutor said that he will charge a white former suburban Minneapolis police officer with second-degree manslaughter for killing 20-year-old Black motorist Daunte Wright in a shooting that ignited days of unrest and clashes between protesters and police. By Scott Bauer and Mike Householder. SENT: 915 words, photos. WITH: EXPLAINER-POLICE-SHOOTINGS-PROSECUTORS — The decision to charge a former Brooklyn Center police officer with second-degree manslaughter in Daunte Wright's death was handled by a prosecutor from outside the county. SENT: 760 words, photos.
GEORGE FLOYD-OFFICER-TRIAL — George Floyd died of a sudden heart rhythm problem due to his heart disease while being restrained by police, a retired forensic pathologist testified for the defense at former Officer Derek Chauvin's murder trial, contradicting several experts who said Floyd succumbed to a lack of oxygen. By Amy Forliti, Steve Karnowski and Tammy Webber. SENT: 1,000 words, photos.
CAPITOL BREACH-SECURITY — As Congress pushes for a return to normalcy months after the insurrection, a damming internal report about the Jan. 6 riot is painting a dire picture of the Capitol Police's ability to respond to threats against lawmakers. By Mary Clare Jalonick. SENT: 1,040 words, photos. With CAPITOL BREACH-WOMAN KILLED — Federal prosecutors will not charge a police officer who shot and killed a woman during the insurrection at the Capitol. SENT: 550 words, photo.
VIRUS-OUTBREAK-CONQUERING-LONELINESS — The pandemic has made loneliness inescapable around the globe and the health care community says it's time to seek solutions. Evidence suggests loneliness can damage health as much as obesity and smoking. Shutdowns and social distancing may have worsened the problem. So some U.S. hospitals have created friendly caller programs for lonely seniors. Some doctors are prescribing social interaction as more people get vaccinated. By Lindsey Tanner and Martha Irvine. SENT: 1,250 words, photos.
BERNIE-MADOFF-DEATH — Bernard Madoff the infamous architect of an epic securities swindle that burned thousands of investors, outfoxed regulators and earned him a 150-year prison term, died in a federal prison early. He was 82. Madoff's death at the Federal Medical Center in Butner, North Carolina, was confirmed by his lawyer and the Bureau of Prisons. By Michael Balsamo and Tom Hays. SENT: 1,400 words, photos.
______________________________
WHAT WE'RE TALKING ABOUT
_______________________________
BLUE ORIGIN-SPACE — Mock crew straps into space capsule, exits before liftoff. SENT: 315 words, photos.
TIGER CUBS-CLEVELAND — Endangered tiger cubs make first public appearances at zoo. SENT: 160 words, photos.
PEOPLE-COLTON-UNDERWOOD — 'The Bachelor' star Colton Underwood comes out as gay. SENT: 340 words, photos.
FRATERNITY-MEMBERS-GIFT — Louisiana fraternity brothers pay off former cook's mortgage. SENT: 250 words, photos.
_________________________________
MORE ON THE VIRUS OUTBREAK
_________________________________
VIRUS-OUTBREAK-US — With coronavirus shots now in the arms of nearly half of American adults, the parts of the U.S. that are excelling and those that are struggling with vaccinations are starting to look like the nation's political map: deeply divided between red and blue states. SENT: 1,070 words, photos.
VIRUS OUTBREAK-EUROPE — European countries diverged on whether they would push ahead with giving their residents Johnson & Johnson's COVID-19 vaccine after reports of very rare blood clots in a handful of recipients in the United States SENT: 1,045 words, photos.
VIRUS OUTBREAK-STATE SHUTDOWNS — A recent spike in coronavirus cases in some states has led one of the nation's top health experts to suggest that governors could "close things down" like they did during previous surges. But that doesn't appear likely to happen — not even in states led by Democratic governors who favored greater restrictions in the past. SENT: 1,100 words, photos.
VIRUS-OUTBREAK-THAILAND — Thailand reported more than 1,300 new COVID-19 infections, setting another daily record and adding pressure on the government to speed up a nearly nonexistent vaccination drive and do more to control a surge that comes amid mass travel as the country celebrates its traditional New Year festival. SENT: 680 words, photos.
________________________
WASHINGTON/POLITICS
________________________
INTERIOR DEPUTY — The White House names a former Obama administration official to be deputy secretary at the Interior Department, after dropping plans for a more liberal nominee who faced key Senate opposition. SENT: 750 words, photo.
CONGRESS-REPARATIONS — A House panel is expected to boost efforts to provide reparations to the descendants of slaves by advancing legislation to study the issue. But prospects for passing the bill remain bleak in the closely divided Congress. By Kevin Freking. UPCOMING: 600 words by 7 p.m., photo.
HARRIS-BORDER — Vice President Kamala Harris is planning a trip to Mexico and Guatemala as she leads the White House's diplomatic efforts to tackle the migration challenge at the U.S. southern border. But she has no plans to visit the border. By Alexandra Jaffe. SENT: 700 words, photos, video.
BIDEN-FAMILY PLANNING —The Biden administration begins to undo a Trump-era ban on clinics referring women for abortions, a policy directive that led to Planned Parenthood leaving the federal family planning program. By Ricardo Alonso-Zaldivar. SENT: 890 words, photo.
BIDEN-WALL STREET REGULATOR — The Senate approves President Biden's choice of Gary Gensler to head the Securities and Exchange Commission, signaling an emphasis on investor protection after a deregulatory stretch during the Trump administration. By Marcy Gordon. SENT: 630 words, photos.
GAETZ-INVESTIGATION — The No. 2 House Republican leader says party leaders will "take action" against Rep. Matt Gaetz if the Justice Department formally moves against the Florida lawmaker, who is under federal investigation for alleged sex trafficking. By Alan Fram. SENT: 770 words, photos.
HOUSE-NEW CONGRESSWOMAN — Louisiana Republican Julia Letlow is sworn into the House, taking the seat her late husband was elected to but never filled after dying of COVID-19 days before taking office. By Alan Fram. SENT: 450 words, photos.
BIDEN-CONGRESS — President Biden's first address to a joint session of Congress will unfold against heightened security in the aftermath of the deadly Jan. 6 Capitol riot and ongoing coronavirus protocols. By Lisa Mascaro and Zeke Miller. SENT: 370 words, photo.
_________________
INTERNATIONAL
_________________
IRAN-NUCLEAR — Iran's supreme leader dismissed initial offers at talks in Vienna to save Tehran's tattered nuclear deal as "not worth looking at," attempting to pressure world powers after an attack on the country's main nuclear enrichment site. The comments by Ayatollah Ali Khamenei, who has final say on all matters of state in the Islamic Republic, came after a day that saw Iran's president similarly ratchet up pressure over the accord. European powers meanwhile warned Tehran of a planned formal round of negotiations its actions were "particularly regrettable" and "dangerous." SENT: 950 words, photo.
ISRAEL-SETTLEMENTS-TRUMP'S-LEGACY — An aggressive Israeli settlement spree of over 9,000 homes during the Trump era pushed deeper into the occupied West Bank than ever before, according to an AP investigation. The trend puts the Biden administration in a tough bind if it follows through on pledges to revive peace efforts between Israel and the Palestinians. By Joseph Krauss. SENT: 2,130 words, photos.
EGYPT-MEDIA — Egyptian authorities have released two local journalists after spending about year and a half in pre-trial detention. That's according to their lawyer and family members. Solafa Magdy and her husband Hossam el-Sayyad arrived at their home in Cairo, Magdy's mother said. SENT: 220 words.
ISRAEL-MEMORIAL DAY — Israel marks its national Memorial Day for fallen soldiers, in a year when national attention has been focused on the plight of veterans suffering from psychological trauma. SENT: 610 words, photos.
BRITAIN-PRINCE-PHILIP-HARRY-AND-WILLIAM — When Prince Philip's funeral takes place on Saturday, it will be more than a focal point for national mourning. Many will also be watching for any signs of reconciliation between Prince Harry and the royal family, especially with his elder brother Prince William. By Sylvia Hui. SENT: 970 words, photos. WITH: BRITAIN-PRINCE PHILIP — Queen returns to royal duties after death of Prince Philip SENT: 470 words.
For more stories on Prince Philip, click here.
ST. VINCENT-VOLCANO — Ongoing volcanic eruptions have displaced about 20% of people in the eastern Caribbean island of St. Vincent as a U.N. official warns of a growing humanitarian crisis. Between 16,000 to 20,000 people were evacuated under government orders before La Soufriere volcano first erupted on Friday. SENT: 620 words, photo.
—————————————————————————
MORE STORIES ON GEORGE FLOYD
—————————————————————————
EXPLAINING GEORGE FLOYD-OFFICER TRIAL-PRONE STUDIES -- The attorney for the officer on trial in George Floyd's death has highlighted several studies to support the argument that it's not dangerous for police to leave someone facedown on the ground, with their arms pulled back in handcuffs. Even before the defense's case started, prosecutors sought to dismiss the studies as flawed and irrelevant to Floyd's death. SENT: 700 words, photos, video.
EXPLAINING GEORGE FLOYD-OFFICER TRIAL-RELUCTANT WITNESS -- The judge in the trial of an ex-officer charged in the death of George Floyd has blocked a defense attorney's request to have one of Floyd's acquaintances testify. SENT: 850 words, photos.
____________
NATIONAL
____________
VOTING RIGHTS-KANSAS — A political fight in Kansas illustrates how proposals on voting laws billed as reform or anti-fraud measures can be help a specific party or policy priority. The Republican-controlled Legislature has approved a measure that would limit people to picking up and delivering 10 absentee ballots for voters. GOP lawmakers who back the bill argue that they're protecting the integrity of elections. Democrats see the bill as an attack on get-out-the-vote efforts that some of them have used. SENT: 940 words, photo.
SHOOTING-MARYLAND-POLICE BARRACKS — A 16-year-old boy who was shot and killed by a Maryland State Police trooper was an honor student who loved cooking with his mother and spirited political debates at the family dinner table, the teenager's relatives said. SENT: 800 words, photos.
FOSTER-CARE-RACIAL-DISPARITIES — Black children have long suffered from racial disparities in the U.S. foster care system. They are removed from their homes at a high rate and then languish in the system rather than being reunited with their families or adopted. Children's advocates say the problems have worsened during the coronavirus pandemic, which has hit Black families particularly hard. By David Crary. SENT: 1,015 words, photos.
MARIJUANA-NEW-YORK-FARMERS — Farmers dealing with depressed prices for plants that produce CBD are eager to take part in a statewide marijuana market expected to generate billions of dollars a year once retail sales start. They already know how to grow and process cannabis plants, since hemp is essentially the same plant with lower levels of THC, marijuana's active ingredient. Now they're waiting on rules for getting into the new market. SENT: 765 words.
MISSING STUDENT-COLD CASE — Paul Flores was the last person seen with Kristin Smart before she vanished from a college campus on California's scenic Central Coast nearly 25 years ago and suspicion has followed him ever since. He went from being a "person of interest" to a "suspect" to "the prime suspect." SENT: 1,020 words, photos.
MOBILE-SPORTS-BETTING — States around the country are realizing what gamblers figured out long ago: The future of sports betting — and tax money to be made from it — is online. SENT: 820 words, photos.
FATAL POLICE SHOOTING HOSPITAL — The fatal police shooting of Miles Jackson, a 27-year-old Black man, inside a hospital in Columbus, Ohio, triggered protests that saw a small group of demonstrators briefly breach police headquarters before being repelled with pepper spray. SENT: 370 words.
NEIGHBORHOOD-CONFRONTATION-VIDEO — Officials at U.S. Army's largest basic training facility say they are looking into a video that appears to show a non-commissioned officer accosting and shoving a Black man in a South Carolina neighborhood. The video, posted Monday by a woman on Facebook and shared over 3,700 times, shows a man demanding that a Black man leave the neighborhood before threatening him with physical violence. SENT: 605 words.
FIRED OFFICER-PENSION — A Buffalo, New York, police officer who was fired for trying to stop another officer from using a chokehold on a handcuffed suspect has won a yearslong legal fight to collect her pension. A state Supreme Court judge on Tuesday cited the changing landscape around the use of force by police and a recently passed "duty to intervene" statute adopted by the city. SENT: 560 words, photos.
——————————————-
HEALTH & SCIENCE
——————————————-
EMIRATES-MOON-MISSION — The United Arab Emirates' space center announced a more ambitious timeline for sending its first rover to the moon. The Mohammed Bin Rashid Space Center said it is partnering with Japan's ispace company to send a rover to the moon on an unmanned spacecraft by 2022, rather than 2024. SENT: 330 words, photo.
________________
BUSINESS/TECH
________________
COINBASE-IPO — Coinbase made a rousing debut on Wall Street, with the digital currency exchange's first trade of $381 giving it a market value near $100 billion. The company's listing on a public stock exchange is seen by some as an inflection point for digital currencies, as Coinbase's fortunes are closely tied to Bitcoin, the most popular cryptocurrency. SENT: 745 words, photos.
——————————————-
ENTERTAINMENT
—————————————-
OSCARS-DISABILITY — A trio of films that deal with disabled people are nominees at this year's Oscars, and the filmmakers and actors behind them, many of whom are disabled themselves, say it's a perfect time to tell Hollywood to stop using them as inspiration and start letting them tell their own stories. By Entertainment Writer Andrew Dalton. SENT: 990 words, photos.
—————————
SPORTS
—————————
BBO-MOVING-BACK-THE-MOUND— Major League Baseball wants to see if moving back the pitcher's mound will increase offense. MLB will experiment with a 12-inch greater distance between the mound and home plate during a portion of the Atlantic League season in an effort to decrease strikeouts and increase offense. By Ronald Blum. SENT: 805 words.
OLY--TOKYO-100 DAYS — The postponed Tokyo Olympics open in 100 days. Tokyo was awarded the Olympics 7 1/2 years ago because it billed itself as "a safe pair of hands." Nothing is certain now. Organizers and the International Olympic Committee are pushing on despite COVID-19 risks, myriad scandals, and overwhelming public opposition in Japan to holding the games. By Stephen Wade. SENT: 1,000 words, photos. WITH: OLY-TEAM-USA-UNIFORMS — With a crisp white graphic look and roomy pockets, the uniforms to be worn by Team USA at the closing ceremony of the Tokyo Olympics were unveiled by official outfitter Ralph Lauren. SENT: 965 words, photos.
___________________
HOW TO REACH US
___________________
At the Nerve Center, Mae Anderson can be reached at 800-845-8450 (ext. 1600). For photos, ext. 1900. For graphics and interactives, ext. 7636. Expanded AP content can be obtained from http://newsroom.ap.org. For access to AP Newsroom and other technical issues, contact apcustomersupport(at)ap.org or call 877-836-9477.