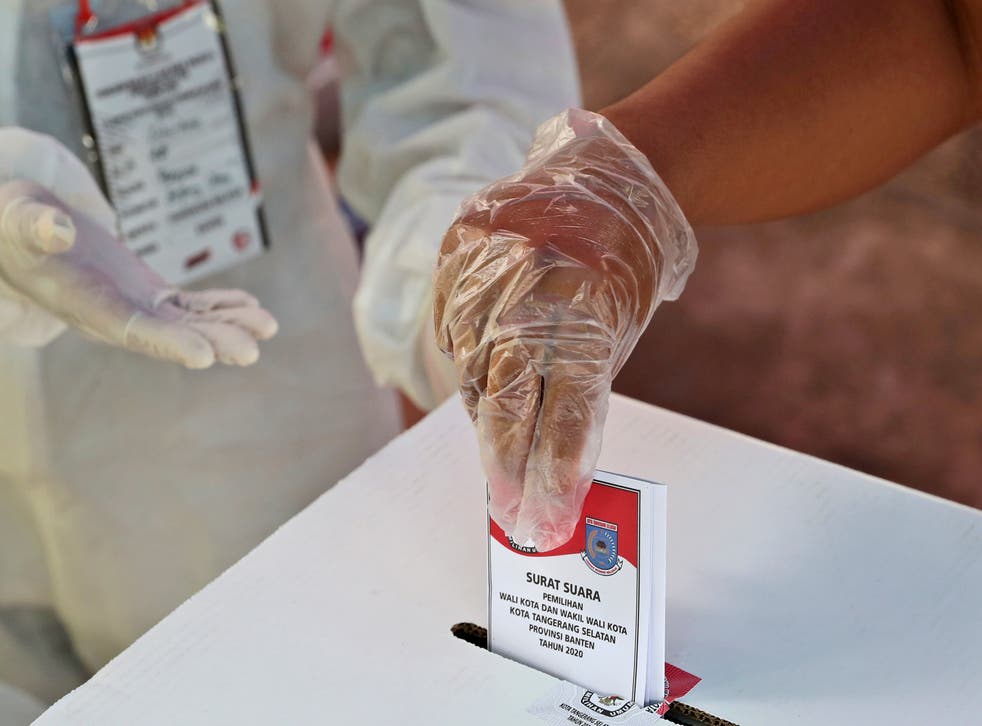 Here are the AP's latest coverage plans, top stories and promotable content. All Times EST. For up-to-the minute information on AP's coverage, visit Coverage Plan at https://newsroom.ap.org
——————————————
NEW/DEVELOPING
——————————————
Adds: TRUMP-DENYING REALITY; FACEBOOK-ANTITRUST; HUNTER-BIDEN-TAXES; ELECTION 2020-SUPREME COURT; UNITED STATES-CHINA; FORT HOOD-VIOLENCE; NASA-ASTRONAUTS-MOON; WOMEN'S-HALL-OF-FAME; JOHNS-HOPKINS-SLAVES; WICHITA-EARTHQUAKES; RACIAL-INJUSTICE-POLICE-SHOOTING-OHIO; BIDEN-CABINET
______________
TOP STORIES
______________
VIRUS OUTBREAK- As states frantically prepare to begin months of vaccinations that could end the pandemic, a new poll finds only about half of Americans are ready to roll up their sleeves when their turn comes. The survey from The Associated Press-NORC Center for Public Affairs Research shows about a quarter of U.S. adults aren't sure if they want to get vaccinated against the coronavirus. Roughly another quarter say they won't. By Lauran Neergaard and Hannah Fingerhut. SENT: 1,185 words, photos
VIRUS OUTBREAK-US SURGE — Arguments over mask requirements have turned ugly in recent days as the deadly coronavirus surge engulfs small and medium-size cities that once seemed at a safe remove from the pandemic. Public health officials in Boise, Idaho, were about to vote on a four-county mask mandate but ended the meeting Tuesday evening because of fears for their safety amid anti-mask protests outside the building and at some of their homes. Health officials in California's Sacramento County also suspended a meeting after protesters pounded on the chamber doors. By Heather Hollingsworth and Ryan Foley. SENT: 1,000 words, photos.
FACEBOOK-ANTITRUST — The U.S. government and 48 states and districts sued Facebook Wednesday, accusing it of abusing its market power in social networking to crush smaller competitors and seeking remedies that could include a forced spinoff of the social network's Instagram and WhatsApp messaging services. by Marcy Gordon and Michael R. Sisak. SENT: 860 words, photo.
TRUMP-DENYING REALITY — There's still a lot of noise about the U.S. election. But there's no real cause for confusion. As President Donald Trump continues to press his argument that the vote was rigged against him, the machinery of government and democracy is moving inexorably toward Joe Biden's presidency. By Calvin Woodward. SENT: 600 words, photos.
VIRUS OUTBREAK-TWO RURAL CHURCHES — In southwest Missouri, pastors of two Baptist churches 30 miles apart have been meeting weekly to share the burdens — and occasional joys — of ministering to congregations hard-hit by the coronavirus pandemic. One is pastor of a predominantly white congregation in the town of Neosho. The other leads a church in the tiny town of Noel that hosts services in five languages attended by people from across the world. Both pastors want to keep parishioners safe. But they remain determined to carry on with in-person services as long as members of their congregations are eager to attend. By Luis Andres Henao, David Crary and Jessie Wardarski. SENT: 1,980 words, photos, video. An abridged version of 1,092 words is available.
VIRUS OUTBREAK-CONGRESS — Lawmakers embrace a one-week extension of government funding to buy time for more COVID-19 relief talks. The House easily passes a temporary funding bill that sets a Dec. 18 deadline for Congress to wrap up both a virus relief measure and a $1.4 trillion government spending bill. By Andrew Taylor. SENT: 780 words, photos.
BIDEN-CABINET — President-elect Joe Biden is set to nominate Katherine Tai to be the top U.S. trade envoy. Tai, who is chief trade counsel for the House Ways and Means Committee, will be tapped as the U.S. Trade Representative. By By Zeke Miller and Paul Wiseman. SENT: 310 words, photo.
____________________________
WHAT WE'RE TALKING ABOUT
______________________________
NASA-ASTRONAUTS-MOON — First woman, next man on moon will come from these NASA 18. SENT: 320 words, photos.
WOMEN'S-HALL-OF-FAME — Women's Hall of Fame honors Aretha Franklin, Morrison, Lacks. SENT: 560 words.
JOHNS-HOPKINS-SLAVES — Johns Hopkins: Census records show founder owned slaves. SENT: 620 words.
FIGHTER JET CRASH — Authorities say a Wisconsin-based fighter jet crashed in a national forest in Michigan's Upper Peninsula while on a training mission and searchers are looking for the pilot, who was the only person aboard. SENT: 500 words.
BRAZIL 737-MAX — Flights with Boeing 737 Max jetliners have resumed for the first time since they were grounded worldwide following two deadly accidents nearly two years ago. Brazil's Gol Airlines became the first in the world to return the planes to its active fleet. SENT: 275 words, photo.
BRITAIN-ROYALS — Queen Elizabeth's granddaughter Zara Tindall is pregnant with her third child. SENT: 175 words, photos.
__________________________________
MORE ON THE VIRUS OUTBREAK
_________________________________
VIRUS OUTBREAK-BRITAIN-VACCINE — British regulators have warned that people who have a history of serious allergic reactions shouldn't receive the new Pfizer-BioNTech vaccine as they investigate two adverse reactions that occurred on the first day of the country's mass vaccination program. The U.K.'s Medical and Healthcare Products Regulatory Agency is looking into whether the reactions were linked to the vaccine. The two people affected were staff members with the National Health Service who had a history of allergies, and both are recovering. By Danica Kirka. SENT: 600 words, photos. WITH: VIRUS OUTBREAK-CANADA — Canada's health regulator has approved Pfizer's COVID-19 vaccine. SENT: 250 words, photo. With: VIRUS-OUTBREAK-VACCINE-REACTIONS — EXPLAINER: Allergic reactions to vaccines rare, short-lived. SENT: 500 words, photos.
VIRUS OUTBREAK-PENTAGON-VACCINE — The Pentagon's initial allotment of coronavirus vaccine will be administered at 16 defense sites in the United States and abroad, with health care workers, emergency service personnel and residents of military retirement homes getting top priority. By Robert Burns. SENT: 640 words, photos.
VIRUS OUTBREAK-MIDEAST — Israeli Prime Minister Benjamin Netanyahu says his government will begin administering vaccines against the coronavirus to the general public on Dec. 27. Netanyahu said in a televised news conference that Israel is prepared to vaccinate some 60,000 people a day. SENT: 915 words, photos.
VIRUS OUTBREAK-ASIA — South Korea has reported 686 new cases of the coronavirus, tying its second-highest daily jump since the emergence of the pandemic, as a resurgence driven by the greater capital area threatens to erase hard-won gains against the virus. SENT: 430 words, photos.
VIRUS OUTBREAK-SINGAPORE CRUISE — A passenger on board a Royal Caribbean "cruise to nowhere" has been diagnosed with the coronavirus, prompting the vessel to return early to Singapore on Wednesday. Royal Caribbean said in a statement that a guest on the Quantum of the Seas ship "tested positive for coronavirus after checking in with our medical team." SENT: 340 words, photos.
MALAYSIA RUBBER GLOVES — Malaysia's Top Glove Corp., the world's largest rubber glove maker, said it expects a shortage of gloves over the next three years as it reported a record quarterly profit fueled by the coronavirus pandemic. SENT: 390 words, photos.
ONE-GOOD-THING-RUSSIA-CARS-FOR-DOCTORS -- Record-breaking numbers of coronavirus infections are straining Russia's health care system to its limits and doctors across the country have been inundated with demands for house calls for infectious people isolating at home. Many have had to walk to those appointments, since their clinics do not have enough cars. The situation in the Siberian city of Irkutsk changed when a group of volunteers came to the rescue, offering the simple service of driving medical workers to house visits. SENT: 620 words, photos.
Find more coverage on the Virus Outbreak on the featured topic page in AP Newsroom.
——————————————————
WASHINGTON/POLITICS
——————————————————-
BIDEN-DEFENSE — President-elect Joe Biden hails retired Army Gen. Lloyd Austin as the right man at the right time to be America's secretary of defense, but the choice is putting some congressional Democrats in a bind. In the past, they've opposed naming recently retired military officers to the post, yet they don't want to be seen as blocking the first African American to lead the Pentagon. SENT: 1,080 words, photos, video.
ELECTION 2020-SUPREME COURT — President Donald Trump says his campaign will join an improbable case before the Supreme Court challenging election results in Pennsylvania and other states that he lost. That word comes as he tries to look past the justices' rejection of a last-gasp bid to reverse Pennsylvania's certification of Democrat Joe Biden's victory. SENT: 690 words., photo.
HUNTER BIDEN-TAXES — President-elect Joe Biden's son Hunter says his "tax affairs" are under federal investigation. The disclosure puts a renewed spotlight on the questions about his financial dealings that dogged his father's campaign. By Eric Tucker and Michael Balsamo. SENT: 650 words, photo.
FORT HOOD VIOLENCE — Congress members vow to deepen their own investigation into sexual assault, harassment and other problems at Fort Hood and explore legislation, zeroing in on what officials say are glaring deficiencies in the Army criminal investigations unit there. By Lolita C. Baldor. SENT: 750 words, photos.
UNITED STATES-CHINA — Secretary of State Mike Pompeo has unloaded on U.S. universities for allegedly caving to Chinese pressure to blunt or bar criticism of the Chinese Communist Party. In a speech on Wednesday, Pompeo took aim at the Massachusetts Institute of Technology and the University of Washington for refusing to address the Trump administration's concerns about China's attempts to influence students and academics. SENT: 620 words, photo.
SUPREME COURT-PRESIDENTIAL POWER — The Supreme Court wrestles with a case that could make it easier for the president to fire the head of the agency that oversees government-controlled mortgage giants Fannie Mae and Freddie Mac. By Jessica Gresko. SENT: 550 words, photos.
UNITED STATES-TEMPORARY PROTECTED STATUS — The Trump administration will allow migrants from six countries to extend their legal U.S. residency under a temporary status for nine months while courts consider its effort to end the program. SENT: 332 words, photo.
TRUMP-MEDICARE PRESCRIPTION CARDS — The Trump administration tries to revive the president's stalled election-eve plan to send millions of Medicare recipients a $200 prescription discount card. By Ricardo Alonso-Zaldivar. SENT: 510 words, photos.
CONGRESS-GOLD MEDAL — Lawmakers award the Congressional Gold Medal, the body's highest honor, to Chinese Americans who served in World War II amid rampant discrimination. UPCOMING: 500 words by 7 p.m., photo.
HOUSE-KENNEDY FAREWELL — Retiring Rep. Joe Kennedy III used his farewell speech from Congress to deride the "great lie of our times" that the government lacks the resources and will to help people in need. He said the real problem is greed, not scarcity. SENT: 375 words, photos.
_____________________
INTERNATIONAL
_____________________
BREXIT —U.K.-EU negotiators will resume talks on a Brexit trade deal after a dinner summit Wednesday between Prime Minister Boris Johnson and European Commission President Ursula von der Leyen -- but Britain said "very large gaps" remain between the two sides. Johnson flew to Brussels in hopes that top-level political talks could put new momentum into talks that are stuck on issues including fishing rights and competition rules. SENT: 1,000 words, photos.
IRAQ'S MOSUL RECOVERY — The Iraqi city of Mosul remains for many the symbol of the Islamic State group's reign of terror, the place from where it proclaimed its caliphate in 2014. It's also where IS made its last stand before the city was freed three years later, after a costly battle that killed thousands and left Mosul in ruins. Today, there are signs of recovery amid the wreckage of homes. Some residents have trickled back, local musicians again serenade enthralled crowds. At night, the city lights gleam as restaurant patrons spill out onto the streets. SENT: 980 words.
ETHIOPIA MILITARY CONFRONTATION —Ethiopia's situation is "spiraling out of control with appalling impact on civilians" and urgently needs outside monitoring, the United Nations human rights chief warned, but Ethiopia rejects calls for independent investigations into the deadly fighting in its Tigray region, saying it "doesn't need a baby-sitter." SENT: 850 words, photos.
KOREAS TENSIONS — North Korean leader Kim Jong Un's influential sister lambasted South Korea's foreign minister for questioning the North's claim to be coronavirus free and warned of possible consequences. SENT: 520 words, photos.
___________
NATIONAL
____________
RACIAL-INJUSTICE-POLICE-SHOOTING-OHIO — The mother of a Black man fatally shot by an Ohio sheriff's deputy is demanding answers about her son's death. Tamala Payne is the mother of 23-year-old Casey Goodson Jr., who died Dec. 4 as he entered his grandmother's house in Columbus. Payne told The Associated Press Wednesday her son didn't do anything wrong and was returning from the dentist and had sandwiches for himself, his 5-year-old brother and his grandmother when he was killed. SENT: 725 words, photos.
TRIBAL RIFT — A rift is widening between Native American groups in New England over who has claim to scores of acres south of Boston where one tribe has been trying for years to build a $1 billion casino. The Mattakeeset Massachuset Tribe contend the Mashpee Wampanoag Tribe doesn't have claim to the lands under their planned First Light casino in Taunton, as they've argued for years. They want the Mashpee tribe, which famously traces its ancestry to the Indians that first encountered the Pilgrims, as well as state and local authorities, to respect their land claim. SENT: 945 words, photos.
GEORGE FLOYD-MINNEAPOLIS POLICE - Minneapolis City Council members who tried unsuccessfully to dismantle the police department in response to George Floyd's death are voting on whether to shrink it, a move that could imperil the entire city budget because the mayor is threatening to use his veto to protect public safety amid soaring crime rates. SENT: 940 words, photos , developing.
WICHITA-EARTHQUAKES — Five low-intensity earthquakes have rattled part of the Wichita, Kansas, area since Thanksgiving. But an earthquake expert says residents of Kansas' largest city shouldn't be overly alarmed. SENT: 300 words.
———————————————-
HEALTH & SCIENCE
———————————————-
INDIA MYSTERY ILLNESS — Indian health officials have found traces of nickel and lead in a few blood samples taken from hundreds of patients who have been hospitalized by a mysterious illness in a southern state, officials said. SENT: 390 words, photos.
ISRAEL-LUNAR LANDING — Israel is again aiming for the moon. SpaceIL, the nonprofit Israeli initiative whose spacecraft crashed as it tried to land on the moon last year, announced that it is launching another lunar mission with its Israeli government partners. SENT: 260 words.
_____________________
ENTERTAINMENT
_____________________
YE-MUSIC-TOP ALBUMS – A look at what the AP's music critic deems the year's top 10 albums. By Music Writer Mesfin Fekadu. SENT: 675 words, photos.
YE-MUSIC TOP SONGS – AP'S music critic breaks down the year's 10 top songs. By Music Writer Mesfin Fekadu. SENT: 455 words, photos.
Find more year-end coverage on the featured topic page in AP Newsroom.
__________
SPORTS
_________
FBN-NFC PLAYOFF OUTLOOK — The NFC East suddenly doesn't look so bad with the surging New York Giants and Washington. They are tied for the division, and the winner will go the NFC playoffs. New Orleans is comfortably in front of Tom Brady and Tampa Bay in the NFC South and currently holds the NFC's only first-round bye. By Pro Football Writer Schuyler Dixon. SENT: 1,000 words, photos.
SOC-EUROPE RACISM — The Champions League produced one of soccer's most powerful shows of solidarity against racism when players from Paris Saint-Germain and Istanbul Basaksehir left the field and didn't return. The incident comes at the end of a year of striking gestures against racial injustice and discrimination. The anti-discrimination Fare network's executive director says the walk-off "lays down a marker in Europe." The game will resume on Wednesday with a new refereeing team. Fare network executive director Piara Powar says players are "more prepared than ever before to exercise their right to stop a match." SENT: 585 words, photos.
YE-SPORTS-PHOTOS-2020 — Patrick Mahomes reveling after a huge play. Rafael Nadal clutching another trophy. Sarah Fuller kicking off a new generation. The faces of sports in 2020, new and old, were familiar. But the images that most defined this year, on and off the fields, diamonds, courts and courses all over the world, definitely were not. SENT: 225 words.
Find more year-end coverage on the featured topic page in AP Newsroom.
_____________________
HOW TO REACH US
_____________________
At the Nerve Center, Mae Anderson can be reached at 800-845-8450 (ext. 1600). For photos, Courtney Dittmar ext. 1900. For graphics and interactives ext. 7636. Expanded AP content can be obtained from http://newsroom.ap.org. For access to AP Newsroom and other technical issues, contact apcustomersupport(at)ap.org or call 877-836-9477
Register for free to continue reading
Registration is a free and easy way to support our truly independent journalism
By registering, you will also enjoy limited access to Premium articles, exclusive newsletters, commenting, and virtual events with our leading journalists
Already have an account? sign in
Register for free to continue reading
Registration is a free and easy way to support our truly independent journalism
By registering, you will also enjoy limited access to Premium articles, exclusive newsletters, commenting, and virtual events with our leading journalists
Already have an account? sign in