ARA San Juan: Argentina fires head of its navy after rescue mission for 44 missing submariners is called off
Friends and relatives of the crew have criticised the rescue effort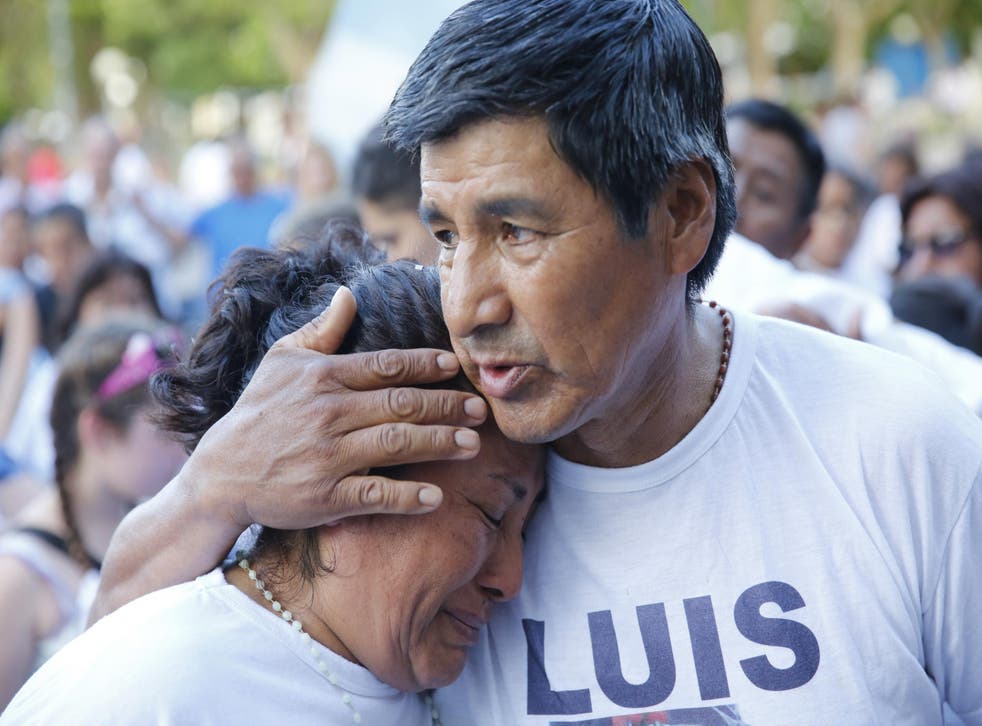 Argentina has fired the head of its navy in the first known disciplinary action since a naval submarine disappeared with 44 crew members onboard.
The navy let go of Admiral Marcelo Eduardo Hipolito Srur a month after the ARA San Juan vanished off Argentina's southern tip. Hope of finding any survivors was abandoned several weeks ago.
Mr Srur was appointed by President Mauricio Macri in January 2016. Of the the decision to let him go, a government spokesperson said simply: "It was decided to remove him."
Family and friends of the missing crew members have been highly critical of the search and rescue effort. A series of false alarms – such as a US Navy aircraft spotting flares and a life raft from a different vessel – left many of those on land confused and frustrated. Some relatives have said they plan to take legal action.
Federico Ibanez, the brother of 36-year-old submarine crew member Cristian Ibanez, told the Associated Press he thought the Argentine government should have acted faster.
ARA San Juan: Prayers are said for missing submarine outside Argentina's Navy base
"They took two days to accept help because they minimised the situation," he said.
His sister, Elena Alfaro, added: "I feel like authorities let too much time pass by and decisions were taken late."
The submarine issued its last known communication on 15 November while on a routine trip from the southern port of Ushuaia to the city of Mar del Plata, about 250 miles (400km) south-east of Buenos Aires.
World news in pictures

Show all 50
The Argentine navy said the vessel's captain reported that water had entered the snorkel and caused one of the submarine's batteries to short circuit. He also reported fire and smoke. The same day, however, the captain called back to say the issue had been resolved.
The submarine – a 34-year-old, German-built, diesel-electric TR-1700 class vessel – was never heard from again. An explosion was reported near the last known location of the vessel, but it is unclear whether is was connected to the ARA San Juan.
Calling off the rescue effort on 30 November, navy spokesperson Enrique Balbi said the mission had extended for more than twice the amount of time that survivors could have expected to have oxygen. He added that the international effort to find the vessel would continue.
At least 18 countries joined the search and rescue efforts at some point, covering a 15,444-square-mile (40,000sq km) area. Argentina, Chile, Russia, the UK and the US are continuing to aid in the search for the submarine.
Additional reporting by agencies
Register for free to continue reading
Registration is a free and easy way to support our truly independent journalism
By registering, you will also enjoy limited access to Premium articles, exclusive newsletters, commenting, and virtual events with our leading journalists
Already have an account? sign in
Register for free to continue reading
Registration is a free and easy way to support our truly independent journalism
By registering, you will also enjoy limited access to Premium articles, exclusive newsletters, commenting, and virtual events with our leading journalists
Already have an account? sign in
Join our new commenting forum
Join thought-provoking conversations, follow other Independent readers and see their replies