Argentina protests: Thousands takes part in mass demonstrations to condemn violence against women
Demonstrations have been held in cities across Argentina, as well as in neighbouring countries Chile and Uruguay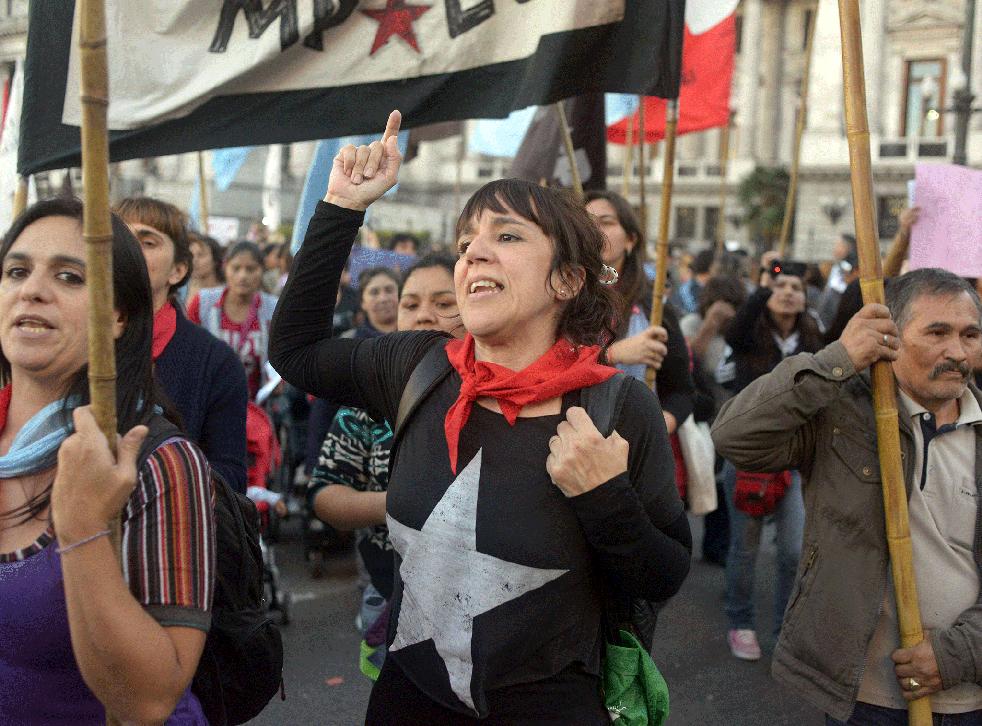 Thousands of people have taken to the streets as part of mass demonstrations to protest against violence to women in Argentina – as startling statistics suggest a woman dies in the country every 31 hours.
Demonstrations have been held in cities across Argentina, in the wake of a number of high-profile cases of femicide, while protests were also held in neighbouring countries Chile and Uruguay.
Protesters held banners declaring "Ni una menos" (Not one less) and wore shirts bearing the names and photos of victims as they marched in front of the Congress building in Buenos Aires to condemn the violence.
While statistics are not easily collated, women's rights group La Casa del Encuentro has said more than 1,800 women have been killed since 2008.
Head of the organisation Fabiana Tunez told AFP: "The government shows up too late to stop it. In Argentina, a woman is still dying every 31 hours."
The news agency also reports that domestic violence is responsible for the deaths of more than five women a day in Mexico – and 15 a day in Brazil.
There are also now calls for the government to keep official records in order for the full extent of femicide in the country to be collated.
Mabel Bianco, president of the Foundation for the Study and Research on Women, told USA Today: "We need official statistics to develop effective policies and an adequate budget to implement these policies."
In pictures: Argentina protests to condemn violence against women

Show all 10
The protest has won the backing of political parties, celebrities and the Catholic Church, the BBC has reported.
President Cristina Fernandez de Kirchner posted on Twitter that the country faced a "culture that devastates women", while footballer Lionel Messi also posted his support on Facebok.
Violence against women has remained a major concern in Argentina despite a law in 2012 which brought in tougher penalties for domestic violence.
In October last year, a YouGov poll for the Thomson Reuters Foundation named Buenos Aires as having the sixth most dangerous transport system for women in the world.
The survey found the three most dangerous systems in the world were in Bogota, in Colombia, Mexico City and Lima, in Peru.
UN figures, highlighted in a report on the International Day for the Elimination of Violence Against Women last year, reveal how 35 per cent of women and girls across the glo0be experience some form of physical and/or sexual violence in their lifetime.
Join our new commenting forum
Join thought-provoking conversations, follow other Independent readers and see their replies