Man breaks into airport, strips off, climbs onto plane's wing and pounds on windows
'This dude tried to board our plane naked at Atlanta airport,' says passenger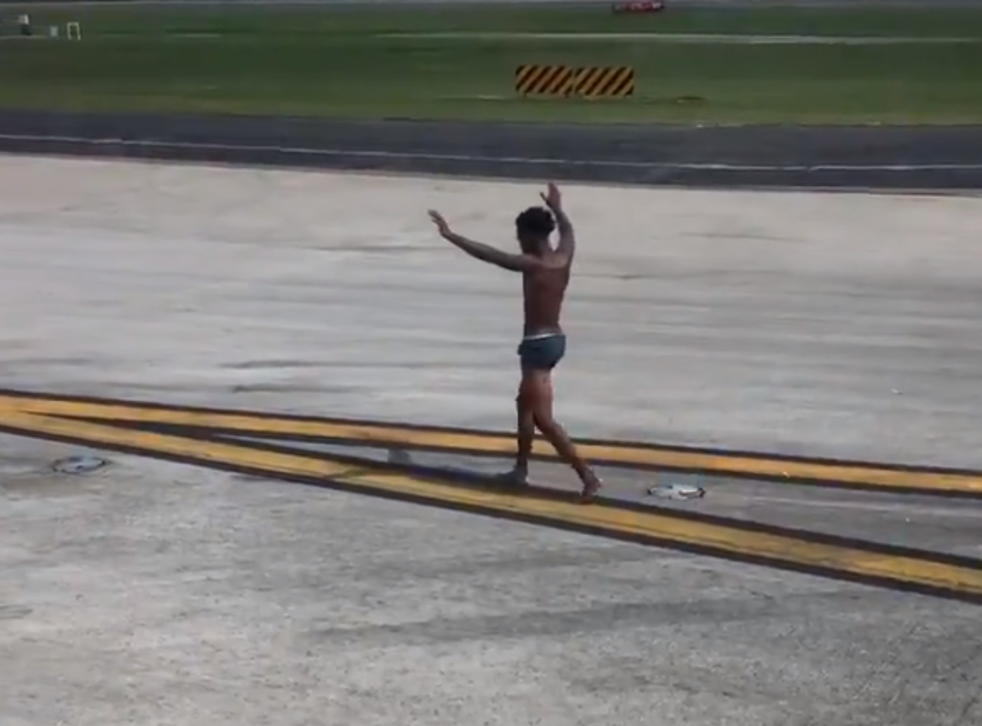 A teenager has been arrested after stripping down to his underwear, climbing onto the wing of a passenger jet and banging on its windows as it sat on an airport taxiway.
Police said Jhryin Jones, 19, sprinted shirtless towards the plane after allegedly scaling a fence to gain access to Atlanta's Hartsfield-Jackson International Airport.
He then jumped onto the wing of a recently landed Delta Air Lines flight from Miami and pounded on windows as passengers inside watched on, reported the Atlanta Journal-Constitution.
Footage posted on social media showed him running across grass towards the aircraft, which was on an active taxiway.
"This dude tried to board our plane naked at the Atlanta Airport," tweeted bemused passenger Alex Rasmussen.
In another video, police are seen ordering Jones to lie down on the tarmac, his jeans in a heap nearby, before they arrest him.
Atlanta Police charged the teenager with criminal trespassing, public indecency and obstruction of law enforcement officers.
The airport initially said a passenger had jumped out of the plane after it stopped on the taxiway, but later said this was not the case, citing "conflicting reports".
It said the incident had no impact on flights.
Register for free to continue reading
Registration is a free and easy way to support our truly independent journalism
By registering, you will also enjoy limited access to Premium articles, exclusive newsletters, commenting, and virtual events with our leading journalists
Already have an account? sign in
Register for free to continue reading
Registration is a free and easy way to support our truly independent journalism
By registering, you will also enjoy limited access to Premium articles, exclusive newsletters, commenting, and virtual events with our leading journalists
Already have an account? sign in
Join our new commenting forum
Join thought-provoking conversations, follow other Independent readers and see their replies